The Museum of Modern Art may have "Starry Night," and the Metropolitan Museum has a treasure trove of Vermeers, but Ohio's Living Bible Museum has a life-sized wax figure rendering of "The Last Supper," and the Museum of Questionable Medical Devices in Minneapolis has a cure-all whatsit called "The Spectrochrome." A recent article in the New York Times about Texas's strangest collections reminded us how many weird and wondrous museums populate this great land of ours. So join us, won't you, as we take a virtual road trip through a selection of 20 intriguing alternative instititutions in the United States.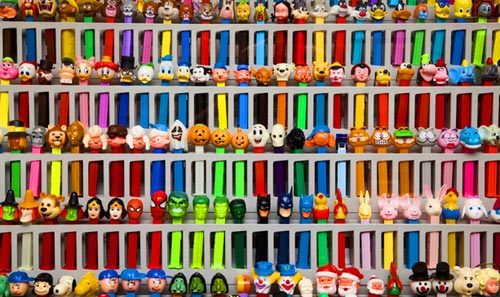 The Burlingame Museum of Pez Memorabilia / Courtesy mrjoro via Flickr
The Atomic Testing Museum, Las Vegas, Nevada:
One of the few museums on this list ARTINFO has actually visited in the flesh, the Atomic Testing Museum is devoted to chronicling the history of atomic testing in the United States, which has deep roots in Las Vegas. Nevertheless, the museum might be more accurately called the "Atomic Propaganda Museum." According to the chronologically jumbled presentation of weapons, photos, videos, and historical memorabilia, atomic testing has, in the last 50 years, saved both freedom of speech and the Chilean miners. Also, wall text reminds visitors that the decision to drop the atomic bomb on Japan was "unanimous."
Barney Smith's Toilet Seat Art Museum, San Antonio, Texas:
Barney Smith, who was a master plumber before becoming curator of his very own personal Toilet Seat Art Museum, modified and painted the hundreds of toilet seats he has on display all by himself. None are for sale -- each seat is photographed and cataloged for permanent residence in the collection.
The Bunny Museum, Pasadena, California:
The cost of admission to this museum is one bag of vegetables or fruits per person. Set in the private home of museum proprietors Candace and Steve, the Bunny Museum boasts the world's largest collection of bunny memorabilia in the world. (It also has its own regularly updated YouTube channel, and Elijah Wood went there once!) The Web site advises against bringing carrots -- too obvious, they say -- as well as donating real bunnies to the museum. Apparently the owners have enough already, as bunnies tend to multiply, you know, like rabbits.
The Burlingame Museum of Pez Memorabilia, Burlingame, California:
Americans consume some three billion Pez candies every year from the mouths of the collectible plastic dispensers that form the core of this California museum's collection. The sweet, specialized institution -- which also has the world's largest Pez dispenser and launched the Classic Toy Museum in 2004 -- has hundreds of the big-headed dispensers dating back to their 1952 beginnings, and stocks the newest models as they roll off the Pez factory floor.
Creation Museum, Petersburg, Kentucky:
If you need to be reminded of the evils of Charles Darwin and why natural selection does not necessarily equal evolution, then the Creation Museum is the attraction for you! There, you can visit a mock-up of the construction site of Noah's ark, and see why biblical history is the key to understanding dinosaurs.
Devil's Rope Museum, McLean, Texas / Kansas Barbed Wire Museum, La Cross, Kansas:
There are two museums in the United States devoted to barbed wire -- who knew? -- though Texas's Devil's Rope Museum undoubtedly has the better name. Pledging to get visitors "hooked" on collecting barbed wire, this southern institution presents some of the 2,000 documented varieties of the prickly instrument, as well as historical documents, catalogues, wire tools, and wire medicine samples. (And no, we don't know what that last one is either, but we'd really like to find out.) Perhaps we'll find out at Devil's Rope's unofficial sister institution, the Kansas Barbed Wire Museum, which exists to commemorate the spiky twine that changed the American West from a vast grassland full of grazing cattle into a checkerboard of farms. The collection includes over 2,000 varieties used from 1890 to the present.
Erotic Heritage Museum, Las Vegas, Nevada:
Co-founded in 2008 by Reverend Ted McIlvenna and pornographer Harry Mohney, the collection of Sin City's porn museum includes an unparalleled selection of vintage pin-up posters, pornstar memorabilia, adult films and artworks, and even has a former pornstar on staff ("Jane Hamilton, aka former porn star Veronica Hart"). The museum's mission statement humbly explains that it "is dedicated to the belief that sexual pleasure and fun are natural aspects of the human experience, that such pleasure must be made available to all, and that our individual sexuality belongs to each of us."
Giant Shoe Museum, Seattle, Washington:
Seattle's Giant Shoe Museum has a very low admission price: A few quarters will afford viewers a glance at some giant shoes both contemporary and vintage. The whole thing started when founder Danny Eskenazi learned that his grandfather had once owned a wingtip shoe worn by Robert Wadlow, the world's tallest man.
Glore Psychiatric Museum, St. Joseph, Missouri:
Housed in a 140-year-old former psychiatric facility, this museum is perhaps the only one on this list featured in the book "1,000 Places to See Before You Die in the USA and Canada." (Take that, Seattle's Giant Shoe Museum.) The museum is filled with some seriously creepy vintage psychiatric instruments and full-sized replicas of outdated treatments, which are demonstrated on mannequins that were donated to the museum by a local department store. The effect is Barbie's Dream House meets "The Exorcist."
International Towing Museum, Chattanooga, Tennessee:
In what may be the most boring or the most thrilling museum concept ever (depending on how you feeling about towtrucks), the International Towing & Recovery Hall of Fame and Museum is devoted to the history of towtrucks and auto salvage. Every year the museum inducts a select few outstanding individuals from the towing and recovery industry into its hall of fame.
Living Bible Museum, Mansfield, Ohio:
The only life-size wax museum in Ohio, the Living Bible Museum lets visitors wander through immersive recreations of scenes from the holy book. Founder pastor Richard Diamond received the inspiration to start the museum in a message from god, though he acquired the figures from a shuttered biblical wax museum in Pennsylvania.
The Museum of Death, Los Angeles, California:
The museum recently moved from its original location inside San Diego's first mortuary to a larger space in Hollywood. The venue allows it to better present its collection of serial killer artwork (the world's largest, they say), photos of Charles Manson crime scenes, a body bag and coffin collection, cult recruitment videos, and (perhaps most sinister of all) recorded autopsies. Visitors have been known to pass out along the way, according to the museum, but there is no official age limit to enter "because WE ALL DIE."
The Museum of Questionable Medical Devices, Minneapolis, Minnesota:
Now located at the much more serious-sounding Science Museum of Minnesota, the Museum of Questionable Medical Devices holds the largest collection of medical chicanery ever assembled under one roof. Visitors can try on a phrenology machine, which was used in the 18th century to analyze elevations and depressions in the skull (which were believed to determine a person's character and mental capacity). There's also a foot-powered breast enlarger, which for some strange reason never successfully took off in the medical community.
The Museum of Sex, New York, New York:
Since it opened 10 years ago, the humorously abbreviated MoSex has distinguished itself from the more historically minded Erotic Heritage Museum (see above) with exhibitions on recent sexual history, contemporary erotic art, and cutting-edge sex toy design. Recent exhibitions have focused on the rapid spread of sex-related memes on the Internet, animal sex, and sexual imagery in street art (that would be "Fuck Art," currently on view). MoSex also boasts what is without a doubt the best museum store in New York City.
The National Cowgirl Museum and Hall of Fame, Fort Worth, Texas:
This Fort Worth museum is devoted to "tales of women who shaped the West one horse, one song, one ranch at a time" (which makes it sound like it is about musical cowgirls, not actually female ranch hands). In addition to interactive galleries filled with thousands of photographs and artifacts -- think pistols and pink and gold riding boots -- the museum features a hall of fame devoted to great cowgirls (or rather, cowwomen) who have shaped history. The most recent inductee is Supreme Court Justice Sandra Day O'Connor, who attended her own induction ceremony.
The New York Museum of Water, New York, New York:
Water has always been pretty popular with human beings, for reasons that should be obvious. The NY Museum of Water -- located in the heart of the Chelsea gallery district! -- exists solely to celebrate our relationship with the liquidy stuff, displaying scientific water experiments, art made with water, and water-based biology. Though not currently open, the museum's goal is to "promote public awareness of water and the need to love and protect it." There's even a couples night! You might as well go, you're 75 percent part of the museum, anyway.
Pizza Brain, Philadelphia, Pennsylvania:
While New York and Chicago remain locked in a heated feud over the relative merits of thin-crust and deep-dish pizza, Philly has slowly built a reputation for serving solid pies, and local artist-collector Brian Dwyer has built the Guinness Book of Records-certified largest collection of pizza memorabilia in the world. Along with partners Ryan Anderson and Joe Hunter, Dwyer hopes to open the sprawling pizza museum and restaurant Pizza Brain sometime this spring.
Psychiatry: An Industry of Death Museum, Los Angeles, California:
This Scientologist-run museum probably spent more money on its Web site than the Washington Banana Museum spent on its entire collection (see below). Opening with a slickly produced film featuring interviews from "experts" about how "psychiatrists are just making this stuff up," the site introduces many of the topics explored in the museum at large: exhibitions include "Psychiatry Behind the Holocaust," "Mind Control," and "School Violence." Listen to us when we say this stuff is far scarier than anything you'll see at the Museum of Questionable Medical Devices.
Roswell UFO Museum, Roswell, New Mexico:
There's no better place for a UFO museum than Roswell, the site of an alleged alien spacecraft crash in 1947. Proclaiming to present the "serious side" of UFO phenomena, it gathers information on the famous Roswell Incident as well as crop circles, ancient astronauts (???), and alien abductions. "Many researches come spend weeks doing research in the library," according to the museum's Web site. It is whispered that some people who go into the library are never seen again...
The Washington Banana Museum, Auburn, Washington:
No bananas are grown in the state of Washington -- nor, for that matter, in most of the continental United States -- but that hasn't kept curator Ann Mitchell Lovell from assembling a collection that includes some 4,000 pieces of banana memorabilia, from vintage ads introducing the tropical fruit to puzzled American eaters, to a banana cello. The rideable giant banana toy from the '60s, however, is for kids only.
To see images from some of the museums mentioned in this article, click on the slide show.
-Kyle Chayka, Julia Halperin, Benjamin Sutton, BLOUIN ARTINFO
More of Today's News from BLOUIN ARTINFO:
Could the Future of Pop Art Hinge on the Legal Fight of One Underdog Alabama Sports Painter?
Guide to 20 Adventurous, Offbeat, Or Otherwise Outrageous Artist Residencies
Pop Art For the Face: Nars Announces Its Andy Warhol-Inspired Cosmetics Line
Best Seats in the House: The Bauhaus Archives Survey the History of "Chairs Without Legs," From Panton to Gehry
The Low Line, Illuminated: LES Gallery to Showcase the Technology Behind New York's Future Underground Park
Like what you see? Sign up for BLOUIN ARTINFO's daily newsletter to get the latest on the market, emerging artists, auctions, galleries, museums, and more.