This is the second in a two-part series examining the recent crop of documentary films devoted to the lives of artists.
CORINNA BELZ ON GERHARD RICHTER

Documentaries about Ai Weiwei and Marina Abramovic make a certain kind of organic sense: both have the magnetic personalities of true media stars. But Gerhard Richter would hardly seem to be an ideal subject. He may be about as successful and famous as a contemporary painter could be, but he is notably attention-averse. Yet Corinna Belz's recent high-profile doc "Gerhard Richter Painting," which premiered earlier this month at Film Forum to sold-out audiences, actually makes a virtue of this fact, depending on the conceit of penetrating the intimate world of the master painter, following him as he squeegees a group of canvases in his studio.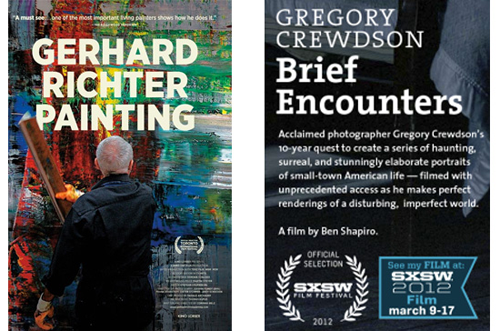 "Gerhard Richter Painting" and "Gregory Crewdson: Brief Encounters"
/ Courtesy of Zero One Film and www.gregorycrewdsonmovie.com
Richter is, of course, a bona-fide art celebrity in his own right: He has been mobbed by paparazzi and approached for autographs at exhibition openings. But Belz's film is much more about his process than his persona. "I wanted to film how he paints," Belz said in an interview on her Web site. She waited a year and a half for him to start a new series, and filmed its production start to finish. The movie gives a sense of the human element behind the creative process. In our spectacle-rich environment, the fact that visual art is still thought of as having a connection with such painstaking and personal labor may be another reason that artists have become such a popular documentary subject right now.
Conflict, of course, is the lifeblood of drama, and the conflict that drives Belz's film is twofold. On the one hand, there is the drama of watching an artist wrestling with his paintings -- he swathes them in blue, then whitewashes them, then begins again until he gets it right. But the other source of energy here derives from the tension between Richter, the painter in command of his technique, and Richter, the public figure who only uncomfortably plays the part of star. We see him fidget at panel discussions and awkwardly pose before flashbulbs. Belz's camera also brings the prying eyes of the public inside the sacred studio, forcing a dramatic confrontation between the two sides of the art star: his practice and his persona. At one point he tells the director that being filmed while painting is worse than being in the hospital. "Things came to a head one day when he was working while being filmed," Belz writes. "That's when he stopped the scene."
Still, she seems hopeful that the film offers a peek into an aspect of artmaking we rarely see. While most of us are used to seeing paintings arrive on a gallery wall as if by magic, "Gerhard Richter Painting" attempts to show the works as they come into being and take on lives of their own. Like characters in a novel, however, they are altered and destroyed at the whim of their creator. This leads to one of her more poignant quips about the challenges of making a documentary about art: "It's not easy when your 'protagonists' are constantly disappearing."
BEN SHAPIRO ON GREGORY CREWDSON
A fascination with artistic process also attracted filmmaker Ben Shapiro to the photographer Gregory Crewdson -- albeit process of a very different kind, given the nature of Crewdson's high-impact photographic work. "His process itself is so visual," Shapiro said of the artist, who creates carefully constructed, dreamily lit tableaux inhabited by residents of small towns. "If there is a pill bottle he wants, someone will go and get it. He stands in front of a wall of swatches and says, 'I like this one,' and he and the crew will physically build a wall that color." The joy of this film is the joy of seeing the messy but deliberate process that goes into realizing such meticulously composed images.
Shapiro followed Crewdson on and off for four years as the artist created his largest and most famous series, "Beneath the Roses," in western Massachusetts. Crewdson's process has elements of public spectacle -- he and his crew of 60 assistants have been known to take over an entire street to set up a shot -- but also of private meditation. "Part of his work is solitary -- there is a lot of driving around and thinking," Shapiro explained.
So why did Crewdson seem like a smart subject for a film today? "I was always very aware that with Gregory's work, as with a movie, you can't really see it until the end," he said. "But I think people have become very interested in process, and watching process in media. Even the reality TV stuff, so much is about people making food, and doing crafts, making things. Everybody spends all their time standing at a computer all day, and I think people are very intrigued by people who are still dealing with physical things out there in the world."
"Gerhard Richter Painting" is currently playing at New York's Film Forum and will have limited engagements at theaters across the United States through July. To see when the film is playing in your area, click here.
"Gregory Crewdson: Brief Encounters" premiered at South By Southwest in March and is currently seeking wider distribution.
-Julia Halperin, BLOUIN ARTINFO
More of Today's News from BLOUIN ARTINFO:
"We Really Have Our Sh*t Together": Artist and Author Douglas Coupland on Canada's Place in the Art World
French Froth Alert: Michel Gondry Starts Filming "L'Écume des Jours," with Audrey Tautou and Romain Duris
Russia's Art Scene Honored Its Heroes and Rising Stars at the Innovation Prize Ceremony
The Car-Plane for the One Percent Unfurls its Wings at New York International Auto Show 2012
Sizing Up the Curious New William Eggleston Lawsuit: Can a Collector Really Stop Him From Making More Art?
Like what you see? Sign up for BLOUIN ARTINFO's daily newsletter to get the latest on the market, emerging artists, auctions, galleries, museums, and more.