NEW YORK--New Yorkers pride themselves on their blasé -- nothing will phase a well-trained city pedestrian. But artist Zefrey Throwell's urban intervention turned even the most stoic of heads: those of Wall Street traders. Throwell's "Ocularpation: Wall Street" saw 50 performers strip down and mime different Wall Street-related professions (traders, yes, but also janitors, secretaries, and everything in between) in a critique of the financial industry, a piece inspired by the plight of the artist's mother, a 60-year-old woman who lost her retirement savings in the economic crash, and was forced to come out of retirement to look for a job.
(Story continues below slideshow)
PHOTO GALLERY
mutual art nude wall street
(See ARTINFO's original slideshow here.)
Throwell's piece caused some gawking on the street, and shocked viewers into reconsidering their relationship to what Throwell calls "the most mysterious street in America." "Ocularpation" was developed while the artist was in a residency given by the Lower Manhattan Cultural Council. For six months, Throwell worked in a basement studio at 14 Wall Street and investigated the area's significance, including social, political, and artistic aspects of the place. ARTINFO spoke to the artist just hours after the "Ocularpation" performance ended, and chatted about the inspiration for the performance, the immediate reaction, and why it wasn't "just a flash mob where people run up and take their clothes off":
What was the inspiration for the "Ocularpation" performance?
My mother put away her money, like a good American, into retirement, and she retired in mid-60s. Then the stock market crashed, and she lost almost all of her savings. She had to come out of retirement and look for a job, but no one wanted to hire a woman in her mid-60s. It took her a long time to find a job. First she was depressed, but then she was furious. Over the course of the past 3 years, there has been no change in the system that caused the damage that violently altered her life. She feels she was straight up swindled by people who had nothing happen to them.
This project is a direct response to the opacity of the financial industry in the United States. It's call "Ocularpation Wall Street," a combination of ocular, as in sight, and occupation, meaning job, and the taking of a site, the military term. Aggressively performing your profession in public.
How did the actual performance get started?

The first half was a survey that I took of Wall Street, to find out who actually works on Wall Street. I went business to business, asking what jobs they did there. I came up with a chart listing who works on the most mysterious street in America. Then I got performers to perform those jobs, in the percentage that they were represented, on the street itself.
There were 10% personal assistants, 8% stock traders, and 2% prostitutes, for example. The actual project had 200 people in it, 50 performers, and then there were helpers, and there were people documenting it. We met up in a park beforehand, then walked down to Wall Street, and everyone was spread out evenly down the whole street. Right at 7 a.m. people began working their professions, I was a hot dog vendor. Lawyers, federal workers, museum workers, janitorial was huge. The performers started clothed, after about a minute, they start stripping down, they were naked for maybe a minute, then they started putting clothes back on. At 7:05 it was all over.
Who were your volunteers?
Mostly artists I know, a few people who contacted me about the performance as well. Drea Bernardi, she's an artist that helped me a lot with the performance.
I heard a few people actually got arrested. What was the reaction like?
There were three arrested out of 50, they were taken to 1st Precinct, charged with disorderly conduct, and something else I haven't heard of before, exposure of a person. [Note: Throwell followed the three and later bailed them out.]
The general reaction was fantastic, actually. The NYPD was very excited, very supportive. They wanted to talk about it, to know what I think about it. Public reaction was also fantastic. I'm a fan of the absurd; I think it's something audiences really get. Still, a lot of people didn't even stop and look, they just kept walking, Blackberries blazing. If an army of naked people can't get you to stop, I don't know what can.
Did you warn anyone before the performance started?
No. These are public streets. Part of my practice is reclaiming public property for us. As our culture is slowly devoured by corporations and all the public things begin to disintegrate, it's our responsibility as citizens to aggressively reclaim space for ourselves.
Was the performance just about the Wall Street crash, or are there other political factors?

It's no coincidence that we scheduled a performance for the day that America was going to default. My personal feelings are that, with these mechanics that affect our current financial state ... it's just not this abstract concept. My mother is this woman who was derailed from the reward of being a hard working American. It's very concrete, very real. It's easy in the news to get lost in the abstract pie graphs of unemployment, but that's definitely not the case here.
So this is your way of putting Wall Street's machinations in front of people's faces?

Yeah.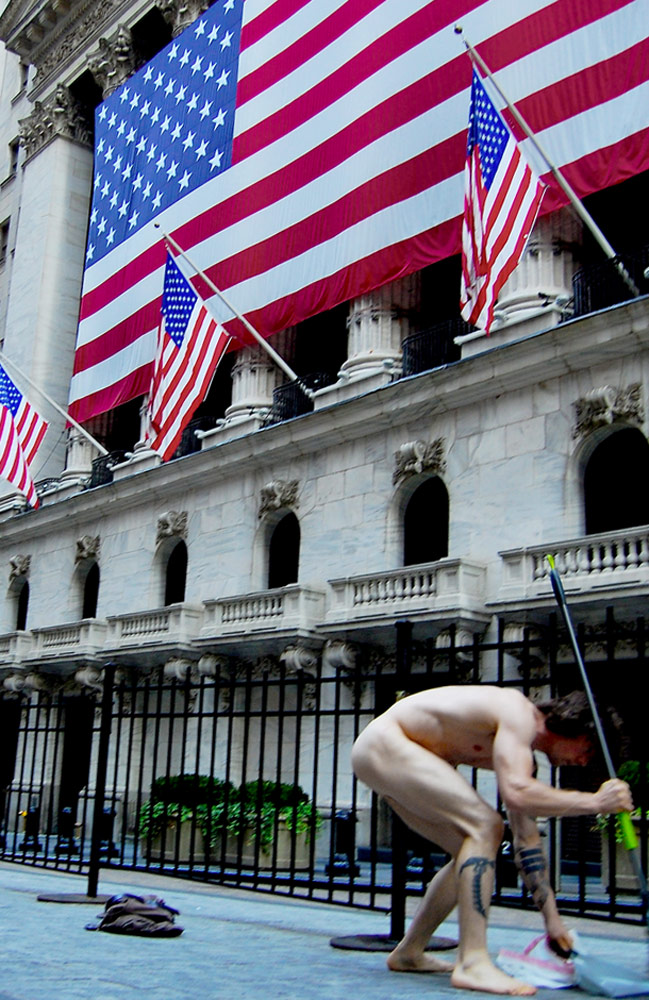 A man, free of clothing, cleans up Wall St / Photo by Mike Kingsbaker
-Kyle Chayka, ARTINFO
More of Today's News from ARTINFO:
The Ascent of the Art Advisor: 5 Things to Know About the Growing Taste-for-Hire Industry
Welcome to Art Country: NADA Hudson Replanted the Downtown Scene Upstate for a Bucolic Non-Art-Fair Art Fair
Online Auctioneer Hopes to Sell Portraits of Hitler's Parents to Scholars, Not Nazis -- And for $100,000
Before the Paparazzi: See Celebrity Portraits by Hollywood's Original Photographers at the National Portrait Gallery
$20 Million Walmart Gift Makes Crystal Bridges Museum Free for Visitors, Forever
Like what you see? Sign up for ARTINFO's daily newsletter to get the latest on the market, emerging artists, auctions, galleries, museums, and more.