"I love you very much and would like to marry you very soon," Charles Eames, who would have turned 106 yesterday, once scrawled across a piece of Cranbrook Academy stationery. It was on a Tuesday that he confessed his love for Ray Kaiser, fellow Cranbrook student, future wife, and visionary counterpart.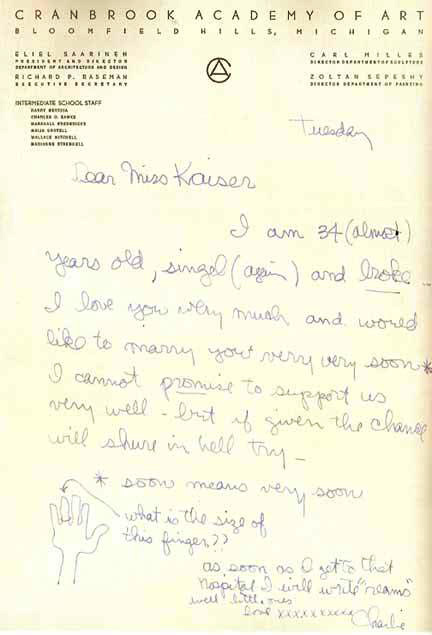 via Library of Congress
Because Ray decided to take a chance with Charles, an admittedly "broke" 34-year-old man in a bit of an apparent hurry ("*soon means very soon," the footnotes read), the two ultimately became a pair of names that resonate as a singular, legendary entity. Their collaborative body of work came to reflect all the modernist qualities of Charles's straightforward prose: purity, efficiency, and grace. Architects today could stand to take a note or two.
Text reads:
Dear Miss Kaiser,
I am 34 (almost) years old, singel (again) and broke. I love you very much and would like to marry you very very soon.* I cannot promise to support us very well. -- but if given the chance I'll shure in hell try -
*soon means very soon.
What is the size of this finger??
as soon as I get to that hospital I will write "neams" well little ones.
love xxxxxxxxxx
Charlie
[Thanks, Brain Pickings!]
-Janelle Zara, BLOUIN ARTINFO
More of Today's News from BLOUIN ARTINFO:
Despite Protest From Israeli Architects, SANAA Unveils Design for Jerusalem's Bezalel Academy
Why Is French Artist Orlan Suing Lady Gaga?
How Contemporary Came to Eclipse Classic at the Art Auctions
Like what you see? Sign up for BLOUIN ARTINFO's daily newsletter to get the latest on the market, emerging artists, auctions, galleries, museums, and more.