Over a decade ago, when New York architect Peter Syrett and interior designer Chris Youssef were designing a cancer center for Brooklyn's Maimonides Hospital, the duo pitched a simple and inspired idea: to build a completely carcinogen-free facility. The initial thrill, however, was quickly tempered by a glaring complication: they could not find the necessary information about their building materials. The obstacle prompted the team to begin compiling a database of hazardous substances commonly used in their field. Their most recent report lists nearly 400 materials typically found in buildings that are linked to asthma.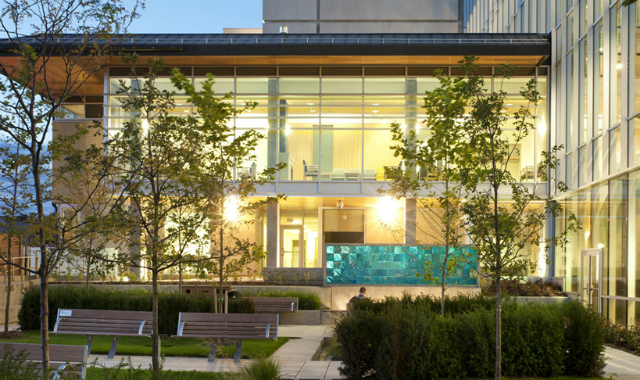 Stronach Regional Cancer Center in Ontario, Canada, one of several healthcare facilities designed by Perkins+Will / Perkins+Will

"In essence, right now, as an architect, you're blind when you buy something," said Syrett in an interview with Urban Omnibus. "You are privy to a product's price, you are privy to how it relates to certain building codes ... But you are unable to make a comprehensively informed decision on your purchase." Syrett and Youssef realized that scientific studies were vast and abundant, but a platform that allows architects and other consumers to understand and apply the available information did not exist.
The two began compiling data on carcinogenic substances common in the construction industry, continuing their work even after the Maimonides cancer center opened in 2003. Five years later, when international firm Perkins+Will acquired their longtime employer Guenther 5 Architects, the duo was pleased to discover that the larger firm took an interest in their initiative. The concept evolved into "Transparency," an online database that launched in 2009 with a precautionary list of harmful building materials. Today, the site includes lists of asthma triggers and asthmagens and high-toxicity flame-retardants, streamlined into a consumer-friendly website.
With over a hundred LEED-certified buildings to its name, Perkins+Will has a clear commitment to environmental health. With "Transparency," the firm has extended that responsibility to include the health of its buildings' occupants. By fostering consumer awareness and pressuring the industry to find alternatives to hazardous building materials, the firm hopes to chip away at statistics like the 30,000 people who die every year from asthma attacks.
But Syrett sees an even greater idea at work: "Transparency" was borne out of an independent design project; it was the solution to a problem, the answer to one of many questions that come up when designing a building. What is different is how the firm chose to share their findings. "Maybe there's a whole other way to think about this profession," Syrett told Urban Omnibus, "to think about resources, to begin to get the greatest leverage out of our collective experience."
-Kelly Chan, ARTINFO
More of Today's News from ARTINFO:
"Makes Me Not Want to Go to Work Tomorrow": Actual Art World People Respond to Bravo's "Gallery Girls"
"Chloe Sevigny, Karen Finley, and Others Plan NYC Solidarity Reading of Pussy Riot's Courtroom Statements"
"Community-Supported Art: New Orleans Arts Org Brings a Locavore Model to Collecting"
"Former Jail Cells Become Artists Studios in Efforts to Revive Detroit"
"Uncharted Territory: Experts Explain Why Collectors Have Yet to Embrace Alighiero e Boetti's Oeuvre"
Like what you see? Sign up for BLOUIN ARTINFO's daily newsletter to get the latest on the market, emerging artists, auctions, galleries, museums, and more.