The thought of architecture and design in the context of cities typically evokes images of chic monuments amidst grand metropolises; the Chrysler Building in New York or the bridges of Paris typically come to mind. While these structures are world-renowned, they actually represent only a small percentage of the world. To put the scope of urban design in perspective, the Cooper-Hewitt returns with a second installation of "Design With the Other 90% Cities," now on display at the United Nations Visitor Center.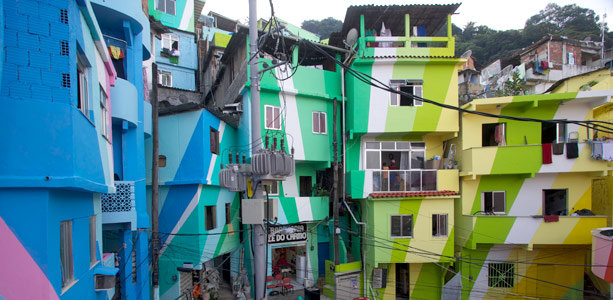 The Praça Cantão, Favela Painting project, Rio de Janeiro, Brazil, 2009-10 /© Haas&Hahn
The show, whose first installation debuted in 2007, features scale models, photographs, and objects grouped by theme: "Exchange," "Reveal," "Adapt," "Include," "Prosper," and "Access." They represent 60 new design interventions from 23 different countries that address the problems of the greater urban population of the world: sanitation, waste management, housing shortage, access to education, transportation, and more.
A wide range of highly inventive designers and architects contributed innovative projects to this show. The 2008 incremental housing project of Iquique, Chile, represented in photos and scale models, demonstrates a collaborative "Exchange" between architectural firm Elemental and the Chilean government to provide affordable housing. The architects built what locals could not provide on their own: the structure, the roof, the bathrooms, and the kitchens of connected homes. The homes' residents, 100 squatter families, literally filled in the rest, using their own money to build bedrooms and living spaces, creating larger homes with four times the value of the combined cost to build.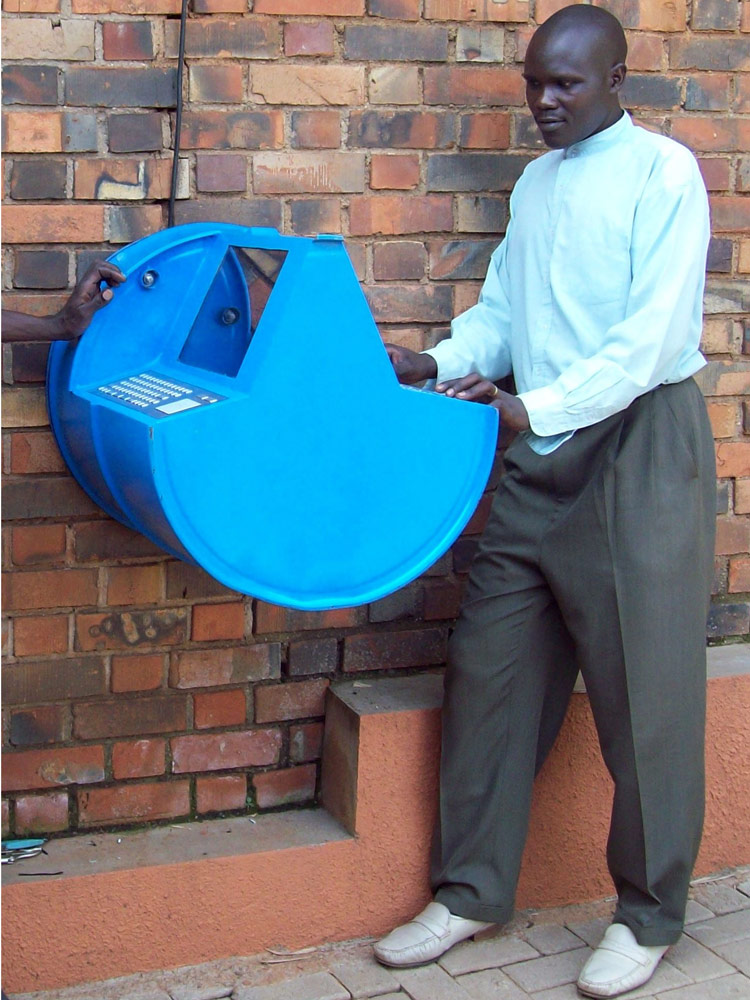 The "Digital Drum," a solar-powered public computer kiosk in South Africa made from a recycled oil drum / © UNICEF Uganda/2010/Jean-Marc Lefébure
Another exhibit features the 2007 Favela Painting Project, which allowed Jeroen Koolhaas and Dre Urhahn of Dutch design group Haas & Hahn to "Reveal" Santa Marta, an impoverished hillside slum of Rio de Janerio. The duo commissioned locals to paint vibrant colors across 34 homes in the center of the neighborhood, transforming it into a brilliant public square, employing local youths in the process, and calling media attention to its sanitation and structural needs.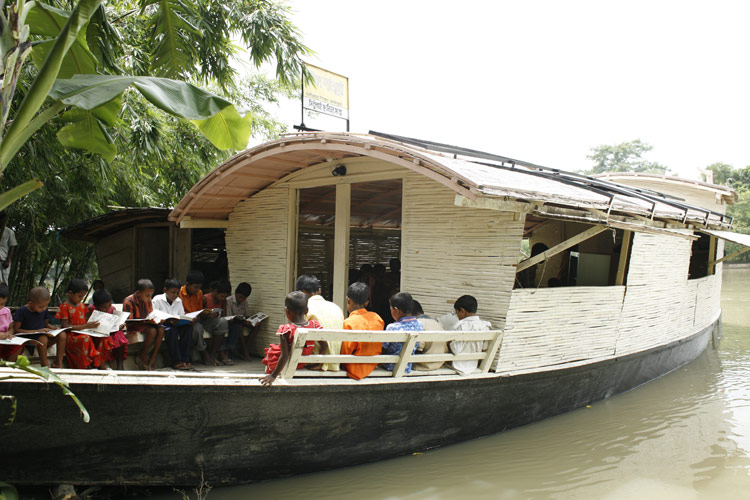 A school designed by architect Mohammed Rezwan for a flood-prone area of Bangladesh/© Abir Abdullah/Shidhulai Swanirvar Sangstha
Exhibits of gravity-powered water purification systems, floating schoolhouses for flood-prone cities, easily transportable food carts, and more are other examples of solutions tailored to address cities' unique needs for their citizens. The concentration of these varied projects in one place is a touching demonstration of the vast scope of design, and the power of small ideas to affect global change.
-Janelle Zara, ARTINFO

More of Today's News from ARTINFO:
When Dealers Make History: Looking at the Traits That Make Gallerists Into "Art Prophets"
Escape Artist: Wanted Voina Art Anarchist Outfoxes Russian Police Again, Fleeing On His Bike
Dweeb Chic: A Fond Look Back at the Fashions of Comic Con
Rihanna Submits to David LaChapelle's "S&M" Lawsuit, Settling Out of Court
Russell Simmons's Art Foundation Marks 15 Years With a Portfolio From Kalup Linzy, Sanford Biggers, and Others

Like what you see? Sign up for ARTINFO's daily newsletter to get the latest on the market, emerging artists, auctions, galleries, museums, and more.