A masterpiece by El Greco sold at Sotheby's yesterday evening (July 3, 2013) for £9.1 million, a record for a Spanish Old Master and the highest price achieved at London's Old Master sales this week, according to the auction house.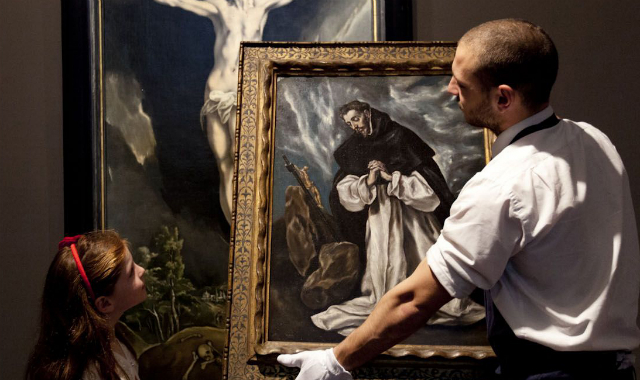 Courtesy of Sotheby's
"Saint Dominic in Prayer," which dates from approximately 1588, sold for almost double its upper pre-sale estimate of £5 million at Sotheby's evening sale of Old Master & British paintings, which took a total of £35 million.
There were eight records for artists' work on the evening, including pieces by Claude-Joseph Vernet and Rachel Ruysch, which sold for £5.3 million (est. £3-5 million) and £1.7 million (est. £1-1.5 million) respectively.
Of the 47 pieces offered, 78.7% sold by lot, and 90.7% by value.
Alex Bell, worldwide head of Sotheby's Old Master paintings department, said "clients from new markets are collecting Old Masters in new ways...the dialogue between old and new is injecting fresh energy."
A Sotheby's spokeswoman said it was the first time "in living memory" that two masterpieces by El Greco went on sale at the same auction. Another piece by the artist, Christ on the Cross, sold for £3.4million (est: £3-5million).
-Rob Sharp, BLOUIN ARTINFO
More of Today's News from BLOUIN ARTINFO:
A Guide to This Week's Art Santa Fe International Fair
See the Art of This Year's Rencontres D'Arles, From Jaar to Tillmans
VIDEO: Carol Bove's "Caterpillar" on the High Line
Like what you see? Sign up for BLOUIN ARTINFO's daily newsletter to get the latest on the market, emerging artists, auctions, galleries, museums, and more.