The buzz among actors in New York, especially in the African-American community, is about the workshops of two promising projects: "Holler If Ya Hear Me," the Tupac Shakur jukebox musical directed by Kenny Leon and "Super Fly: The Musical," Bill T. Jones's adaptation of the Gordon Parks, Jr. blaxploitation film from 1972. "Holler If Ya Hear Me," which will be in workshop in New York from April 23 through May 11, is being produced by the Gold Company, headed by Eric Gold, the talent manager for Ellen DeGeneres and Jim Carrey. Carrey attended the last workshop of the Broadway-bound musical, in October 2011, because he and Tupac were friends. An actor who was in that previous workshop told us that the show has tremendous potential, but that the book is "a mess."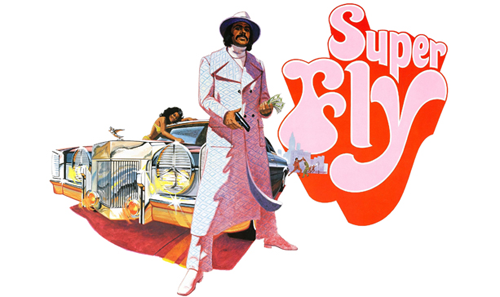 © 1972 Warner Bros, Inc.
No surprise there. Librettos for musicals are notoriously difficult, and fitting a story within existing songs -- as this does, using the Tupac catalogue -- is a jigsaw puzzle. Faced with that challenge is 37-year-old Todd Kreidler, a one-time protégé of the late playwright August Wilson and associate artistic director at the True Colors Theatre in Atlanta, headed by Leon. (The duo are also working together on a musical adaptation of "Guess Who's Coming to Dinner," the 1967 Sidney Poitier movie about interracial marriage.) According to the actor we spoke to, "Holler" is about a young black man who returns to his neighborhood after a stint in prison. The casting notice for the workshop, which calls for "terrific rappers," further describes the musical as "set in present-day in the inner city streets of a mid-western industrial city." It is the story of two childhood friends, one of whom must decide whether to continue life as a drug dealer or to go straight by purchasing a garage with his friend.
The stakes are raised when a gangland shooting makes that decision all the more difficult, despite the remonstrations of a mother who is described in the casting notice as having "tough but compassionate love." It's not too much of a stretch to see the character as having been inspired by Alfeni Shakur Davis, Tupac's mother, who controls her son's estate and who has given her blessing to the project. TMZ reported that she was "ecstatic" over an earlier workshop. In a scene from the musical, a mother implores her son to change. Chagrined at the prospect of burying yet another child, she refuses to become involved in her son's plight by keeping money for him. This prefaces Tupac's song "Dear Mama": "When I was young me and my mama had beef/17 -years-old, kicked out on the streets/Though back at the time I'd see her face/Ain't a woman that could take my mama's place." Leon, who in this season alone has directed "The Mountaintop" and "Stick Fly," told PBS that he hoped the musical would reach Broadway by the 2012-13 season. "The idea was always to make a musical inspired by his music and not to do an autobiographical approach to his life," he said.
Meanwhile, Bill T. Jones told me at the opening night of "Jesus Christ Superstar" on March 22 that his current workshop of "Super Fly: The Musical" - which he is directing and choreographing - now features a book written by television writer Seth Zvi Rosenfeld and the newest addition to the team, Rick Elice ("Jersey Boys," "Addams Family," "Peter and the Starcatcher"). Jones, who has two Tony Awards for choreographing "Spring Awakening" and "Fela!" said that "Super Fly" will feature music of the period, including songs from Curtis Mayfield's Grammy-nominated score. "The album," he said, "sold even more units than the film sold tickets." Jones was at the opening with his longtime creative director Bjorn Amelan and Tommy Mottola, the legendary record producer who will be co-producing "Super Fly" with Dodger Productions. The Dodgers - who with Andrew Lloyd Webber are behind the current revival of "Jesus Christ Superstar" - gave renewed impetus to the careers of Frankie Valli and the Four Seasons through their smash hit, "Jersey Boys." It'll be interesting to see if they can do the same for Mayfield and '70s-era soul, funk, and R&B artists. If all goes well with the workshop, which concludes in three weeks, the plans call for a pre-Broadway tryout in San Francisco before the end of the year.
-Patrick Pacheco, BLOUIN ARTINFO
More of Today's News from BLOUIN ARTINFO:
Rome's Guercino Exhibition Returns the Obscure Baroque Master to His Rightful Place in Art History
Ship to Be Square: Meet LOT-EK, The Shipping Container Architects Behind the Whitney's Pop-Up Classroom
20 Artists With Must-Click Web Sites, From Tauba Auerbach to Andrea Zittel
See Larry Poons's Newest Melodic Abstract Paintings at Mark Borghi's Palm Beach Gallery
Designer as Artist: Yves Saint Laurent Retrospective Makes Its Only U.S. Stop in Denver
Like what you see? Sign up for BLOUIN ARTINFO's daily newsletter to get the latest on the market, emerging artists, auctions, galleries, museums, and more.