Having covered the physical world with an art empire encompassing 10 galleries around the globe (including a new space in Geneva), Larry Gagosian has taken the next logical step -- he's gone virtual, teaming with Google CEO Eric Schmidt, Russian heiress Dasha Zhukova, Wendi Murdoch (wife of Rupert), and others to roll out a personalized online fine-art emporium.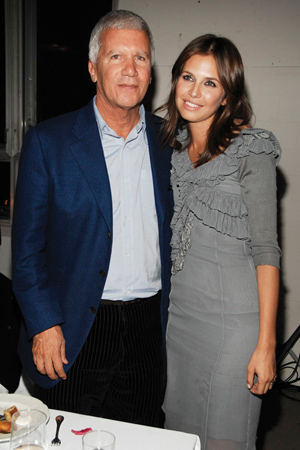 Larry Gagosian and Dasha Zhukova / © Patrick McMullen
Called Art.sy, the brand new company was strung together by Carter Cleveland, a 24-year-old entrepreneur, and will introduce aspects of technology pioneered by custom music-curating site Pandora to art sales, according to a report in Business Insider, which broke the story.
Zhukova yesterday announced that she was stepping down from her editorship of British art and fashion publication Pop magazine to pursue "digital publishing projects." The Art.sy launch follows news that art dealers, Gagosian included, will participate next year in the first online art fair, VIP.
Visit ARTINFO for an exclusive statement from Art.sy's founder and CEO on their plans to harness Pandora technology.
- ARTINFO
Sign up for ARTINFO's Daily Arts Digest: http://www.artinfo.com/newsletter/
Follow ARTINFO on Foursquare: http://foursquare.com/artinfo