Under cover of New York's holiday season blizzard, a crew of graffiti writers carried out a rude sneak attack on a godfather of their own scene when they bombed a spray-painted outdoor mural by Kenny Scharf -- a street artist street artist who had prowled the East Village in the 1980s -- on the busy corner of East Houston and the Bowery.
The aggressive fill-ins -- slang for when a graffiti writer sprays a layer of paint on top of an existing work and then executes a new design there -- occurred at a site that has been a piece of downtown art history ever since the late Keith Haring created an unauthorized mural there in 1982. The following year, a group of artists from the then-happening Fun Gallery that included Haring, LA2, Crane, ON2, and Scharf returned to wall and covered it in a brazen mix of cartoon-like characters and tags.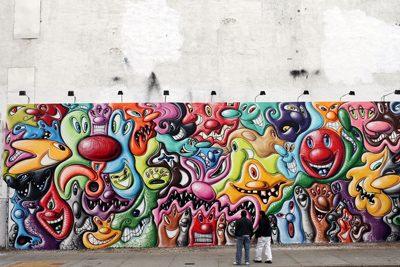 The Scharf mural before being defaced / Courtesy AFP/Getty
Since the summer of 2008, the wall's owner, Tony Goldman of Goldman Properties, a major New York downtown real-estate owner, partnered with Kathy Grayson's Hole Gallery in SoHo and invited such artists as the Brazilian twin-brother team Os Gemeous, Shepard Fairey, and Barry McGee to paint temporary murals there. Brought to life in early December and remaining in situ till March, Kenny Scharf's five-day effort consumed 200 cans of donated spray paint to render intersecting, color-charged clownish figures in psychedelic hues, all rendered in the artist's familiar free-hand, horror vaccui style. Apparently, it proved irresistible as a target.
"It's painful," said Scharf of the attack, speaking by phone from the Los Angeles studio where he is preparing for his two-venue "Naturafutura and Three Dozen!" exhibitions at Paul Kasmin Gallery in Chelsea on the 27th. "Although I can't say I'm super surprised. I mean, when you put yourself out there on a wall like that, that sometimes happens. But it doesn't make me like it."
The taggers "don't know about art or care about art," he said. "They're not creating art, they're just tagging." That distinction is something that Scharf, clearly angered by the incident, wanted to underscore. "I'm not just somebody who came of the blue," he said. "My stuff doesn't look like graffiti, even though it's done with spray paint and it uses a lot of the language of graffiti. I'm not out there just making tags, or trying to pretend I'm somebody that I'm not."
The artist's fury also boiled over onto the Web site ANIMAL New York, where he laid into the comments section on a post about the fill-ins, entering a blogging battle with his defacers and street-art pundits who were both for and against their actions. "When you dis someone you should have a really good reason and hopefully improve what was there before," Scharf wrote there. "It's an act of violence and aggression."
"We had fun rocking throw-ups over your mural," replied one tagger under the name PETERPANPOSSE, using another term for painting over a graffiti work. "It was a night I will speak of for years to come blizard of 2K10. Me and my boys were out tearing shit up getting fuckin wasted! Nothing lasts forever Holmes...."
Another commenter named Grimace wrote, "If I was on acid on a ride in Coney Island, this mural would be PERFECT, but outside of that, I actually prefer to see this wall as fill-in takeover zone." Someone using the name Ben agreed: "Psychopathic street bombers don't care about somebody's mural. They wanted the spot and took it. That's it.... Serves that Kenny guy right through for arrogantly thinking he couldn't get dissed."
To this sentiment PETERPANPOSSE added, "OH AND GET OVER YOURSELF KENNY NO ONE HATES YOU WE DON'T EVEN KNOW WHO YOU ARE DUDE."
The conversation proceeded like this, with some defending Scharf. "There were lots of accusations about who I am and what I do," he said. "There was a lot of support for me, and a lot of hate too."
Kathy Grayson, who runs the Hole Gallery with her partner Meghan Coleman (both former directors of the now-shuttered Deitch Projects), described the guerilla action as "a crime of opportunity," explaining that "the blizzard was the only reason it happened. That's the best night to write graffiti because the police cars can't follow you and you just disappear. It's a field day for graffiti writers."
In the wake of the incident, a friend of Scharf's -- who chose to remain anonymous, not wanting to get dragged into the ruckus -- temporarily repaired the wall, with Scharf's blessing. "It doesn't really look like I did it," the artist says of the repair, "but I'm very happy its there."
However, Scharf does plan to return to the mural himself. And when he does, on his return to New York for the Kasmin opening, he intends to do some fill-ins of his own.
-Judd Tully, ARTINFO.com
Sign up for ARTINFO's Daily Arts Digest: www.artinfo.com/newsletter/
Follow ARTINFO on Tumblr: 3rdofmay.tumblr.com/
Follow ARTINFO on Foursquare: foursquare.com/artinfo/