The last major war crimes fugitive in Serbia has been arrested after a stolen Modigliani painting led investigators to discover his whereabouts. Looking to cash in on the portrait, Goran Hadzic was tracked down by authorities after trying to sell it.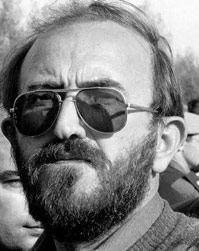 Croatian Serb leader Goran Hadzic in 1992. / Photo by Christian Maréchal
Serbia's chief war crimes prosecutor Vladimir Vukcevic said that the 52-year-old was arrested in a forest near the village of Krusedol, Reuters reports. "The breakthrough was information that he wanted to sell a stolen Modigliani painting as he was running out of money," Vukcevic said at a news conference. According to AFP, police seized the painting during a search of a house belonging to a friend of Hadzic, Zoran Mandic, on Dec. 30, 2010.
Art Loss Register director Christopher Marinello told Reuters that his organization was working with the Serbian authorities to identify the painting, since four male portraits by Modigliani are currently missing. According to AFP, the painting was authenticated by experts in 2007 and was briefly displayed in Belgrade that same year, when it was said to belong to an anonymous Serbian collector. Vukcevic speculated that Hadzic stole the painting during the 1991-1995 war in Croatia. However, an anonymous law enforcement agent told Reuters that the painting may actually be a fake, saying that "we had suspicions about that particular painting because it was part of a large number of fakes sold to a collector."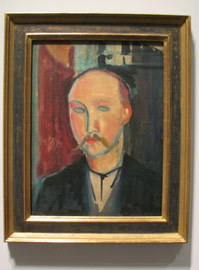 Another male portrait by Modigliani, "Portrait of a Man with Moustache," 1913/ Courtesy whistlepunch via Flickr
After eight years on the run, Hadzic will face 14 counts of crimes against humanity, charged with committing atrocities in order to drive non-Serbs out of Croatia, the Daily Mail reports. His arrest was the final demand of the international war crimes tribunal in the Hague and may pave the way for Serbia to become a candidate later this year for entry into the European Union. Radovan Karadzic and Ratko Mladic are currently facing war crimes charges at the Hague.
-ARTINFO, ARTINFO
More of Today's News from ARTINFO:

How Will the Art World Remember Lucien Freud? See Pictures and Assessments of the Painter's Work
Bjork, Marina Abramovic, and Postindustrial Blur: A Look Back at the 2011 Manchester International Festival
The Starchitect and the Pop Star: 10 Reasons Why Zaha Hadid and Lady Gaga Must Be Twins From the Future
5 Reasons Why Kanye West Might Actually Make It in Fashion
Meet the Beatles Again, for the First Time: Never-Before-Seen Photos From the Band's American Debut Come to Christie's
Like what you see? Sign up for ARTINFO's daily newsletter to get the latest on the market, emerging artists, auctions, galleries, museums, and more.