NEW YORK -- Marina Abramovic, the reigning champion of high-endurance performance art, announced last week that she would be gutting a former cinema-turned-tennis club in Hudson, New York, and converting it into her very own performance palace. With the help of Rem Koolhaas's Office of Metropolitan Architecture (OMA), Abramovic's planned Center for the Preservation of Performance Art could well act as that catalyst that truly transforms the upstate New York town into a first-rank art destination. High up on 13th floor of OMA's New York office, ARTINFO got a first look at the firm's plans for the forthcoming institution, which features a sparse central space that puts the audience level with the performer, making performances (which will supposedly last a minimum of six hours) visible from throughout the building.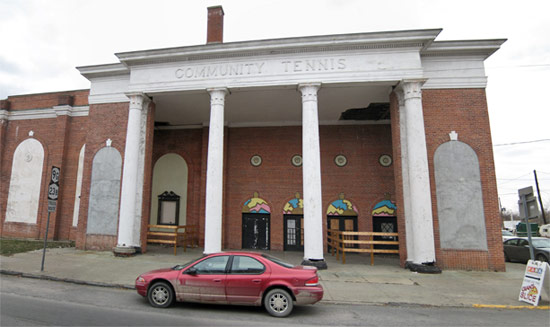 620 Columbia Street in Hudson, New York, the future location of Marina Abramovic's Center for the Preservation of Performance Art / Courtesy OMA
Sitting next to the first draft of the center's scale model, we talked to lead architect Shohei Shigematsu, the man at the helm of the Hudson project, about the various aspects of the high-profile initiative, from thinking through the right kind of furniture to help guests endure endurance pieces to trying to work with Abramovic's sweeping ambition and the mysterious OMA-Abramovic collaboration still to come in Serbia.
Tell us a little bit about the current design, or at least how it exists in your mind.

It's basically an insertion of a monastic box within the existing former theater. Around this monastic box there are supporting programs like a library, meditation room, gym, something to do with body and mind, and a basic back of the house, including offices, meting rooms, storage, and classrooms. It's really a kind of institution as well as a performance venue.
Abramovic has said the performances are going to last a minimum of six hours. What kinds of needs does that impose on the design?

We're trying to redefine the relationship between the performer and the audience. Typically in a theater space there's the performer and the audience, but we're trying to make it almost side by side so that wherever you are, you can always look into the performance. You choose your level of involvement, but wherever you are, you are always connected to the performer.
Because it's a long-duration performance venue, we try to design and develop the chairs together with Marina -- some kind of a chair that allows people to sleep but also move around. We want to develop something with her that would allow people to sleep and also roll over. We would really like to start in three months or so -- the real design process, not just the schematic design. It depends on how quickly she rasies money. We're thinking of separating the design into different phases so that she can make the most important part, or the most public part, really fast, and then subsequently make other areas in the building so that we're not going to wait for the entire budget to be raised.
I don't imagine she'd have trouble finding donor interest.

That's what she thought too, but she knows how those things can go. Of course, if there's a single big donor then it's fine, but she doesn't want to do that because then the donor will have too much say in what she does. She wants to separate it out. She thinks we have a long way to go -- but we'll see. We're not speculating on having $20 million immediately.
I read that the budget is $8 million.

That's her mistake to say. That's her target. It could change. If she has good luck with fundraising it could go to $15 million. I don't know. It all depends on how difficult the fundraising could be. It could go down to $4 million. I don't think, in any case, that the budget will compromise her ambition.
You foresee a pretty wide range. How does money affect what you're able to do with the space?

More money would allow for more theatrical flexibility, for example, putting in moving platforms or a retractable ceiling and seating, a better sound system, those sorts of things. If you don't have the budget, it's going to be more raw. It's too premature to talk about money right now. Everybody wants to know the budget, but that's not really the point.
What impact will this venue have on the surrounding city?

We were thinking about redeveloping Hudson into an art destination. That's also part of her ambition -- not just this venue, but Hudson, as a city, to become a place where many performances and events can happen.
Can you tell us more about her proposed hotel?

We are conceptualizing where the hotel would be. There's a vision in the main scheme which includes a main square where the hotel would sit and have synergy with the venue. The performance venue will look into this square. It's a similar thing, almost like a reflection of what's happening in our building itself: Many activities happen around the main stage.
Is OMA taking on the design of the hotel, too?

Design, no -- this is an existing building. She's talking to many hotel developers, including Andre Balazs, but we don't know anything yet. The idea is to make a more focused presentation to potential donors and potential artists and developers -- whoever wants to contribute.
How involved is Abramovic with the design itself?

We have a great, healthy relationship. She has a very clear ambition of what she wants to do, but she doesn't regulate our design too much. It's a true collaboration. We met in a very intense way. Her office is around the corner on King Street. She's very happy and very approachable. She has many ideas herself, so I have confidence that this building will be a very unique and personal reflection of her many ambitions. A single artist who's trying to contribute to the industry of performance art and create an art community, as well as a public space -- that's a very worthwhile ambition. And beyond her obsession, the project has a public benefit to it.
It's an interesting trend: Some of the star artists -- Ai Weiwei, Damien Hirst -- have started to have their own financial power, going beyond typical institutional ambition. I'm sure BAM couldn't do this or MoMA couldn't do this. But because of Marina's own vision, it creates a unique mission for the architecture.
Is she expressing her own identity through the architecture? Will we be able to look at the building and see Abramovic in the design?

It's more about the relationship between the audience and the performer. Yes, we try to reflect it architecturally, but it's really about translating her commitment to long-duration performance into architecture. We interpret it as being a matter of you deciding on your level of engagement with the performer, but you're always staying connected. The monastic box is surrounded by many different functions, but wherever you are, even reading books in the library, you can look down into the performance. Inevitably it reflects her own obsession, but, again, I don't think she wants to make this venue her mansion either. She's very aware that even after she retires, it will act as an independent institution for durational performance. It's not like it's her house or her gallery. It's really more a public theater where a lot of things could happen.
What will the exterior look like?

Not too much of a visible intervention. We're inserting a kind of open entrance with glass. Some areas we are cutting into and putting in big windows, but it the transformation will be discrete. There are these windows sealed by concrete, but we're reopening them.
Are there more artist collaborations to come for OMA?

We're also working with Marina on other projects in Europe. She's from Montenegro, and we're doing a cultural destination in Montenegro where she's also a figurehead, commissioned by the government to rethink how that could happen. It hasn't started yet. It's a former industrial space that was left after [the former dictator] Tito that's just going to be reconverted to a cultural destination. I can't say that much, but it's huge. It's bigger than the Venice Biennale site. I think the government is now finally approving the budget. Of course, there are more details, but I can't disclose them yet. She's really creating a kind of legacy.
All the headlines talk about Marina and Rem, but his involvement is quite minimal, isn't it?

He's involved, but I'm running the New York office. You know the media always has to say Rem just to catch people's attention, but I appreciate if you don't repeat that laziness. Of course Rem is involved, but as you can see he's not here.
-Janelle Zara, BLOUIN ARTINFO
More of Today's News from BLOUIN ARTINFO:
Album of Australian Colonial Paintings Discovered in Canadian Cupboard Return Home
This Year's Best Actress Oscar Nominees Fought Off Some Powerful Contenders
Olafur Eliasson Plots to Save the Third World Via a Line of Stylish Solar-Powered Lamps
Taxing Taxidermy: Battle Over $65-Million Rauschenberg Eagle May Hinge on Animal Trafficking Laws
French Court Backs Charlotte Perriand Over Jean Prouvé in Posthumous Battle of the Design Stars
Like what you see? Sign up for ARTINFO's daily newsletter to get the latest on the market, emerging artists, auctions, galleries, museums, and more.