Lance Armstrong, the seven-time Tour de France winner who admitted during a recent TV interview with Oprah Winfrey that he had taken performance-enhancing drugs and received blood transfusions, is the subject of Los Angeles street artist Plastic Jesus's latest work, a small stencil in the Melrose Avenue area that show the yellow jersey-wearing cyclist hooked up to an I.V.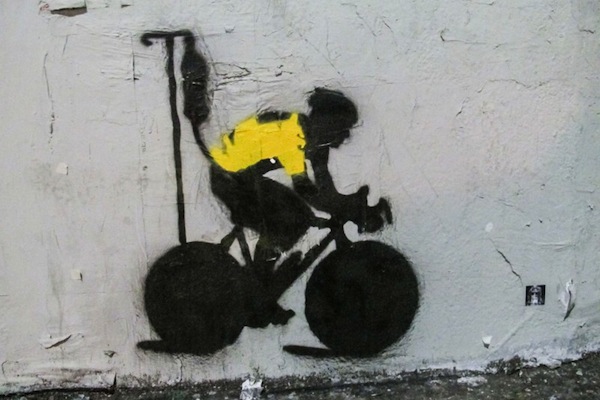 Though Armstrong, a member of the Aspen Art Museum's board of directors and a collector of contemporary art, has been known to ride bicycles custom-designed by the likes of KAWS and Shepard Fairey, we suspect he won't be interested in adding Plastic Jesus's three-foot mural to his collection.
-Author, Benjamin Sutton BLOUIN ARTINFO
More of Today's News from BLOUIN ARTINFO:
Anti-Anxiety Objects: Design in the Age of Xanax
20... or So Questions for Idiosyncratic Experimental Filmmaker Luther Price
Arthur Bicknell Learns To Love His Bomb: Q&A with the Author of "Moose Murders"
Bargain Hunting: Inside the Niche Market for Collectible Weapons and Armor
Marc Spiegler on Art Basel Hong Kong's Ambitions to Dominate the Asian Scene
Like what you see? Sign up for BLOUIN ARTINFO's daily newsletter to get the latest on the market, emerging artists, auctions, galleries, museums, and more.