Beginning last month, for no readily apparent reason, the Tumblr Swoosh Art has been posting images juxtaposing famous artworks -- with a penchant for French painting, from Jacques-Louis David (see Napoleon portrait above) to Edouard Manet -- with the logo and iconic "Just Do It" catchphrase of athletic gear manufacturer Nike, as has been done below with Caravaggio's "Judith Beheading Holofernes" (ca. 1598).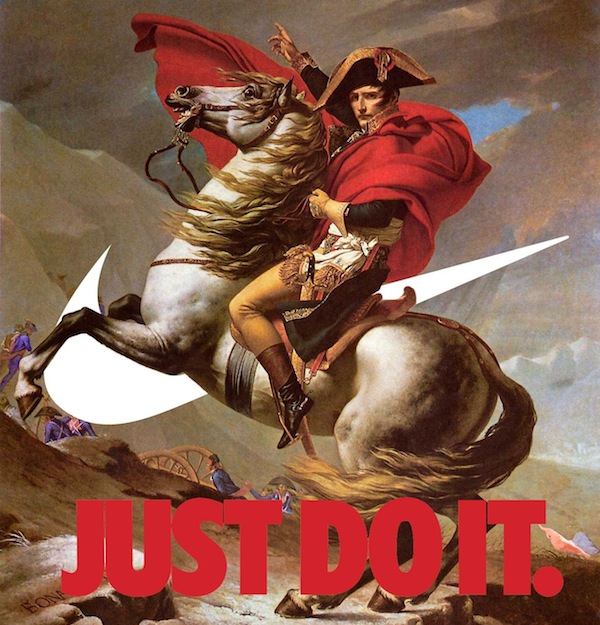 Images courtesy Swoosh Art
Of the images posted in the Tumblr blog's two-month archive, those commemorating feats of military achievement or conflict make the most compelling combinations, lampooning as they do the over-the-top heroism of contemporary advertising for brands peddling high-end athletic accoutrements. By the same token, images of Nike swooshes improbably installed alongside solitary nudes or amid crowds of nudes are very funny for the sheer improbability of the juxtaposition -- and the sexual double-meaning of the brand's motto.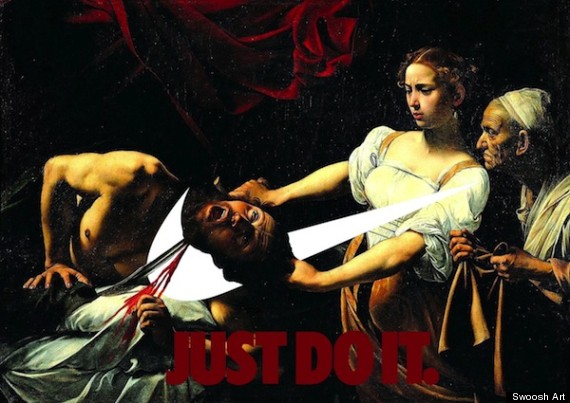 Swoosh Art's take on Caravaggio's "Judith Beheading Holofernes" (ca. 1598)
Swoosh Art is by far the strangest art historical Tumblr we've come across since Mise en Green, which continues to post photos of museums and galleries with plants, though its bizarre appropriation and transformation of major artworks reminds us more of similar projects like Presidents With Boob Faces and the similarly breast-centric -- though markedly more scholarly -- Nipples at the Met.
-Author, Benjamin Sutton BLOUIN ARTINFO
More of Today's News from BLOUIN ARTINFO:
Innovators, Part 3: 5 Figures Who Are Redesigning the Way We Experience Art
VIDEO: Painter and Digital Artist Feng Mengbo's "Not Too Late" in NYC
Tribe of Joe: Saxophonist Joe Lovano and His Us Five Band
Christie"s Increases Buyer's Premiums Worldwide to Keep "Current With Rising Costs"
Japan"s Yubari Fantastic Film Festival's Own Story Is Better Than Its Films
Like what you see? Sign up for BLOUIN ARTINFO's daily newsletter to get the latest on the market, emerging artists, auctions, galleries, museums, and more.