MOSCOW -- On July 12 an unknown woman in a dress similar to the dresses worn by members of the imprisoned Russian punk rock group Pussy Riot chained herself to a cross next to St. Petersburg's Church of Saviour on Blood. Then Red Hot Chili Peppers vocalist Anthony Kiedis wore a "Pussy Riot" T-shirt. Later he and Franz Ferdinand vocalist Alex Kapranos sent letters of support to the three imprisoned anti-Vladimir Putin punk rockers. But the most recent show of solidarity with the jailed trio may be the most extreme.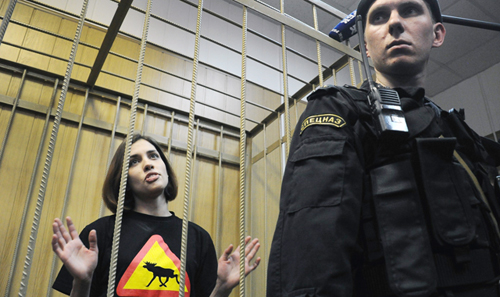 Nadezhda Tolokonnikova, a member of Pussy Riot, behind bars / Photo by Alexander Nemenov/AFP/GettyImages
Yesterday around 3pm the young artist Petr Pavlensky arrived at St.Petersburg's Kazan Cathedral with his mouth sewn shut with strands of coarse thread. Many people were impressed, not by this action -- he has a history of often much bloodier protest operations involving thread and body parts -- but by the poster he held with the message: "The performance of Pussy Riot was a replay of Jesus Christ's famous action (Methodius 21:12-13)." The passage the poster referred to is a famous scene in which Jesus expels tradesmen and merchants from the church.
Pavlensky's protest not only targeted censorship and the unfortunate condition of artists in Russia, but also likened Pussy Riot's hardships to a Biblical narrative. He stood for an hour and a half at the Kazan cathedral before policemen arrived and circled the artist, who did not respond to their threats. The officers appeared to be afraid to touch him, though he was eventually taken away in an ambulance for psychiatric examination and was determined to be sane. Pavlensky removed the stitches after the action. Meanwhile Pussy Riot's jail sentence has been extended until January, 2013.
Watch video of Petr Pavlensky's protest outside St. Petersburg's Kazan Cathedral here
This article appears on ARTINFO Russia.
-Milena Krauz, BLOUIN ARTINFO
More of Today's News from BLOUIN ARTINFO:
Remembering Herbert Vogel, The Postman Who Amassed One of America's Greatest Art Collections
At Luxembourg & Dayan, Mark Flood Spins Frustrated Poetry Out of America's Psychic Underground
From the Slinky to the Sims, A New MoMA Show Surveys the Designs That Made the "Century of the Child"
New Museum's Nervy New Show Tracks Humanity's Unconsummated Relationship With the Machine
VIDEO: Artist Man Bartlett Turns Social Media Into Playful Social Critique
Like what you see? Sign up for BLOUIN ARTINFO's daily newsletter to get the latest on the market, emerging artists, auctions, galleries, museums, and more.