NEW YORK -- On Friday, a crowd of artists, locals, curious small children, and magazine editors-playing-hooky thronged to 86th street at Rockaway Beach to see what sort of sand castles the contemporary art world can build. The competitive event, the brainchild of Creative Time, was the first in what promises to be an annual tradition. Cool artists such as Jen DeNike and Ryan McNamara, working in teams, each had roughly three hours to turn a large mass of sand into conceptual gold. The end results were much like an average trip to Chelsea: Spurts of brilliance intermingled with some middle-of-the-road efforts and the occasional flop.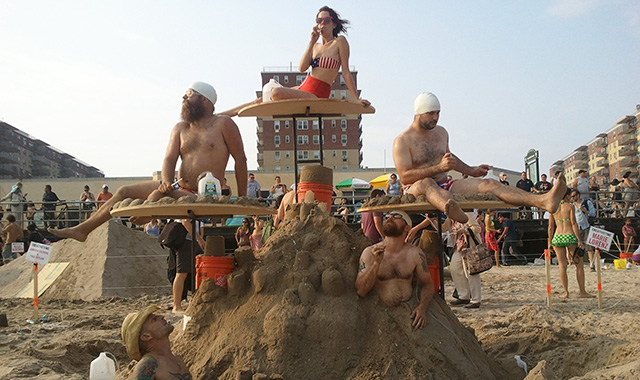 The gold medal-winning effort led by Paul Outlaw and Jen Catron / Photo by Scott Indrisek
Clearly what constitutes a "castle" was up for debate. Dustin Yellin, who is in the midst of launching a "utopian art center" in Red Hook, Brooklyn, used his allotted space to construct a combination salon and bowling alley. Strangers got their hair snipped in a makeshift sand salon whose 'walls' were festooned with pictures from books about sharks and the military. Tom Sachs, perhaps the biggest name on the roster, went down instead of up, digging a deep hole in the ground next to a wooden sign reading CHINA. (The cutesiness of Sachs's gesture was leavened by the very real fear that the whole thing would collapse on the artist and his companions, busy excavating the sand bucket by bucket.) Snarkitecture started with promise -- their team had lots of fancy measuring devices and other technical apparatuses -- though their final structure came out a bit lumpy, a kind of rough pyramid shot through with plastic tubes and topped off with four silver foil flags.
Jen DeNike -- who won the bronze medal in the competition -- busied herself with a figurative sculpture of a reclining female. Shelter Serra, working with only one assistant, looked serious and intent as he labored on his sand sculpture, which ended up being one of the day's only truly castle-like castles. (Serra's explanation of his inspirations -- something to do with 16th-century German castles inspiring Walt Disney, we think -- was swallowed up by the wind. "It's history!" clarified MC Nato Thompson, which was sufficient for the crowd.) Ryan McNamara buried David Velasco and Cecilia Dean beneath a solid mass of sand, and Kenya (Robinson) dug the event's second big hole, this one criss-crossed with a web of strings. The silver medal went to William Lamson, who created a large, smooth cone shape that represented Sand Minimalism at its finest. And the gold was awarded to a team lead by Paul Outlaw and Jen Catron, who built a living sculpture that referenced Bruce Nauman's "Self Portrait as a Fountain."
Afterward the castle-builders and hangers-on headed to boardwalk bar Ripper's (official slogan: Titties and Beer) for an after party that included impromptu pole dancing and a lap dance from a gentleman who had cut the ass out of his pants. Clearly, the magic of Rockaway Beach was in full effect.
To see pictures from Creative Time's "Sandcastle Competition," click on the slide show.
-Scott Indrisek, BLOUIN ARTINFO
More of Today's News from BLOUIN ARTINFO:
Hoberman: "Cosmopolis" Take Two - On Second Viewing, the Film Reveals a Layered Metaphor for the 21st Century
See Zaha Hadid's Venice Biennale Installation, a Blooming Tribute to an Obscure German Engineer
SHOWS THAT MATTER: Franz Xaver Messerschmidt's Freakishly Fascinating "Character Heads" at the Getty
All About Ideas: The British Pavilion in Venice Puts 10 Architecture Teams' Thinking Processes Under the Spotlight
Vienna Tourist Board Calls On Street Artists to Glam Up Klimt
Like what you see? Sign up for BLOUIN ARTINFO's daily newsletter to get the latest on the market, emerging artists, auctions, galleries, museums, and more.