LONDON--The circus is back in town. The Frieze Art Fair's big tent has once again been pitched in Regent's Park, and this year it's home to 173 contemporary art galleries from 33 countries, presenting works by more than 1,000 artists. Rising to the occasion, all of London's museums, galleries, and art organizations are putting on their Sunday best. There is art in the city's every nook and cranny -- an exciting, if somewhat daunting prospect. Where to start? What to see? ARTINFO UK has come up with an ideal day-by-day itinerary.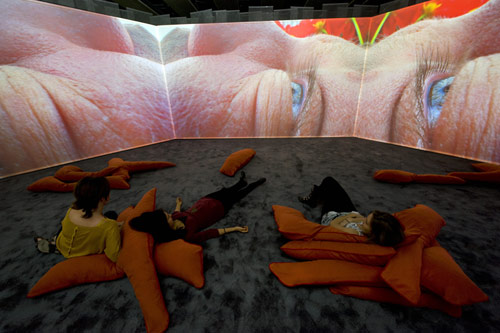 An installation view of "Pipilotti Rist: Eyeball Massage" at the Hayward Gallery / Photo by Linda Nylind
TUESDAY, OCTOBER 11: MUSEUMS DAY
A relatively quiet Tuesday is the ideal time to make the most of London's extraordinary museums. Start with a stroll through leafy Kensington Gardens to the Serpentine Gallery for its exhibition by Albanian filmmaker Anri Sala, and the exquisite pavilion -- or rather the hortus conclusus -- designed by Swiss starchitect Peter Zumthor. Down Exhibition Road, the Victoria & Albert Museum has put together an ambitious survey of postmodernism, which takes us from Italian avant-garde design studio Alchymia to Grace Jones and Jeff Koons. "Postmodernism: Style and Subversion" finishes on the financial extravaganza of the late '80s as epitomized by an Andreas Gursky's photograph of the Tokyo Stock Exchange. This makes a compelling transition to Tate Britain's John Martin solo exhibition, "Apocalypse." Tremendously popular in his time, the Victorian painter fell into oblivion during the 20th century, but today his dramatic paintings of biblical disasters have a troubling, ominous feel.
Hop on to the Damien Hirst-designed Tate Boat, and sail down the Thames en route to Tate Modern, where Tacita Dean's Turbine Hall commission has just opened to the public. Also recently opened is Gerhard Richter's behemoth of a retrospective, which coincides with the artist's 80th birthday and spans five decades. If you're still standing, there are two options now: either walk along the Southbank towards the Hayward Gallery to catch Pipilotti Rist's oneiric video installations, or head to the British Museum for Grayson Perry's "The Tomb of the Unknown Craftsman," a dense display in which the artist has combined some of his own ceramics with artifacts unearthed from the museum's collection.
This evening is a busy one. Christie's is holding a benefit auction in support of Bidoun Projects, the art-organization branch of the celebrated Middle Eastern contemporary art magazine. If music is more your thing, pop by Phonica Records on Poland Street for the launch of Martin Creed and Box Codax's joint double-A-side single. The David Roberts Art Foundation is also hosting an evening of performances and happenings (just like the old days) by artists including Karina Bisch and Cally Spooner.
WEDNESDAY, OCTOBER 12: SKIP VIP FRENZY FOR GALLERY FUN
Today Frieze Art Fair is opening for VIPs and art professionals. You're a mere mortal? Why not take the day for a bit of Central London indulgence? After breakfast at the Wolseley, go straight to Hauser & Wirth Piccadilly for their not-to-be-missed Phyllida Barlow solo show. On Duke Street, Thomas Dane Gallery has expended to new premises at Number 3, which are inaugurated with an exhibition of recent drawings and paintings by Albert Oehlen. The original space at Number 11 is presenting a group exhibition of the Chicago Imagists, who are rarely shown in the U.K. White Cube Mason's Yard -- the gallery's new outpost in Bermondsey opens officially today, by the way -- is one minute away, showing a series of dazzling new works by Raqib Shaw.
The list of good West End galleries is too long to be fully covered by this guide, but ARTINFO UK highly recommends Michelangelo Pistoletto at Simon Lee, Raphaël Zarka at Bischoff/Weiss, George Condo at the consistently inspiring Sprüth Magers, and Marlene Dumas at Frith Street, this being Dumas's first show in the UK since 2004. The tailoring mecca Savile Row is now also an "art must" -- it's there the gigantic Hauser & Wirth premises present an extensive Roni Horn exhibition and, across the street, Pilar Ordovas has made the daring move of launching her gallery with an historical exhibition exploring the links between Rembrandt and Francis Bacon.
Frieze doesn't have the monopoly on tents in London at this time of the year. Returning to Mayfair for the fifth time, the organizers of the Pavilion of Art & Design have pitched theirs on Berkeley Square. PAD gathers an eclectic mix of modern art, design, jewelery, and, for the first time, so-called "tribal art." The north side of Oxford Street has also gained real momentum in the last couple of years, perhaps spurred by the arrival of Stuart Shave/Modern Art on Eastcastle Street, which is currently showing American sculptor Richard Tuttle. Across the road, British darling Charles Avery is at Pilar Corrias, and a few streets down, Paradise Row presents a solo show by Douglas White, inspired by the artist's encounter with the remnants of a pachyderm in Africa. Nearby, at Asia House on New Cavendish Street, the exhibition "Step Across this Line" gathers contemporary artists from Bangladesh, India, and Pakistan, including the celebrated duo CAMP.
Don't miss the wonderfully nostalgic pictures by late Italian photographer Luigi Ghirri, a sensation since his rediscovery at the Venice Biennale, at Mummery + Schnelle. If they whet your appetite for the unconventional, the Museum of Everything's "survey of progressive studios for self-taught artists" temporarily hosted by Selfridges on Oxford Street should be your next stop. Hungry for real? Lazarides Gallery and Kofler & Kompanie have teamed up to "redefine the dining experience." The two galleries have set up a Michelin Star-quality pop-up restaurant in the cavernous Old Vic Tunnels, near Waterloo, which also serve as the background for a Greek mythology-inspired exhibition by Lazarides's artists (including Stanley Donwood, Antony Micallef, and Doug Foster). Finish in style on the Mall at the Institute of Contemporary Arts's Kunsthalle Bar, inspired by Basel's world-renowned arty hangout.
THURSDAY, OCTOBER 13: HIT THE BIG TENT
Frieze Art Fair is now all yours until Sunday night. Booth highlights include Casey Kaplan's, which is presenting Matthew Brannon's works in a complex installation alluding to the story of a private detective (one suffering erectile dysfunction) chasing a sexually deviant dentist. Franz West has invited his favorite artists to participate in the Gagosian stand -- and each has produced a poster for the show. Make also sure to check out some of this year's Frieze Projects. Christian Jankowski has hired a boat dealer to sell a luxury motor yacht either as a boat or as a Jankowski artwork -- with the buyer's decision to go for one or the other dramatically impacting the price tag. (The art, of course, is more expensive.) Peles Empire, a London and Cluj-based project freely inspired by a 19th-century Romanian castle, has set up a gesamtkunstwerk-cum-bar serving exclusively plum liqueur and sparkling water. The collective LuckyPDF is producing TV broadcasts with more than 50 artists. Visitors are welcome during rehearsals or for the live recordings, taking place from Thursday to Sunday at 4 p.m. Also worth dropping by is the booth "In The Public Eye," shared by Camden Arts Centre, Chisenhale Gallery, ICA, Serpentine Gallery, Studio Voltaire, and the Whitechapel Gallery. It features a portfolio of limited edition artworks by the likes of Jeremy Deller, Michael Landy, and Wolfgang Tillmans, donated by the artists to support these well-loved London institutions.
Toward the evening, then, Contemporary One, the inaugural sale by Bonhams new contemporary art department, will be held at 4 p.m. in the company's headquarters on New Bond Street. The top lot is Alighiero Boetti's "Anno 1984" (1984), a 6-by-27-foot piece composed of 192 pencil drawings of magazine covers, with an estimate of £1.2-1.8 million ($1.9-2.8 million). Other highlights include works by Glenn Brown, Peter Doig, and Martin Kippenberger.
FRIDAY, OCTOBER 14: EXPLORE THE SATELLITES
At 11 a.m., the Bagel Bus Tour is departing from Frieze for an afternoon of gallery hoping in the East End, which will include visits of the Approach, Hollybush Gardens, Hotel, Maureen Paley, Nettie Horn, Vilma Gold, and Wilkinson (to attend RSVP to info@nettiehorn.com). This is a great chance to see the cream of the East End crop.
If your appetite for art fairs isn't satiated yet, head instead down to Ambika P3 on Marylebone Road, a stone's throw from Frieze. SUNDAY art fair is back for the second year, providing once again a breath of fresh air after the rarefied atmosphere of the main event. Co-organized by three galleries -- Croy Neilsen of Berlin, Limoncello of London, and Tulips and Roses of Brussels -- and loosely modeled on New York's INDEPENDENT, SUNDAY has no divisions or booths. This year the galleries are only showing solo and duo presentations, which will, no doubt, improve the fair's readability. You can expect works by such hotly tipped talents as Dove Allouche, Tim Davies, and Dan Rees, presented alongside Simon Fujiwara, Aurélient Froment, and Jessica Warboys.
For more of the emerging, Victoria House on Bloomsbury Square is the place to go. The Saatchi Gallery's "New Sensations" and the "Future Can Wait," two ventures presenting young artists during Frieze week, have joined forces and put together a major exhibition featuring over 50 artists, including Francesca Lowe, David Birkin, and Alastair Mackie.
For street art, make your way East to Moniker, which attracted more than 10,000 visitors last year. The street art fair is taking place in a Victorian warehouse, the Village Underground in trendy Shoreditch, and features London's Scream gallery, L.A.'s Le Basse, and Amsterdam's the Garage, among others. After Moniker, drop by the Whitechapel Gallery at 3 p.m. to hear Wilhelm Sasnal in conversation with chief curator Achim Borchardt-Hume. The painter and filmmaker will discuss his practice, and some of the threads in his major solo show currently held at the gallery.
The Camden Arts Centre my be on the other side of town, but your art tour of the capital wouldn't be complete without a visit to the space, which is showing two of the most courted young artists of these last couple of years: Haroon Mirza, winner of the Silver Lion at the last Venice Biennale, and Nathalie Djurberg. For her first solo exhibition in the U.K., the latter is presenting "A World of Glass," four new synchronized films shown in an immersive installation of crystalline objects. Djurberg's "claymations" are as playful as they are disturbing -- a rare treat. Head back to SUNDAY in the evening, to take part in Bedwyr Williams's artgeek Pub Quiz.
SATURDAY, OCTOBER 15: AMONG THE EASTENDERS
You're probably thinking (or praying) that you've done it all by now, but it's well worth returning to Frieze Art Fair at 1:30 p.m. for an "in conversation" between John Bock and Franz Erhard Walther -- two genius German oddballs a generation apart. Saturday is also traditionally the East End night, and 21 galleries and museums spread between Barbican and Victoria Park are staying open late. But it's a lot to see in one evening, and you'd be well advized to start early. Maureen Paley and Herald Street, showing Rebecca Warren and Djordje Ozbolt respectively, are obvious must-sees, as are Sutton Lane and Hotel Gallery, which have just moved into photographer Wolfgang Tillmans's former main studio on Cambridge Heath Road. Ibid Projects and Kate MacGarry should also feature on your to-do list, with the stellar Marianne Vitale showing at the former, as should London's most elegant private foundation, Raven Row, which is currently showing Mathias Poledna and Florian Pumhösl.
For the art fanatics who just can't get enough, the Serpentine Gallery's sixth marathon should answer your prayers. The two-day event, inspired by Peter Zumthor's pavilion, will explore the concept of the "garden" with non-stop live presentations by more than 50 artists, writers, and philosophers including Etel Adnan, Yto Barrada, Jake Chapman, Hélène Cixous, and Dan Graham. Enjoy!
-Coline Milliard, ARTINFO UK, ARTINFO

More of Today's News from ARTINFO:
Take a Virtual Tour of Gerhard Richter's Sweeping Tate Modern Retrospective
Big Shoes to Fill: The Met Taps Elsa Schiaparelli and Miuccia Prada to Follow the McQueen Fashion Blockbuster
Avant-Garde Belgian Dancer Ridicules Beyonce for Stealing Her Moves
Jesus Wins World's Biggest Art Award! Michigan's ArtPrize Goes to Towering Crucifixion Mosaic
I Threw All the Art in the Garbage, Claims Accomplice in $134 Million Paris Museum Heist

Like what you see? Sign up for ARTINFO's daily newsletter to get the latest on the market, emerging artists, auctions, galleries, museums, and more.