Okay, let's play a game. You have $25,000 and -- channeling your inner David Merrick -- you decide to invest in a Broadway show. There are two choices: "The Bodyguard," a stage musical adaptation of the 1992 Whitney Houston-Kevin Costner film or a musical version of "Rocky," the iconic Sly Stallone movie. As your savvy advisor, I'd say "fuggedaboutit." Put your money in a 401K, since investing in Broadway just a 1-in-7 chance of ever seeing it again.
Still interested?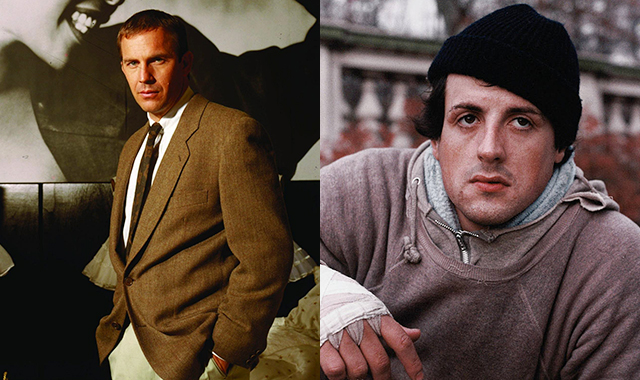 Still of Kevin Costner in The Bodyguard/© 1992 - Warner Bros. Right: Still of Sylvester Stallone in Rocky/© 1976 Metro-Goldwyn-Mayer Studios Inc.
Let's look at the pros and cons of each show, as they have both recently had world-premiere productions and are almost certainly headed for Broadway within the next year or so. A caveat: I saw "Rocky, Das Musical" just before it officially opened in Hamburg, Germany last November. (Though it is German, the show was created in New York by a team of Broadway veterans and then translated.) I have not yet seen "The Bodyguard," which opened in London's West End on December 5, but I read all the major reviews and got the scuttlebutt from friends who had attended.
Let's start with the shared advantages: They are name brands. "Rocky" has spawned innumerable sequels and brought in an aggregate total of $1.4 billion into the box-office. "The Bodyguard" had world-wide grosses of over $400 million. The musicals feature songs that are well-known. "Rocky" now has "Gonna Fly Now" and "Eye of the Tiger," supplementing a new score, and it may well have "Living in America" when in opens on Broadway. "Bodyguard" is a so-called "jukebox" musical, which uses songs from the film, including "I Will Always Love You," and "I Wanna Dance with Somebody."
"Bodyguard" received mixed reviews from the London critics. Most dismissed it, as did the critic for Time Out, as "finely wrought hokum." The encomiums were largely reserved for Heather Headley, who stars in the Whitney Houston role as the petulant diva who is brought to heel by a stalker and the handsome hunk (here played by Lloyd Owen) who protects her. Also receiving plaudits was director Thea Sharrock, for whom "Bodyguard" came on the heels of successful revivals of "The Sunshine Boys," starring Danny DeVito and "Equus," starring Daniel Radcliffe.
But the big question is, can Headley carry a flawed show over the finish line? It seems almost certain that she will come to Broadway in "Bodyguard." After all, she won the Tony Award for her breakout role in "Aida," the Elton John-Tim Rice musical in 2000. She then became one of the few theater stars to succeed in the pop recording arena, winning a Grammy Award and reaching the top of the R&B charts with the singles, "He Is," "I Wish I Hadn't," and "In My Mind." Producers will no doubt be banking on her to make "Bodyguard" an event. Although the show has a $6 million advance in London, the producers are also mindful that a brand name counts for only so much. "Lord of the Rings," "Flashdance," and "Ghost" all crashed and burned as stage musicals despite their pedigree.
"Rocky," on the other hand, relies less on star power and more on the ingenious staging of director Alex Timbers ("Bloody Bloody Andrew Jackson") and Steven Hoggett. ("Black Watch," "Once.") The German critics had praise for other elements of the show: the book by Tom Meehan, the songs by Lynn Ahrens and Stephen Flaherty, and the starring performances of American-born Drew Sarich and Dutch-born Wietske van Tongeren. But it was the show's coup de theatre in the staging of the climactic fight between Rocky Balboa and Apollo Creed that sent them out raving. It's likely to generate positive word-of-mouth among audiences as well, given that the creators offer the unique spectacle of witnessing a boxing match, complete with a 20-by-20-foot regulation ring thrust into the orchestra seating. The blows, which usually appear fake in a show, are realistically rendered, thanks to Hoggett's kinetic and deft choreography, impeccable sound and lighting, and expert makeup, which make the bruises, welts, and blood appear in sync with the punches.
The marketing dilemma for "Rocky," however, lies in these statistics: 70 percent of theater tickets are bought by women. A nearly equal number -- 67 percent -- make up the Broadway audience. They may not be inclined to go to what they perceive as a musical about boxing. In Hamburg, the producers have addressed this problem by aggressively marketing "Rocky," whose subtitle is "Fight from the Heart," as the unlikely romance between a hangdog boxer and the mousy woman who inspires him to greatness. It appears to be working. Tickets sales are on the rise for the musical, which is reputed to have cost in the range of $20 to $25 million. (Boxing rings don't come cheap.) Some local insiders now predict that the show will run in Hamburg for three or four years.
Given the relative strengths of the two musicals, I'd still give the decision to "Rocky" over "The Bodyguard." In today's Broadway climate, an expensive musical must qualify as an Event on some level. A stunning must-see performance can elevate a mediocre musical. Hugh Jackman in "The Boy from Oz" comes to mind. As good as Heather Headley may be in "The Bodyguard," spectacle is often the surer bet. After getting two sets of devastatingly negative reviews, "Spider-Man" continues to gross well over $1 million per week. In addition to its spectacular finale, "Rocky" has the added advantages of a strong book (what I could understand of it), an uplifting score, and brilliant staging. I wouldn't bet my kid's college education on its success. But if you've got some mad money hanging about, it just might end up underwriting a couple of semesters.
-Author, Patrick Pacheco BLOUIN ARTINFO
More of Today's News from BLOUIN ARTINFO:
SHOWS THAT MATTER: Imaging the Face of Death Across Time and Cultures in London
Chinese Sculptor and Avant-Garde Pioneer Wang Keping Carves Out a Niche in Paris
French-Moroccan Artist Bouchra Khalili Maps the Migrant Experience
Top 5 Shanghai Biennale Art Pavilions by Global Cities From Detroit to Tehran
Montreal-Based Jérôme Havre's "Unwoven" Sculptures Come to NYC's Front Room
Like what you see? Sign up for BLOUIN ARTINFO's daily newsletter to get the latest on the market, emerging artists, auctions, galleries, museums, and more.