Between "Gallery Girls" and just plain old "Girls," recent hits of TV, reality and otherwise, have more than capably demonstrated the rich fodder that contemporary gallery-workers' lives offer for engaging dramatic arcs and enjoyably trashy feuds. Now, executive producer Mark Waters (who directed "Mean Girls" and "House of Yes," and produced "(500) Days of Summer") will tap the gallery well for "Gallerina," a new hour-long scripted drama series for E!, Deadline reports.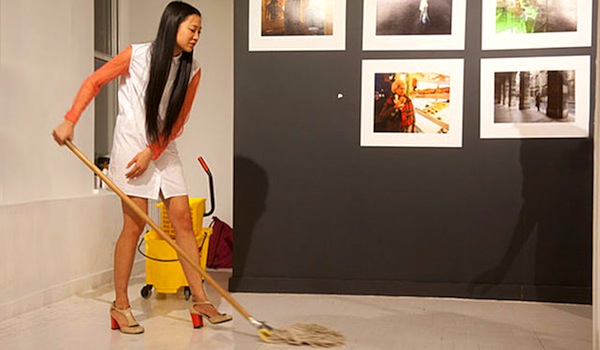 Writer Michelle McGrath will pen the new show, which is set in Los Angeles and concerns the life and work of a young woman employed at the fiction Bettencourt Gallery, "which symbolizes LA as the prestigious new center of the art world," according to Deadline. The leading lady will not only have to deal with the gallery's self-important star artists and condescending collectors, but also its lewd, Eli Klein-like director, and his famous mother.
That last detail suggests the show may actually have some real-world connections, as Liliane Bettencourt -- one of the principal shareholders in L'Oréal and, at $23.5-billion, one of the world's wealthiest individuals -- has not only been very generous in her arts philanthropy, but famously acquired works by Picasso, Matisse, Mondrian, Man Ray and others, and gave them to a man many believed was manipulating the octogenarian for financial gain. We look forward to seeing this particular scandal broached on "Gallerina."
-Benjamin Sutton, BLOUIN ARTINFO
More of Today's News from BLOUIN ARTINFO:
he Creator of "Mean Girls" Is Working on a Drama Series Called "Gallerina"
YEAR IN REVIEW: A Look at 10 Controversies That Divided the Art World in 2012
As the Battle for the Online Art World Sharpens, How the Players Are Adapting
Breaking the Museum-Going Mold: A Q&A With the Hammer Museum's Allison Agsten
Kutlug Ataman's "Mesopotamian Dramaturgies" Rework History at Sperone Westwater
"The Unknown Hipster Diaries" Are Published in Earnest Hardcover Form
Like what you see? Sign up for BLOUIN ARTINFO's daily newsletter to get the latest on the market, emerging artists, auctions, galleries, museums, and more.