Following a $500,000 grant from the Andrew W. Mellon Foundation for the launch of its conservation program, the Dallas Museum of Art has announced another grant of $300,000 for the creation of a new technology initiative that will help develop the museum's educational and visitor outreach programs. The initiative, called the Laboratory for Museum Innovation, is supported by lead gifts from AT&T, Texas Instruments Foundation, and Forrest and Cynthia Miller.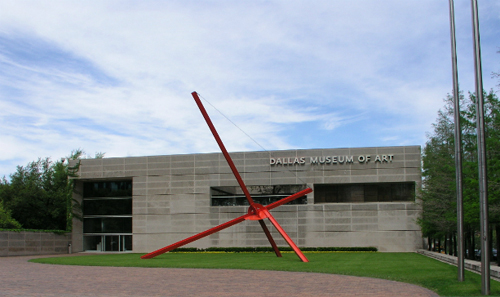 The Dallas Museum of Art / Courtesy Wikipedia
Much like a technology start-up, the Laboratory will work to help the museum connect with the surrounding community through experimental programming, pioneering short-term pilot projects with students and teachers, making collection data accessible to the public, and studying how visitors experience the museum and its exhibitions. The Lab will be split into four specific areas: Access to Collections; Visitor Engagement and Participatory Culture; Advancing Digital Scholarship; and Transformative Infrastructure. The gift will allow DMA to "develop cutting-edge technologies that further enhance the vital role that museums play in their communities," said director Maxwell L. Anderson in a press release.
Anderson has a history of technology initiatives; in his previous position as director and CEO of the Indianapolis Museum of Art, he oversaw the museum's technological overhaul, launching projects like the Art Museum Image Consortium and the ArtBabble museum video channel that benefited both IMA's audience and the art museum community at large.
The DMA's deputy director Robert Stein, another innovator of technology's presence in museums with programs like the research initiative Steve.Museum and the museum mobile platform TAP, will lead the Laboratory, which will open in 2013. "With social media and mobile computing becoming increasingly important factors in the lives of museum visitors, the methods and means to effectively engage with those visitors are changing at an incredible pace," Stein stated in the press release. "In an ever-connected age, museums occupy an important place as a significant local resource as well as an important cultural resource to a global community."
-Kyle Chayka, ARTINFO
More of Today's News from BLOUIN ARTINFO:
Phillips de Pury Coronates the "Triumvirate" of Witty Contemporary Design at Its New York Shop Space
David Lynch Turns Hollywood's Milk Studios Into a Fun House for the Reveal of His Custom Bottle for Dom Perignon
Yves Saint Laurent Co-Founder Pierre Bergé Weighs In on Hedi Slimane's Plans to Rename the Revered Fashion House
Despite Critics and a Suppressed Tampon Chandelier, Joana Vasconcelos Brings Her Playful Feminism to Versailles
Critical Art Ensemble Performance Sparks Major Police Operation at Documenta
Like what you see? Sign up for BLOUIN ARTINFO's daily newsletter to get the latest on the market, emerging artists, auctions, galleries, museums, and more.