Every year, buildings come and go, transforming our surroundings bit by bit, for better or for worse. This year was no exception. We witnessed historic Chinese hutongs razed, the tallest building in Europe constructed and eclipsed, and pop-up pavilions assembled and disassembled around the world. And while the ever-shifting shape of our world plays an important role in structuring the way we live, it is also the human activities and events surrounding our architecture that informs how we interact with our environment -- and each other. The narratives that architecture generates adjust the way we understand what is built, what is destroyed, and even what is left unbuilt. Here are ten of the most essential stories in architecture this year. View the slideshow here.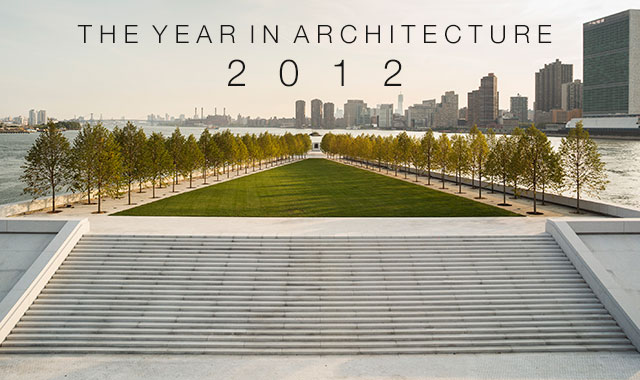 Louis Kahn's FDR Memorial / Photo by Paul Warchol

1. Wang Shu wins 2012 Pritzker Prize
At the comparatively young age of 48, Chinese architect Wang Shu took home the top international prize in architecture this year. The award not only honored the architect who designed the Ningbo Museum and swept a number of accolades in his own country but also served to acknowledge "the role that China will play in the development of architectural ideals," as the official announcement put it. The prize spotlighted Wang's attention to site-specificity and regard for traditional materials and techniques, qualities that have elicited a rare dialogue with the past that questions the feverish pace of development in China today.
2. Paul Rudolph's Orange County Government Center is saved from demolition
The Brutalism success story of the year centers on Paul Rudolph's avant-garde government center in Goshen, New York, where a dramatic 11-10 vote in early May favored the preservation of the 1971 building, designed when Rudolph served as the dean of the Yale School of Architecture. Its reprieve from the wrecking ball was no small effort: Upon being flagrantly dismissed as a concrete eyesore, Rudolph's government center had long been vacated, the subsequent lack of maintenance exacerbating problems brought on by perpetually leaky roofs. When local officials proposed razing the shifting concrete volumes of Rudolph's building, preservationists and journalists rallied to its defense, eliciting a wave of media coverage extoling the virtues of Brutalism.
3. Anish Kapoor and Cecil Balmond's ArcelorMittal Orbit confuses and angers at the 2012 London Olympics
Despite gallant efforts to build the most sustainable Olympic Park to date with lithe constructions, pop-up stadiums, and detachable viewing stands, the 2012 London Olympics still left a rather bewildering architectural legacy in the form of a 377-foot-tall observation tower sculpted out of asymmetrically contorting red steel. Dreamt up by London mayor Boris Johnson, financed by steel tycoon Lakshmi Mittal, and conceived by sculptor Anish Kapoor and structural engineer Cecil Balmond, the ArcelorMittal Orbit was lambasted by critics for its glib disregard for context as well as the political baggage that came with its eponymous sponsor, ArcelorMittal Steel.
4. The Venice Architecture Biennale incites a series of publicized diatribes against contemporary architecture
The thirteenth Venice Biennale of Architecture barely opened its doors to the public before receiving an acid rainstorm of criticism from Austrian architect Wolf Prix. Likening the event to "an expensive danse macabre" on its debut day, Prix triggered a histrionic war of press statements with biennale curator David Chipperfield, who attempted to defend the integrity of his "Common Ground" theme by accusing Prix of turning the entire profession into a "soap opera." Though melodramatic in their approaches, both architects raised relevant points about the impotence of contemporary architectural culture -- points that critic Philip Nobel was unafraid to gripe about from a different angle.
5. A Frank Lloyd Wright home in Phoenix incites preservation battle
A Phoenix home marked for demolition became the site of a protracted preservation debate this summer when it was identified as a 1952 Frank Lloyd Wright --and a truly inventive one at that, "[u]nlike 80 percent of the houses Wright designed after World War II," according to one historian. After the first wrecking ball was parried, an anonymous buyer stepped up to purchase the property in early November, offering to both preserve the house and pay the developers the demanded listing price. Days later, the munificent buyer backed out, and an already prolix saga dragged on. Bristled by the media attention, the development-minded owners of the David and Gladys Wright House informed New York Times reporters that they refused to swallow losses and "carry the cross for Frank Lloyd Wright," but luckily, they won't have to: After half a year, a buyer has finally closed the deal to purchase the house, restore it, and use it for educational purposes.
6. The Barclays Center opens in Brooklyn
Even before breaking ground, the SHoP Architects-designed (and Jay-Z-endorsed) stadium for the Brooklyn Nets ruffled more than a few feathers when developers muscled their way onto the downtown Brooklyn site and inspired a muckraking full-length documentary. When construction was completed this year, many considered its otherworldly, weathered-steel facade an abomination. The stadium presented a particular challenge for architecture critics, who struggled to ignore the welter of tendentious comments and evaluate the building as isolated entity, dramatic urban intervention, and controversial political gesture, all at once.
7. The potential demolition of Bertrand Goldberg's Prentice Women's Hospital rouses debate
If there's one thing a gaggle of Pritzker Prize winners can agree on, it's that the 1975 Prentice Women's Hospital should be landmarked and preserved. Designed by Bertrand Goldberg, the clover-shaped steel-and-concrete mass is a pioneering work of Brutalism, the first design to derive its form from a computer-generated model. To its current proprietors at Northwestern University, however, the building is more a hindrance to growth than a relic of innovation. When the university began deliberating the fate of the building, a slew of Pritzker-wielding architects petitioned Chicago mayor Rahm Emanuel for Prentice's landmark designation, while others drafted proposals for its adaptive reuse. In the end, the mayor sided with demolition, but preservation efforts have continued undeterred.
8. Louis Kahn's FDR Four Freedoms Park opens
Almost 40 years after its conception, Louis Kahn's Franklin D. Roosevelt Four Freedoms Park was completed posthumously this October, introducing a majestic new public space to New York City (on the southern tip of redeveloping Roosevelt Island) and receiving almost universal praise from critics. The plaudit for the memorial testifies to the timelessness of Kahn's modernism and the determination of those who preserved his vision for decades and helped realize a monument faithful to its original design.
9. Lebbeus Woods dies at age 72
Visionary architect Lebbeus Woods passed away in late October at the age of 72. His untimely death prompted many in the field to pen poignant eulogies extoling Woods's integrity and ingenuity as an architect. It also illuminated the importance of his work -- largely composed of vivid dystopian illustrations -- and the value of the two-dimensional drawing in contemporary architectural practice. A major exhibition of Woods's work is being planned at the San Francisco Museum of Modern Art for this coming February.
10. Oscar Niemeyer dies at age 104
After a succession of minor hospitalizations, legendary Brazilian architect Oscar Niemeyer died just ten days before turning 105. His passing marked the end of a prolific career and, in a sense, finally closed a chapter in modernist architectural historiographies, one marked by soaring optimism and political zeal. Niemeyer's death brought new attention to the architect's curvaceous concrete structures -- particularly his designs for the civic buildings of Brasilia -- and renewed discussion on the aspirations, successes, and failures of late-20th-century modernism.
You can view the slideshow here.
-Kelly Chan, BLOUIN ARTINFO
More of Today's News from BLOUIN ARTINFO:
24 Artists to Watch in 2013: Part 1 of 2
24 Artists to Watch in 2013: Part 2 of 2
15 Questions for Trash-Recycling Installation Artist Asim Waqif
"Preserving Patrimony": Prince Ravivaddhana Sisowath on the Heritage of Cambodian Art
YEAR IN REVIEW: 10 Stories That Moved the Art Market in 2012
Like what you see? Sign up for BLOUIN ARTINFO's daily newsletter to get the latest on the market, emerging artists, auctions, galleries, museums, and more.