Years after having lost the High Line to Diller Scofidio + Renfro, Zaha Hadid has just landed a commission to make her mark on the elevated train tracks -- or at least adjacent to them. The Pritzker winner is going to build a new 11-story apartment building in Chelsea's forthcoming Hudson Yards, arguably the only plausible locale for her New York debut.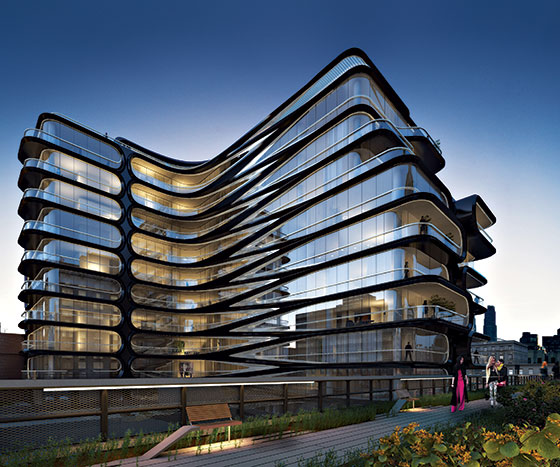 The wraparound floor-to-ceiling glass is perfect for looking out -- and in!
Hadid's design is in step with the glamorous, high-profile architecture that's been erasing all traces of the neighborhood's industrial past since the late-aughts arrivals of Frank Gehry, Jean Nouvel, and Shigeru Ban. The apartment building slated for 520 W 28th Street (a far more appropriate home for Hadid's brand of deconstructivism than the staid modernist surroundings of 425 Park Avenue, another lost New York commission) consists of two perpendicularly joined wings, stacks of glass that provide new opportunities of total voyeurism from the High Line. One wing will be five feet higher than the other, and given the developer's cheeky description of a "Don Draper Apartment," we're guessing that its split-level unit is going to be very, very expensive.
Although appropriately intergalactic (a black line is going to zigzag down the height of the facade), the building falls on the more restrained side of Hadid's spectrum. "It's on a quite restricted site," she explained to New York Magazine, and as a result, "You can't really go wild." The typically wild curves of her facades have been reined in and reduced to mere rounded edges of a rectangular scheme. There are no stray bulbous volumes to be found, although her team is now experimenting with water lasers with the hopes they'll be able to carve their signature "frozen-in-stone ­liquid patterning" on the interior marble.
- Janelle Zara, BLOUIN ARTINFO
More of Today's News from BLOUIN ARTINFO:
IN THE STUDIO: Pae White Keeps Her Curiosity for Materials In Check
Legos Take the Artworld: 11 Unexpectedly High-Design Works
Del Toro Conjures Love Letter to "Godzilla" With "Pacific Rim"
Like what you see? Sign up for BLOUIN ARTINFO's daily newsletter to get the latest on the market, emerging artists, auctions, galleries, museums, and more.