What is happening inside Syria is unlike any conflict I've covered in my career. Photojournalist Neil Hallsworth, security lead Tim Crockett and I reported from the Baba Amr district of Homs, Syria, last month. What we witnessed was excruciating. Constant shelling of what were once ordinary neighborhoods by the government as it launched its assault on the civilian opposition. What we saw and witnessed is not even a fraction of the suffering felt by residents in these areas, not even a fraction of their pain. We left, we had the choice to do so. A choice so many of these families do not have -- trapped in what they describe as a living nightmare with no end.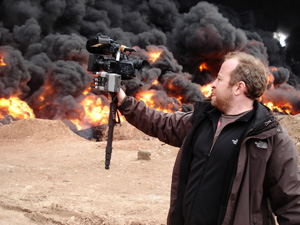 We had been to Syria a few times before on official work visas. We were assigned a government minder and needed to apply for permission for every city or area we wanted to visit, permissions that often did not materialize. Most of the time we were ferried to see what the government wanted us to see. In each case, we informed viewers that we were in the presence of the government's watchful eyes. That is not an ideal scenario for any journalist, but an advantage is it alleviates some safety concerns, because it at least it safely gets us into the country. If we manage to evade our minders, as we did on a couple occasions, it helps us to get out the real story to the world.
This trip was different. We snuck in to Baba Amr to report close to the zones of intense fighting. It took nearly a week to get in. And everything we witnessed seemed significantly more dire than during our last visit to Syria. The front lines were constantly changing. Young people we filmed died hours later without pain killers or antibiotics. Doctors and medical volunteers were targeted by government snipers just for trying to help rescue the wounded caught in the crossfire -- and women and children desperate enough to venture out for food had to also dodge bullets. We had to be careful about describing our locations on air. And, as always, whenever we were helped by local fixers we avoided doing anything that may help the government identify them later.
Shortly after we left, Marie Colvin and Remy Ochlik were killed. I had seen Marie and cameraman Paul Conroy -- who was wounded -- just days before that. Marie -- courageous and passionate -- embodied all it is to be a journalist. And she knew the risks and felt they were worth taking.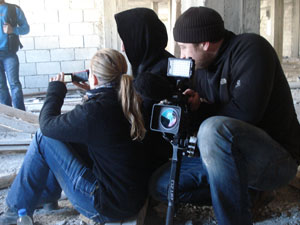 None of us believes we are invincible and no journalist wants to die telling a story. But you also cannot do justice to the telling of a story like this unless you live and breathe as the people caught in that story are.
As with all my colleagues in the field on stories in places of conflict, we push ourselves and our organizations to be on the front lines in utterly unpredictable environments. But at the end of the day, when we do take on such an assignment we know we have the support -- from moral support to planning, to logistics and security -- which those whose story we cover do not have.
It is fundamentally unfair that we live in a world where such horrors take place, where such cruelty exists, and where if all goes well we return home leaving those whose plight we briefly shared, behind.
As challenging as these events are to cover, as difficult as these images are for viewers to watch, and readers to read, we must. There are so many layers to the story of what is happening in Syria that are so important to tell. We must all be witnesses and decide if all we want to do is watch.
72 HOURS UNDER FIRE debuts on CNN/U.S. on Sunday, March 11 at 8:00pm and 11:00pm ET & PT and on CNN International on Friday, March 9 at 3:00pm ET. Please check your local listings for additional airtimes.