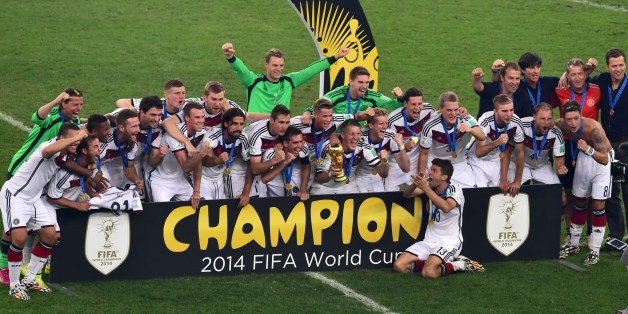 Wow! Germany is the World Cup champion for the fourth time, after Super Mario Götze's superb strike won it in extra time on Sunday. The super sub wasn't even born the last time his nation won the title in 1990.
Somewhere in Southern California, USA coach Jürgen Klinsmann is having a quiet smile. He was a key member of that 1990 World Cup-winning Germany squad, and must be happy to see his former protégé and present Germany coach Joachim Löw accept the accolades for inspiring the tournament's best overall team. Klinsmann tweeted: "Jogi you did it!...The best team won the 2014 World Cup."
Löw had said before Sunday's title game that the team had a "clear, persistent game-plan" and if they were courageous and believed in their own strengths, that they would win. And how they did. Germany captain Philipp Lahm said it was just an "unbelievable" feeling to be World Cup champions.
But little maestro Messi, who won the tournament's Golden Ball award for best player, and his heroic Argentina team were left despondent.
After 64 games and 171 goals, many of the spectacular highlight reel variety, what a tournament! Two of the most stunning tournament results were Spain 1-5 Netherlands -- the first sign that Spain's title reign was over. And, then Brazil 1-7 Germany in the semi-final -- a resounding revelation that there wasn't going to be a fairy-tale ending for the wonderful host nation.
Overall, to change up T.S. Eliot's words, "This is the way the world (cup) ends, with a bang not a whimper!"
But what a bang, what a blast! And, so much raw, unadulterated passion!
Now, welcome back to our day jobs and regular lives. Grrrrrrrrr!
Colombia's "James" won the Golden Boot, for top scorer with 6 goals, ahead of Germany's Muller. While Germany's Neuer won the Golden Glove for best goalie. My fave stunning goals included: van Persie's once-in-a-lifetime, diving header vs Spain; James' magnificent chest and thumping volley vs Uruguay; magical Messi's solo dash and curler vs Iran; USA Jones' wonder blast of an equalizer vs Portugal; and, Germany's Klose departs with a winner's medal and with the all-time World Cup scoring record of 16 total goals!
On Saturday, in the third place game and in front of another packed yellow clad crowd in Brasilia, to add insult to injury, Brazil lost again, this time 0-3 to fellow vanquished semi-finalist Netherlands. So, after not losing at home in a competitive match in 39 years, host Brazil just lost two straight home games. Ouch! Brazil's sometime captain Luiz, who was recently sold from his English club team Chelsea to PSG for £50 million -- a world-record fee for a defender -- had a nightmare...again.
Before the game, Dutch coach van Gaal felt the match was irrelevant, suggesting, "There is only one award that counts...becoming world champions. The worst thing is that there is a chance you are going to lose twice in a row. And in a tournament in which you have played so marvelously well you go home as a loser." But van Gaal and his Oranje team go home smiling, a winner and in third place. Meanwhile host Brazil does lose two in a row and stays home...a loser! Double ouch! But, commiserations to the wonderful people of Brazil.
Then on Sunday, Germany earned its 4th World Cup title but first in 24 years -- titles just don't come easy. In the process, Germany saved more salt being rubbed into Brazil's still fresh wounds and stopped the Seleção's great nearby rivals, Argentina, from winning the title in Brazil's own Maracanã stadium.
Thanks for the memories. Muito obrigado, Brazil, for your joy and hospitality.
Follow Ashley Jude Collie's World Cup coverage at MadeMan.