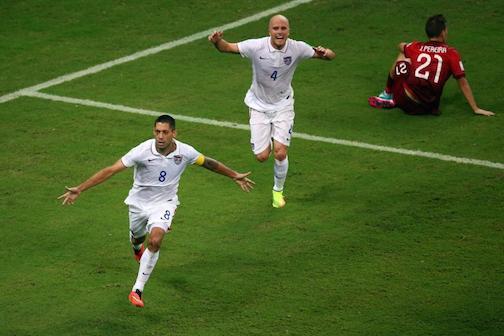 If Sunday's enthralling USA vs Portugal game didn't blow you out of your seat, hello, please check your pulse!
Sunday highlights included: Belgium 1-0 Russia (superstar Hazard set up the Red Devils' late winner, making them the 6th team to advance to the round of 16); Algeria 4-2 Korea Republic (the North Africans' first Cup win since 1982 puts them in contention to advance); and, in the Group of Death, USA 2-2 Portugal (captain America, Clint Dempsey, put the USA on the verge of advancing).
Saturday's recap, included: Argentina 1-0 Iran (maestro Messi's stoppage-time winner saves favored Argentina's skin yet again); and, Ghana 2-2 Germany (the Black Stars severely tested German resilience).
Going into Sunday's titanic battle, the headlines blazed, "U.S. vs HIM" -- "him" meaning Portugal's Ronaldo, he of the supermodel girlfriend, underwear adverts, reigning European Champions League champ...and a preening ego to boot! But so much for well laid plans as John Steinbeck wrote. Ranked fourth in the world, Ronaldo's Portugal were seconds away from being dumped out of the World Cup by Clint Dempsey's led USA team. Dempsey with the broken nose and all.
After Portugal's desperate last second equalizer, U.S. coach Klinsmann said: "We did an amazing job today, and we got to do it (again) the tough way. We got to get a result against Germany, it's going to be another final." Sure enough, the Group of Death has it all to play for on Thursday, June 26.
This week, we head into the final round of group play, and here are some observations so far. Group A wraps up play June 23 with Mexico vs Croatia and Brazil vs Cameroon, with the not-so Indomitable Lions being the only one without a shot at advancing.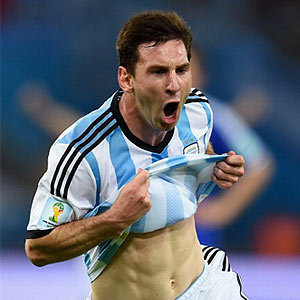 Argentina is saved twice by magisterial Messi - Getty Images
On the weekend, Argentina played again like 10 stuttering players plus their left-footed maestro, Messi, whose two winning goals have gotten this favored team out of trouble twice. Additionally, two former World Cup winners, Spain and England, have already booked their flights home after disappointingly losing both their opening games, while a third, Italy could join them if they lose to Uruguay (June 24).
Three non-favored teams from Central and South America (Colombia, Chile, and very surprising Costa Rica) go into the final round unbeaten after playing some scintillating counterattacking football. Meanwhile, Nigeria (unbeaten with two shutouts) and Cote D'Ivoire have the best chance of the African nations of progressing. After a relentless pummeling by another African upstart, Ghana, and a fortunate get-out-of-jail, tying goal by Klose, Germany's defenders are giving coach Löw cause for concern. Which begs the question, can the USA take advantage of Germany's dodgy D on June 26?
Generally, the less favored teams, like Algeria and its 4-goal joy on Sunday, have been bringing the most excitement and the best goal celebrations -- Colombia's infectious sideline dance, which got the fans doing it in the stands, and Ghana's zombie-like dance. Even such unfancied teams as Iran have shown pride and guts, if not quite achieving glory.
As for the giants, Netherlands dynamic striking duo, van Persie and Robben, are leading the Oranje's drive to win the title after three heart-breaking final losses in the past. "Magisterial" Messi has been having to do all the magic on his own, unfortunately, for his favored Argentina who haven't caught fire as a team, yet. Same with favored Brazil, who haven't yet brought jogo bonito. Holders Spain simply failed to ignite and will meet England...at the airport.
Frontrunners for the Golden Boot with three goals each are France's Benzema, Netherlands van Persie and Robben, Germany's Mueller and surprisingly, Ecuador's Valencia. The most thrilling goals have included van Persie's header, Cahill's thunderous volley, and Suarez's thumping winner vs England.
The curtain comes down on group play on Thursday, June 26, and then this joyous World Cup next "brings the pain" of the knockout rounds -- win or go home! As Shakespeare wrote in Henry V: "Once more unto the breach, dear friends, once more..."
Follow Ashley Jude Collie's World Cup coverage at MadeMan.