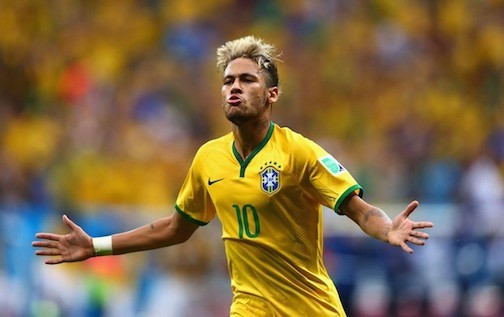 The knockout Round kicked off with a tasty all-South American line-up on June 28: Brazil 1-1 Chile (Brazil won in a heart-stopping PK shootout); Colombia 2-0 Uruguay (Los Cafeteros' new superstar Rodriguez with his 4th and 5th goals is a dazzling Golden Boot contender). This was followed by a second course on June 29: Netherlands 2-1 Mexico (El Tri's tears as Oranje Power prevailed late); Costa Rica 1-1 Greece (the 10-man Ticos also won on a PK shootout).
The USA team plays Belgium on July 1 and as infectiously positive coach Jurgen Klinsmann puts it: "Now we really get started. We have a very clear picture in front of us. You got to win no matter how. And, it's a good feeling, now we focus on one specific opponent to beat at a time." Go USA!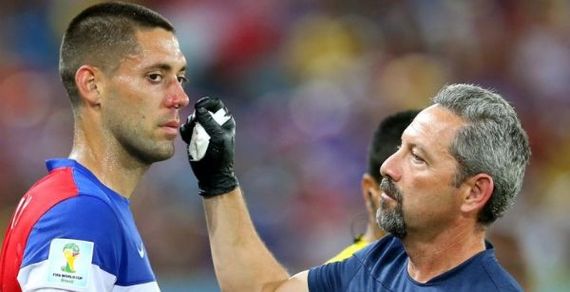 Captain America, Clint Dempsey walks off a broken nose - Getty Images
Now for Ann Coulter's diatribe on soccer. I don't read her, she's a little shrill by half, and her ultra-bright smile is a little too dazzling. But her "shot" got the goat of many soccer-loving fans, including many whose great-grandfathers were born here. Maybe that's what she wanted, choose an outrageous stance and throw it out there. Or, does Ms. Coulter do ironic? Or is she really just an "insult comedian" in disguise?
Actually with the joy and 'jogo bonito' of World Cup 2014 playing out before our eyes, Coulter's post reads like it was written in the Jurassic Age, before the 1994 World Cup that was held in the USA and attracted record attendances. Back then, critics were lambasting the USA, predicting the organizing committee would blow it, but the opposite happened. MLS, a new domestic league, kicked off in 1995 and is still expanding. The USA Women's soccer team won the 1999 World Cup right here in America. And, seven of the USA men's starting 11 in last Thursday's game against Germany compete in the MLS.
Let's address some of Coulter's naughty points. Rolfe Jones, whose great-grandfather was born here in the USA, is a super fan of football, and the co-founder of the LA Spurs supporters club. He suggests "this lady is smoking some wacky tobaccy" explaining:
Soccer's history in the USA is well established and the Lamar Hunt trophy is one of the world's oldest knockout tournament trophies. Ties in games are not necessarily bad games. Soccer's dominant theme is that it is difficult to score and the whole game is about anticipation of when and how a goal will be scored. I bet Ms. Coulter doesn't know there are more registered soccer players in the USA than in any other country. Perhaps Americans find the sport exciting after all and not just to watch. David Beckham's input into the American MLS game was pivotal in so many ways, including consistent and growing attendance figures, and MLS' continued expansion, witness Beckham's new Miami franchise. Overall, Coulter's claim that the appreciation of the 'beautiful game' is akin to 'moral decay' is unfathomable on so many levels. Maybe she could take some pride in the USA national team that now holds its own on the world scene. Haha, maybe Ms. Coulter is aiming for a career in comedy!
Mark Gabel, a San Francisco employment law attorney who's a passionate member of the local SF Spurs supporters club, adds:
Coulter suggests that soccer is somehow wimpy because there's not enough risk of injury. Setting aside the question of whether this is a relevant means of judging a sport (answer: no), soccer players are some of the toughest athletes around. USA team captain Clint Dempsey had his nose broken in the USA's first game but stayed in the game, leading his team to victory. More generally, about half of everything that happens on the field, including sliding tackles, muscling opponents off the ball, or heading the ball or a clash of heads, hurts like hell. And, they only wear shin guards. Additionally, midfielders run an average of over seven miles a game!
Wimpy? You cannot be serious! As for viewership, Coulter cites the Super Bowl having "111.5 million viewers" -- fair enough. Except, a global TV audience of more than 700 million is expected to watch the World Cup 2014 final. And, even UEFA's Champions League soccer final now regularly surpasses Super Bowl ratings worldwide for most-watched annual sports event! Coulter also mischievously or ignorantly suggests soccer is not "catching on (with) African-Americans" -- over a third of the USA squad have African-American heritage. And lastly, she suggests, "No American whose great-grandfather was born here is watching soccer" -- is Coulter somehow dumping on immigration and decrying the fact that America's white population will lose its majority by 2043? Or, is she just pulling our leg, again?
As Shakespeare wrote in Hamlet, "The lady doth protest too much, methinks..."

Follow Ashley Jude Collie's World Cup coverage at MadeMan.