Rep. Michael McMahon and Michael Grimm, the Democrat and Republican candidates for New York's 13th Congressional seat in Staten Island and parts of Brooklyn, took part in a heated debate on NY1 Tuesday night, spending much of the time battling on campaign tactics.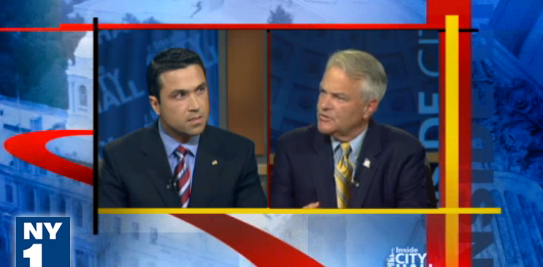 McMahon criticized Grimm and said his Republican opponent had been twisting the facts through negative campaign tactics.
"Since I've been in Washington, I have not voted for one tax hike at all. And the only time I have was when it was an emergency for the city of New York," McMahon said, referring to his vote as City Councilman in 2002 to increase property taxes. "And what does my opponent do? He misleads the people in my district and says I have done all these things. Well it's outrageous. And why? Because he's got nothing positive to say about himself."
Grimm jumped in and argued that McMahon was the one who's been untruthful.
"You want to talk about misleading? My opponent has disgraced himself in his office. He is unfit to be a Congressman because he has put out nothing but blatant lies," Grimm said. "He puts out ads saying that I want to export jobs to China. Let me tell you something, the only thing I've ever exported is myself to a combat zone.
The moderator allowed the two candidates to question each other, but after several spirited arguments erupted, the moderator had to step in and break it up.
McMahon asked Grimm how he could be qualified to deal with the economic issues, citing claims that Grimm had a failed business that didn't pay taxes in Texas, lost hundreds of thousands in real estate investments, and that he sold a restaurant just before it went out of business.
Grimm denied all of the accusations. "Let's talk about my restaurant. It's still on the Upper East Side," Grimm said. "If you'd like, I'll treat you to dinner."
Grimm, in turn, claimed that the congressman had voted for a "deem and pass" measure for healthcare reform, McMahon turned the debate on Grimm's voting record.
"The question is why didn't you vote as a citizen of Staten Island? You lived there for 15 years and you voted in five elections out of 31 you could vote for," McMahon said.
"I was disenchanted by career politicians like you," Grimm replied

"Disenchantment was no excuse," McMahon said.
You can watch the full 24-minute debate here.