Roses beckon from the street level of the Marlborough Gallery in Chelsea. Pale, ballet pink, Venetian rose and brick red blossoms with bright green stems stand out from the grey pavement outside of the gallery. Artist Will Ryman meant for his exhibition, titled A New Beginning to serve as a rat's eye view of an urban garden. But it does more than that; the roses represent a sort of urban Eden, a last bastion of summer mixed with a bit of Alice in Wonderland.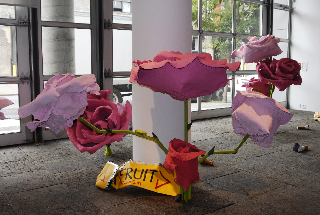 Ryman, a former playwright, found his true calling in sculpture. "A New Beginning represents a kind of changing in my work," he says. "I used to write plays, then I began sculpting figures and now I'm creating worlds and environments." He continues, "I chose roses because they kind of resemble a global commercialism. They are the most identifiable flower in the world, and they make you think of Hallmark." Corporations and commercialism also have a place in this urban oasis. The detritus found under clusters of blossoms is exactly what one would find littered in an urban garden: cigarette butts, golf balls, pizza crust, a crushed Starbucks cupts with coffee leaking out, and an open bag of potato chips. Ryman made conscious decisions about the brands he portrayed in his installation. "I chose the biggest corporations that came to mind," he admits. "The ones I, and most people, see walking down the street every day."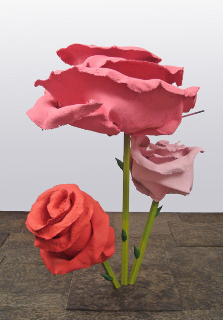 Walking among thirty-nine roses, which range in height from two to seven feet, is akin to walking through a city. You are constantly looking up and down, trying to take it all in. And, similar to the buildings in Manhattan, Will Ryman's roses are constructed with building materials including rebar stems, steel, aluminum, epoxy, resin, mesh, plaster and paint. When you get up close and personal with Ryman's roses, they don't look like roses at all. Inside the buds, blossoms and wilting flowers, mesh pokes through plaster and paint. The process of creation is always on display. "I like to show all of the materials I use," Ryman admits. "That's why a lot of those have rebar sticking out of them." Continuing the urban theme, the roses are placed on a dirt-colored floor, the steel tiles laid out like a grid. Seeing the artist's process is a bit like walking up and down the grid streets of Manhattan, surrounded by buildings in various states of completion -- an architect's work, like an artist's, on display for all to see.
Despite his insistence that the color of the roses was based strictly on the availability of paint, it's hard to ignore the meaning behind Will Ryman's large-scale pink roses. The longest existing roses in the world, pink is a gesture of both love and gratitude. Perhaps Ryman's subconscious tribute to the juxtaposition of beauty and commercialism that permeates the city in which he lives, works and exhibits; his bouquet to New York.
Will Ryman's A New Beginning runs through October 10th, 2009 at the Marlborough Gallery, 545 West 25th Street New York, NY. 10001, 212-463-8634