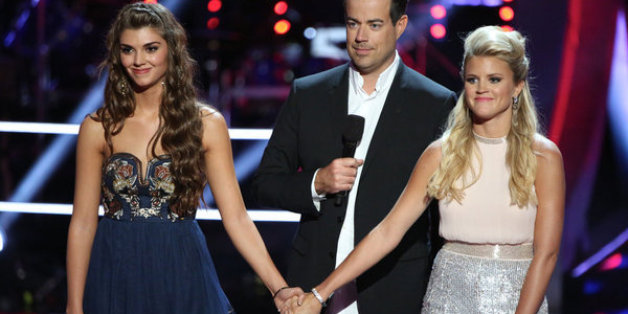 Note: Do not read on if you have not seen Season 5, Episode 11 of NBC's "The Voice" titled "Knockout Rounds, Part 1"
Knockouts! Where the Battle rounds are all about showing up a duet partner; in the Knockouts, a singer can only sink themselves.
A new twist this season lets coaches steal losers of the Knockout rounds. The "steals" mean us viewers won't have to say goodbye to some of our favorite singers. But as the squads whittle down, Blake, Christina, Cee-Lo and Adam all say they aren't looking to replicate any archetypes they already have. It's looking more like "Lord Of The Flies" with every passing episode.
For my fellow sob-story skeptics, this week's episode is refreshingly light on twinkly piano music, tributes to dead relatives and tales of personal tragedy! #sticktothetunes.
Here's how it all goes down:
Team Christina:
The first battle of the night is hype, hype, hype. Two of Team Christina's toughest singers are ready to strut their stuff. Amber Nicole sings "Mama Knows Best" by Jessie J. Josh Logan takes on Stevie Wonder's "Living For The City"
Amber Nicole is a worthy singer to star this Knockout series. Sassy, smirking, and strutting without coming across as too cocky. Josh Logan's ad-libbing shows he ain't afraid of overshadowing Stevie's legacy. Those melodies, dare I say it, ripple out of him like a ribbon in the sky.
Winner: Josh Logan
Amber is stolen by Cee-Lo, and Blake puts up a fight for her, too. Amber's smile is wider than Cee-Lo's shades. Neither of these two singers deserve to be taking the train back home.

Team Cee-Lo:
Sultry Monika Leigh is paired with Kat Robichaud, she of the wild eyes and Beetlejuice striped pants. Kat sings "You Oughta Know" by Alanis Morrissette (my karaoke song!); Monika takes on Ray Charles' "Hit The Road, Jack."
Kat struts around the stage like a bat out of hell, kicks higher than Shaft and whips her hair back and forth like Willow Smith. Not to be outdone, Monika Leigh whips HER hair back and forth too. But that's just the thing -- does a Ray Charles song need a hair tornado? The judges think Kat's more true to herself on stage -- Adam calls Monika "calculated." He reserves his highest compliments for Kat: "A couple times, you looked like you're gonna kill somebody," he quips. Alanis would be proud.
Winner: Kat Robichaud
Team Blake:
Oh, Holly Henry. When you show up on stage in your cute little dress with the Peter Pan collar, I think you're Courtney Love before the drugs, Fiona Apple before her dog dies, Lisa Loeb before she had to write the second single. You're just a pretty little thing, and it's scary out there, but -- yikes. This is a rough one. Before I start crying, Holly (my favorite this year) sings Radiohead's "Creep" (why would you ever sing that). Nic Hawk is singing "Genie In A Bottle." Brave soul.
I'm won't pick on someone as sweet as Holly, but even Holly knew she didn't win this. WHY WOULD YOU SING "CREEP." It's an encore song. It's about weirdos, it's whiny and there's almost no room to do your breathy gorgeous thing. This choice gave Nic Hawk elbow room to wiggle in with his neo-soul "Genie In A Bottle" interpretation that had Christina writhing in her throne. I can't look at Nic without thinking of high school talent shows, but he's got personality and style for miles.
Winner: Nic Hawk
Loser: My heart
Team Adam:
Ashley DuBose sings "Hey, Soul Sister" by Train (yuck). The powerful Tessane Chin frets that her voice is hoarse. Tessane need not worry. Tessane, despite looking a little too "business casual" for showtime, claims Kelly Clarkson's "Stronger (What Doesn't Kill You)" with a ferocity I usually reserve for late-night pizza.
Ashley DuBose is likable and talented, but her "Soul Sister" cover sounds an awful lot like Rihanna -- and she sang RiRi during the blinds! Even if Rihanna was singing against Tessane tonight, she'd probably lose. When Tessane starts head-banging at the end, Kelly Clarkson probably gets nervous. Tessane cannot be contained.
Winner: Tessane Chin
Team Blake:
Briana Cuoco draws the short straw, meaning she has to sing against Shelbie Z., the powerhouse pageant queen coach. Shelbie Z. is in Tessane's category, talent-wise, singing Carrie Underwood's "Last Name." Briana sings "Don't Speak" by No Doubt.
It's charitable to say Briana sang "Don't Speak." She hardly hit a note on key during the first half of her performance. Shelbie belts "Last Name" like she's winning the Grand Ole Opry, although it'd be nice to see her sing something outside her comfort zone. Briana, not to her credit, blames her song choice for "not being enough." That's not exactly how this goes down.
Winner: Shelbie Z.
Team Adam:
I've been wary of Grey because I don't know whether she has the personality to carry off the one-name moniker (Prince, Cher, Pele.) Tonight, she too treads familiar musical territory with "Already Gone" (who made me suffer through two Kelly Clarkson songs in one episode?) James Irwin came back from "The Voice" dead to turn around four chairs in the blinds. I think he did an amazing job on "Counting Stars" in his Battle round. This week, he sings The Script's "Breakeven."
I really don't think Grey has earned just one name yet, but Adam says she's further along. Grey says she "never thought" she'd get this far. I feel the same way.
Winner: Grey

Team Christina:
Biker-bar sweetheart Destinee Quinn, who looks like she should star in a big-budget movie about Oklahoma, sings Carrie Underwood's "See You Again" (another Carrie song?!). Olivia Henken sings Linda Ronstadt's "You're No Good." These two are about as even of a match as we'll see tonight -- plucky, head cheerleader-types with big voices and emotional deliveries.
Both Olivia and Destinee are guilty of half-bellowing through their songs, though Christina coaches them to not over-sing during rehearsals. Destinee's voice is so beautiful when she doesn't try to be powerful. When the crowd cheers after she stops, she smiles like she's surprised. Olivia has some pitch issues, but she channels some of Linda's 70's cool, and I think, wins the round narrowly. Christina is so upset by this decision, she asks if Shakira can come back to "The Voice" now. Two good singers.
Winner: Olivia Henken

Team Cee-Lo
Is Cole Vosbury a gimmick, or a badass? He's the guy who sang the theme song to "The Jeffersons" during the blinds. He sings "Let Her Go" by Passenger. Soul brother Jonny Gray, whom Cee-Lo just LOVES, picks "We Can Work It Out" by The Beatles (wish he'd have gone for Al Green's version). When these two stand on stage, Blake deadpans, "It looks like somebody's filming a Western."
Jonny Gray has more stage presence than any guy on "The Voice" this season. Cee-Lo says he reminds him of Dylan. But Cole's song manages to be haunting and memorable without ever overpowering. It was the quietest performance of the night, but it was one of my favorites. Adam is so impressed, he tells both guys he'll steal whoever loses.
Cee-Lo picks Jonny, and Adam dramatically slams his hand down to steal. That's when Blake slams HIS button. He sweet-talks Cole. Adam looks like he's about to cry, meanwhile. Cole is feeling Blake's vibe. Adam loses out. Now that's what I call a knockout.
Winner: Jonny Gray

Watch a special two-hour episode of "The Voice" Tuesday at 8 p.m. EST on NBC.