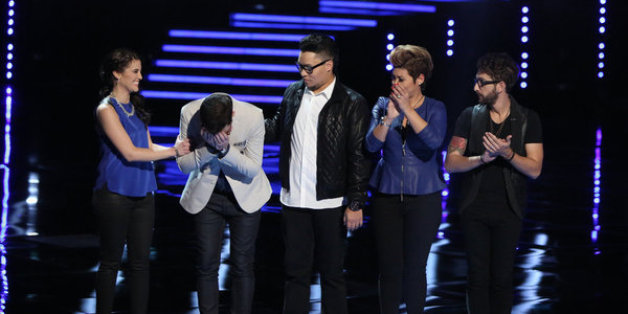 Note: Do not read on if you have not seen Season 5, Episode 15 of NBC's "The Voice" titled "Top 12 Are Revealed"
"The Voice" has aired on prime-time television three times this week. For a moment, it felt like the Olympics to me, and I'd get to sit down every night and watch a singing competition.
The reason for NBC's special Thursday episode? It was time to reveal who you voted for. America sends their top two picks for each team to the next round; the judges were allowed to save only one more singer from their team. That means eight singers left "The Voice" last night. It was a harsh night.
Perhaps the biggest shock of Thursday came early, after Team Blake together sang The Edgar Winter Group's "Free Ride" and Nic Hawk danced his adorable dance solo. After winning three times with female singers, America picked emotive Austin Jenckes and Cole Vosbury's classic rock chops to advance to the next round. This shocked me -- two quiet dudes with acoustic guitars edged out a diva like Shelbie Z?! But Blake may not have been as sold as I was on Shelbie. Instead, Shelton picked Ray Boudreaux for his one and only pick of the night. Undeniably, Boudreaux is handsome and smooth and a good singer -- but he was off beat during one of his few solo moments on "Free Ride." Are you convinced this guy's swamp pop can win?
Staying: Austin Jenckes, Cole Vosbury, Ray Boudreaux
Leaving: Shelbie Z., Nic Hawk
Next, Cee-Lo's team sang Supergrass's "Give A Little Bit," proving Cee-Lo's musical taste, like the groundhog seeing his shadow, cannot be predicted from one moment to the next. While every judge looked stricken at the prospect of sending home 40 percent of their team last night, Cee-Lo seemed on the verge of tears during a rambling speech where he promised his singers unconditional love and support. America kept pixie-ish Caroline Pennell and handsome vet Jonny Gray. Cee-Lo squirmed, but finally took the Kat Roubichaud. Now, I know Kat's glam rock kicks and throaty voice are unique, but did you see Cee-Lo going with Amber Nicole or Tamara Chauniece? After Tamara's last performance, I thought she was a lock to stay in the competition. Kat said last week that she and Cee-Lo are soul mates, in a way -- maybe they've just connected on a different level together.
Staying: Caroline Pennell, Jonny Gray, Kat Robichaud
Leaving: Amber Nicole, Tamara Chauniece
Team Christina sang another Maroon 5 song (the unfortunate "Love Somebody" -- really, it was an awkward three minutes to sit through.) When Christina had to give her own rambling, apologetic speech for sending home two of her singers, she mentioned that she emails with contestants from "The Voice" after they leave. How cool is that? Some guy who was in middle school when "Genie In A Bottle" came out heard her and is now trying out for "The Voice" next season! Christina's team is all about power. Although America's voters can be fickle, there was no way Jacquie Lee or Matthew Schuler weren't going to advance after their unforgettable performances. Christina threw in hat-wearing Josh Logan for her third -- a solid pick, but maybe not as strategic? With Shelbie Z. leaving early, Olivia was the only country singer left this season of "The Voice."
Staying: Jacquie Lee, Matthew Schuler, Josh Logan
Leaving: Stephanie Anne Johnson and Olivia Henken
We were left with Team Adam. Nailing Capital Cities' "Safe and Sound," the team faced their judge for another difficult-to-watch elimination. I was happily surprised to see James Wolpert rewarded for his quietly powerful Joni Mitchell cover, and Tessane Chin's mighty voice all but guaranteed her a seat in the next round. Adam kept Will Champlin safe last night, after this week's soulful cover of OneRepublic's "Secrets." This meant Preston Pohl sang his last note for "The Voice" -- honestly, that's a tragedy, and with a better song choice this week, it could have been Will going home.
Staying: James Wolpert, Tessane Chin, Will Champlin
Leaving: Preston Pohl, Grey
Who do you think was eliminated unfairly? Who looks like the front-runner right now?
Watch "The Voice" again on Monday at 8 p.m. EST on NBC. Two more contestants will be eliminated each Tuesday.
BEFORE YOU GO