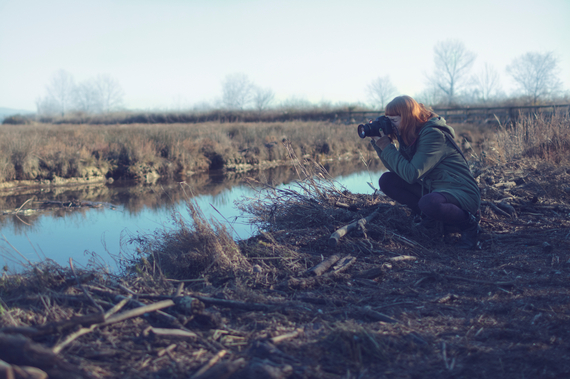 Mother's Day happens to be coming up fast -- it's May 11th, FYI -- and we sincerely hope you've got plans to show your mom how much you appreciate her. We know you're looking everywhere for the ultimate fail-safe Mother's Day gift ideas. Don't panic, we've got your back.
If your mom loves to get away and discover new things, she's going to need the gear to do it right. Whether she's a beginner or a well-traveled veteran, you're sure to find the perfect gift for her here.
Whether your mom loves documenting her vacations or just wants to ensure no family memory is forgotten, the Canon PowerShot G15 12.1MP camera is sleek and easy to use. Its three-inch LCD screen makes checking photos a breeze, and with a 5x optical zoom, no scene is too far away. With the click of a button, this camera can shoot 1080p-quality videos. Prepare for family movie night.
If your mom heads south for the winter, help her protect her skin with the Biotherm Oligo After Sun Sparkle Cream. After she's been out in the sun, she can use this product to soothe, hydrate and heal her skin so she doesn't have to worry about solar damage. The cream is enriched with vitamin B-5 to help leave her skin soft and with a healthy glow.
Having a comfortable pair of shoes while traveling makes a world of difference, but style-conscious moms won't want to sacrifice their look for comfort. Give your mom the best of both worlds with a pair of Jerusalem Style II Sandals. Made of leather and designed for optimal sole support, your mom should be able to wear these sandals whether she's navigating her way around a cruise ship or trekking on terrain that's a little rougher.
Even if your mom's in-between vacations, she can think of a faraway destination as she breaks out Salts of the World Test Tubes to use in her cooking. This six-salt set includes red salt from Hawaii, smoked salt from Denmark, black salt from Cyprus and more. Each salt has a unique, memorable taste that can instantly take her on a journey without ever leaving the kitchen.
Carrying books on vacation can be a hassle, but if your mom enjoys reading while away from home, the Kindle Fire delivers. It weighs less than 15 ounces, making it easy to slip into her purse or carry-on bag. And with its seven-inch screen and access to millions of movies, TV shows, books, songs, and magazines, your mom won't ever have to worry about being bored while waiting at the airport.
Source: AskMen
Photo credit for lead image: Stocksy
Photo credit for product images: Amazon