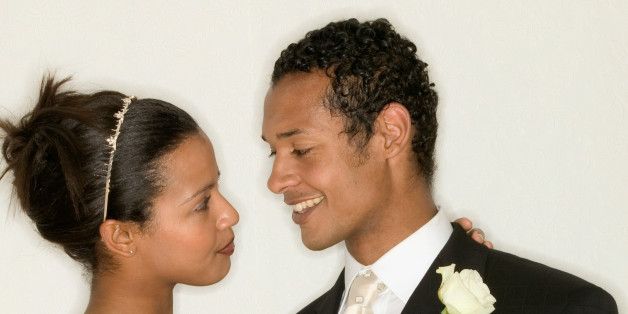 Each year, celebrating my wedding anniversary entails my husband and I struggling to locate our wedding DVD since last year's viewing, flipping through our abnormally massive wedding album and laughing... a lot. At the surprise -- ahem -- "last-minute additions" to the wedding party, the flower girl's facial expressions walking down the aisle and the late comers standing behind us at the altar snapping pictures with their phones and cameras when what they needed to do (in the words of the great philosopher Tamar Braxton) was "have several seats."
And we're reminded once again that some of the smallest decisions we've made as a couple have had the greatest impact on in our lives. During the weekend of our wedding, with family literally flying into town from all over the world, my husband learned he'd landed an interview with a big law firm in Boston I'd never heard of. Normally, job interviews for a third-year law student are great, but not in the middle of the student's wedding festivities.
"What do you think? Should I take the interview?" I remember my husband asking me, firm in his commitment not to take the interview if I had a problem with him doing it during our wedding festivities. We both knew that taking the interview meant squeezing in a phone interview before the weekend was over and having to cut our already sparse "mini-moon" plans short and head back to North Carolina the day after the wedding for an in-person interview.
"Sure, what the heck. We can always take a honeymoon." I replied.
The rest, as they say, is history.
Read the rest at: Ms. JD