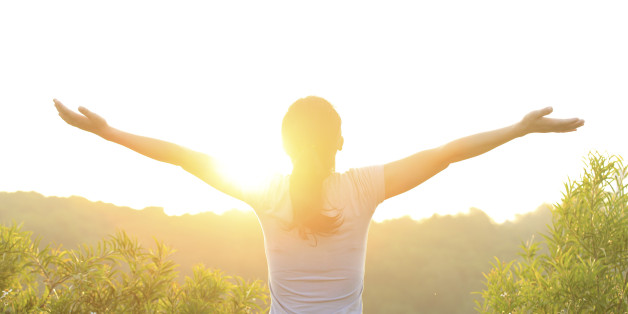 Spring and Easter always have us talking about rebirth. I'm tired of rebirthing myself. How many new chapters can we have where we "turn over that new leaf"? New year = new you? Not really. The last few years have been deep in my personal development journey. I pulled my ass out of a major depression. I made some really shitty choices. I had a celibate year a' la Eat, Pray, Love-status at my quarter life crisis. I don't want take the challenges from my 20s into my 30s.
For me, turning 29 just before Easter hasn't been about new, it's been about closing out the old. The frame of "new" feels so false. I'm not new, I'm still the old me, I just need stop giving myself permission to get in my own way. This Easter I'm focused on resurrection. A personal resurrection. A personal coming. My coming. I turned 29 with one big intention: Shed the things that no longer serve me and keep me from my best self. The Lenten season was the perfect opportunity to examine what exactly those crutches are that I use to hold myself back.
I broke them down into the main pillars we hold space in:
Relationships: both platonic and intimate
I struggled after my broken engagement to let people in emotionally. If I let them in it was in a cold, rotation sort of way. Detached hook-ups. A "no fucks given" attitude that applied only to the emotional barrier when it should have applied to the physical one. As I picked myself up from all the other areas of my life, dating was the one area where I was stuck.
But walls aren't meant to hide hearts. For two years I held space for someone that helped me lower those. He was the perfect partner to bring up all my stuff. He was my mirror.
People who have the most to teach us are often the ones who reflect back to us the limits to our own capacity to love, those who consciously or unconsciously challenge our fearful positions. They show us our walls. Our walls are wounds -- the places where we feel we can't love any more, can't connect any more deeply, can't forgive past a certain point. -- Marianne Williamson, A Return to Love.
We don't hold physical space for each other anymore. That relationship didn't turn out the way I wanted, but it was exactly what we both needed to grow. He told me towards the end: "Your heart is so big, and it kills me that I broke it." But he didn't break my heart, he healed it. For the first time in my life I understand what it means to love someone wholeheartedly and for that I will forever be grateful. There is a line from Sarah Kay's spoken word poem ("An Origin Story" with Phil Kaye): "I have seen the best of you, and the worst of you, and I choose both." That's what wholehearted love is. It's all of me loving all of you, curves AND edges included (thanks John Legend for the soundtrack to that epiphany).
Finances and work
This I can sum up in one line via the talented Jessica Walsh: "Do the work that feeds your soul, not your ego."
I left my tech startup at the end of 2014. It was feeding my ego, not my soul.
Spirit
I have been working daily to deepen my meditation practice. My soul sister Maritza Mendez taught me Kundalini Yoga and held space for me in my meditations. I can't tell you enough good things about what learning to breathe has done for my soul, but the best thing is that it taught me to release. In meditations with her I've cried, and been able to go deep into emotions that I spend all day repressing. I've forgiven. I've loved. And I've let go. I've also learned that every action and thought I have is either from a place of love and worthiness or a place of fear. The minute it's a hustle or a reaction is the minute I'm no longer in equilibrium.
Friends that keep us grounded in equilibrium and conscious of love #priceless #perfectpartners #enlanoche pic.twitter.com/GmcuyPPmCE

— Audrey Bellis (@audreybellis) January 20, 2015
Community
I alluded to this in the work pillar, but I've gone independent. I'm a downtown girl, and I love supporting my community. Being able to have the opportunity to build my local tech and start up community for all of DTLA is absolute living for me. I get to the build the community I want to be a part of everyday, not just wait for someone to build it for me. I found the place where I belong and I can serve.
Body and physical health
This was an area that like relationships, I struggled for some time. I lost an ovary. I developed fibroids. I had to go on hormone supplements to prevent going into early menopause.
I've finally found my peace though. Working with a naturopath, I've managed to get my hormones back in balance. I've lost the extra pounds. And after 15 years on the pill, I've finally cut that out of my life too. I learned how to love my body and honor it with my actions.
I still struggle with numbing. It's too easy after a long day or a rough experience to drown myself at happy hour. Or sleep with someone to avoid feeling lonely. But action by action and sometimes moment by moment, I choose a different experience.
Yogi Bhajan said: "You surrender to a lot of things which are not worthy of you. I wish you would surrender to your radiance, your integrity, your beautiful human grace."
I'm trying to do just that, bring a little more grace into my every day life by bridging small, daily right actions. So as I embark on my #roadto30, I plan to keep doing this: release the blocks and feel the feelings.
Screw the dirty 30 experience. I want my worthy 30s. This is my coming. This is living.