If you run a charity like I do, then you know that fundraising isn't just the name of the game -- it's the only game in town. Don't get me wrong, these days, charities will take the plunge into the business world to raise funds. Think T-shirt sales, other apparel, or cause-oriented merchandise. The charity world has learned much from companies such as LSTN and social good shopping sites such as Roozt.com. But that being said, the most lucrative way to raise money for your nonprofit is still the mega-event.
Mega-events are those events that, when properly leveraged with the right social sharing platforms, can bring in millions of dollars in donation revenue to your charity. Those millions of dollars can cover staff expenses, operating overhead, and can be immediately distributed to where it is needed in the field to keep critical programs in action and fund new initiatives.
Let's take a look at the current landscape of mega events around the country: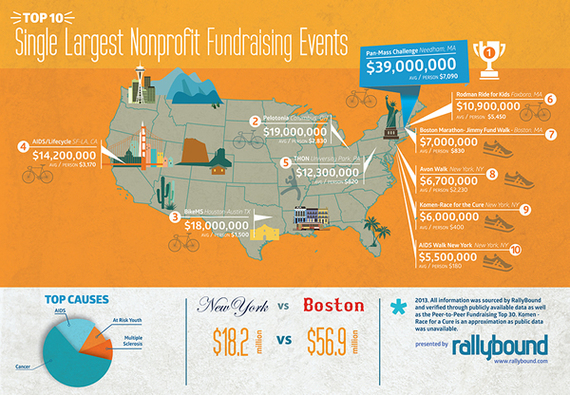 In my own work as CEO of the charity Girl Justice, I've experienced first-hand how the ability to bring in donations makes or breaks your ability to support the causes you hold dear. And as much as a top fundraiser can bring in money for your cause, leveraging your donors and their social networks results in far greater impact. And that leverage can be exponentially increased when you integrate that impact with a social good event such as a marathon or bike race.
Pan-Mass Challenge, which is a charity-oriented bike race, raised a total of $39 million for cancer research last year, and they're going for over $40 million in donations for their event to be held this August. The average amount raised per person was an incredible $7,090 (source: Rallybound).
On the West Coast, the AIDS/Lifecycle bike race held between the bay and LA raised over $14 million last year, with the average person raising $3,170. And the Pelotonia bike race held in Columbus, Ohio, has raised $61 million over five years. Events that support cancer research and the fighting of the AIDS virus have outperformed other causes.
Bike-a-thons are shown to raise the most money, followed by marathons. Interestingly, however, unorthodox events can also be highly successful -- the THON Dance event at the University of Pennsylvania raised $12.3 million, with an average donation size of $820 per college student. That should show you that your organization can leverage the passion and intensity of college students to potentially raise millions for your cause as well.
As you can see in the above infographic, most of these mega-events are clustered in the Northeast of the US. Boston and New York City were host to the largest mega-events in 2013 in terms of money brought in. This is encouraging news if you're not in those two metro areas, as there is plenty of room for growth in your city. And if you are from Boston or New York, then you benefit from a community that is ready and receptive to these types of events.
Once you have the talent needed to organize the event, you need to make sure you have a peer-to-peer fundraising platform that can leverage social sharing tools. This platform should be customizable and should let your supporters create their own campaigns. You've likely seen similar platforms with major charities such as charity: water with their annual birthday giving campaign. You can always leverage free tools such as CrowdRise or YouCaring, or you may want the benefits of a full-service platform such as RallyBound or StayClassy.
You are capable of raising hundreds of thousands, or even millions of dollars for your cause with a single mega-event. When you put the full resources of your organization behind a mega-event, you will build tremendous goodwill in the community for your cause while you also raise the funds you need to get your projects implemented and deliver the social good you have promised your donors.