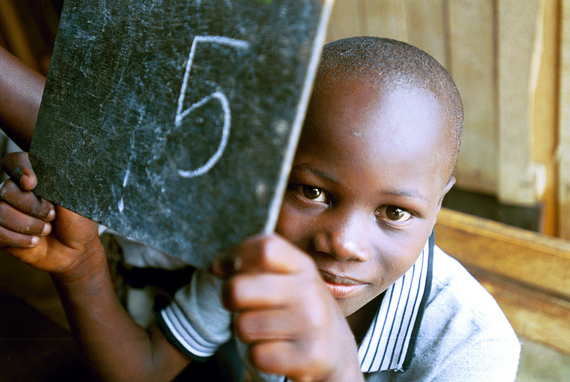 The United Nations Millennium Development Goals are the promises the global community made to the poorest in the world. One of those promises was to the world's children. We said that by the end of 2015, every child would be able to go to primary school.
We are at risk of letting our children down. Tragically 57 million children are not yet in school and progress has been slow. Often these children are the hardest to reach: children in fragile and conflict-affected states, children in rural areas, children with disabilities and girls.
Even when schooling is being provided, far too often children do not make it to grade four or do not reach the minimum level of reading, writing and math proficiency.
Our best estimate is that 250 million children around our world miss out entirely on school or suffer from this lack of a continuous, quality education. While this is a staggeringly big number, the good news is that change is possible.
I am so proud to be associated at this time of urgency with the Global Partnership for Education because it proves every day that we can do better for the children of the world.
The Global Partnership for Education is playing a leadership role by supporting transformational changes in the education systems of 59 developing countries. It is uniquely placed to harness the potential of developing nations, donors, civil society, the private sector and philanthropy to get all children in the poorest countries of the world in to school and learning. Efforts to date have enabled 22 million children to go to school.
While we have made this great progress, 250 million children need us to do more. We need the best ideas, the fullest sharing of the things that have the greatest impact. We need much better information. The lack of solid education data in many poor countries is both making it difficult to assess the magnitude and nature of the problem and seriously hampering efforts to develop effective solutions that build lasting national education systems.
An alarming decline of aid for education
But we also need more money.
International development aid for education has dropped alarmingly in recent years: by an average of five percent per year between 2010 and 2012. That's seven times the rate of decline of overall global development aid.
Without a greater focus on adequate financing in education, we will go backwards not forwards. The gains of the last decade, including the growing number of children in school and completing school and the increase in gender equality will be lost. No progress will be made in getting a quality education for the millions of children who are still missing those critical years of learning every person requires to build a solid base of literacy and numeracy.
Inevitably, the pattern of who is excluded will further entrench the current education inequalities between girls and boys, children in urban and rural regions, and for children with disabilities.
If we are to avoid this grim vision of the future, no government can afford to reduce national investments in education. Nor can donors step back from unlocking the full potential of education by cutting down on their funding promises.
We, the international community, have to act now, and we can act firmly. On June 26, 2014, the Second Replenishment Pledging Conference of the Global Partnership will be hosted by the European Union in Brussels. This will be the final push to accelerate progress towards education for all.
Donors will be able to show their commitment to education by making solid pledges at the conference. The Global Partnership for Education aims to raise US$3.5 billion from donors. In addition developing country partners are being asked to pledge to increase domestic financing for education towards 20 percent of their domestic budgets.
A successful replenishment will enable the Global Partnership for Education to support the schooling of 29 million children in 66 countries and to increase the quality of the education being provided.
Education pays off
At a time when the world faces many threats and challenges, any failure to invest in education and to address inequalities in education has considerable global costs. Good quality education amplifies and sustains the impact of efforts across all areas of human, economic and social development.
Education is essential to lifting individuals out of poverty. It is critical to empowering girls as they grow into women. Education is key to ending slavery.
Education is the cornerstone of hope and opportunity.
So, let's remember the 250 million children who are either unable to reach grade 4 or do not get to learn the basics of literacy and numeracy. We have the chance to help these children.
For me, these are 250 million reasons to invest in education.
Julia Gillard, former Prime Minister of Australia, is Chair of the Board of Directors of the Global Partnership for Education, the only global multilateral partnership devoted to getting all children in school and learning.