Tap here to turn on desktop notifications to get the news sent straight to you.
Ricky Gervais
Actor, writer, comedian, director, producer
At the turn of this century, Ricky was preparing to star in and direct a pilot he had written with Stephen Merchant for the BBC, called The Office. It went quite well and a series was commissioned. It first aired at 9.30 pm on Monday 9 July 2001 on the BBC. The rest, as they say, is history.
 
It became the first British comedy to win a Golden Globe. In all, Ricky has won three Golden Globes, two Primetime Emmys, and seven BAFTAS.
 
The Office is the most successful British comedy of all time, being shown in 170 territories in 90 countries. It has been remade in nine: the U.S., France, Canada, Germany, Israel, Chile, Sweden, South Africa and Russia.

The NBC version is the most successful U.S. remake of a British show for over 30 years. It reached 100 episodes in 2009 and has started its first phase of syndication. Ricky has appeared twice as David Brent, in the U.S. show.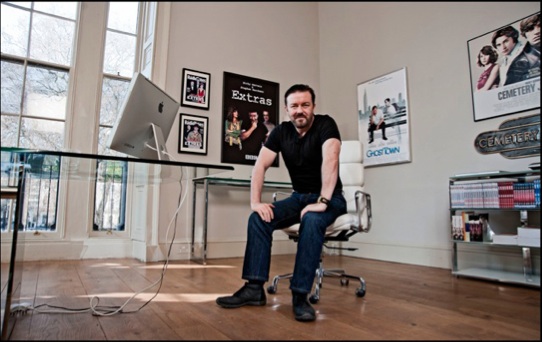 Due to overseas sales, DVDs and now syndication it has grossed an estimated £370 million worldwide.
 
Ricky won his first Emmy as Executive Producer on The Office (US) in 2006. He won his second for Extras in 2007.
 
 
Only two British sitcoms have won Golden Globes –- The Office and Extras.

Over a 10-­year period Ricky Gervais has become the most influential British comedian since Charlie Chaplin. In 2007, his tour Fame became the fastest-selling UK stand-up show in history, selling an untouchable 100,000 tickets in nine minutes! He played to 500,000 people that year including his first U.S. tour –- Out Of England, which was recorded as an HBO special at Madison Square Gardens. The show received three Emmy nominations.
 

'I came to stand up relatively late but I have come to love it. Both the challenge and the privilege excites me. People have spent hard earned cash to get a ticket, arranged a babysitter, and travelled to the gig in their thousands. You'd better have something interesting to say.'

He has sold over two million tickets worldwide.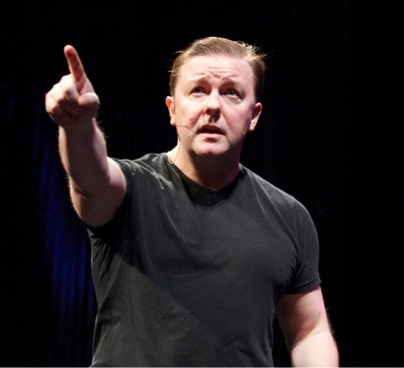 In 2004 his children's book Flanimals was published, going on to sell over a million copies. It is currently being made into a Hollywood movie in which Ricky will star as the Puddloflaj -­- a fat sweaty wobbler -- (the Puddloflaj that is).

He is the only guest star of The Simpsons to also write an episode. It became the highest rated Simpsons episode of all time on Sky One in 2006. He also appeared on Sesame Street, which he says is the highlight of his career.

Ricky features in the Guinness Book of Records for having the most downloaded Internet show of all time. The latest clock up: a staggering 320,000,000 downloads. The Ricky Gervais Show has been the number one selling audiobook in the world since 2006. In 2009 it was made into a 13-part animated series for HBO. Season 2 premiered in January 2011. Season 3 is currently in production, and is being sold around the world.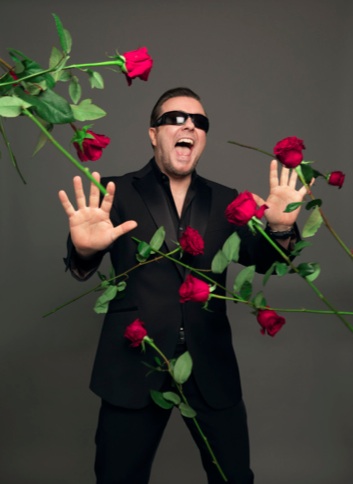 He has written, directed, produced and starred in Cemetery Junction and The Invention of Lying, and starred in Ghost Town. He has appeared in Night at the Museum, Night at the Museum 2, Stardust and For Your Consideration.

In 2010, Ricky was asked to be the first host of the Golden Globes since 1995, with an estimated world TV audience of 250 million. He returned in 2011. It has become the most talked about awards show in history.

'I suppose I did that for a laugh initially, but I also wanted to show that I could write and deliver one-­liners.'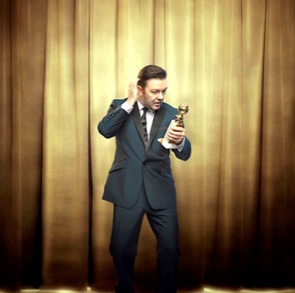 He is named in Time Magazine's '100 Most Influential People In The World,' and was awarded the 'Sir Peter Ustinov Comedy Award 2010' from the Banff World Television Festival. His fourth tour -- Science -- sold nearly a million tickets worldwide and his second HBO special -- Out Of England 2, was filmed in the Chicago Theatre and aired in December 2010. His pet project, An Idiot Abroad, became the highest rated Sky One show since 2008 and sold over 500,000 DVDs before Christmas. In 2011, HBO aired Talking Funny in the spring; a one-off special starring Ricky, Jerry Seinfeld, Chris Rock and Louis CK, discussing the art of stand-up comedy. He will also make his first appearance as a recurring character in Family Guy, and cameos in Curb Your Enthusiasm, another episode of The Simpsons and the new Muppets' movie.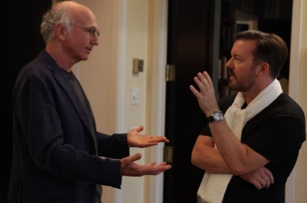 Ricky is currently working on two TV projects; An Idiot Abroad 2 for Sky and Life's Too Short for HBO/BBC.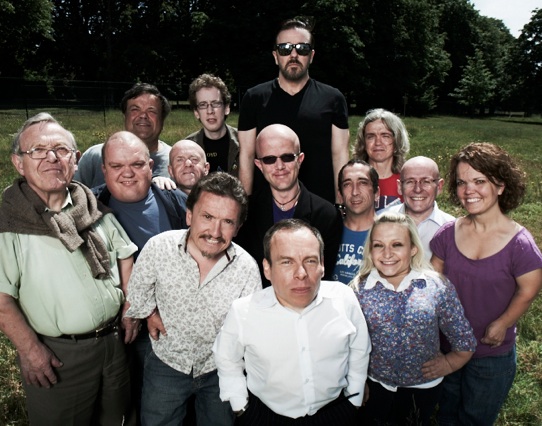 'Ricky is one of the funniest comedians I've ever seen'
Chris Rock

'Ricky Gervais absolutely kills me every time I see him'
Jerry Seinfeld

'A total original... some kind of genius in human observation'
Billy Connolly

... And some eminent fans too.

At one gig in London, was Paul McCartney, Chris Martin, Madonna and William and Harry.

... 'Not one of them paid'.

For more info check out www.rickygervais.com.