Reports yesterday indicated that the Washington Redskins would announce this week, possibly as early as today, that Mike Shanahan would replace recently fired Jim Zorn as the Redskins' new head coach. Ordinarily, retaining a coach with a resume as impressive as Shanahan's -- he has an overall career record of 146-95, won 2 Super Bowls as the head coach of the Denver Broncos, and has been generally regarded as one of the best offensive minds in the league for the last two decades -- would prompt unmitigated joy from a fan base that has watched its franchise win only a single playoff game in the last 10 years. However, Redskins fans have been down this road before, so we'll excuse them if their excitement is tempered just a bit.
The past decade, since Daniel Snyder purchased the team in 1999, has a tumultuous one for the Redskins, and not only because of a controversial lawsuit over their unabashedly bigoted team name and logo. Their coaching carousel has been a Who's Who of the biggest coaching names in all of football. After firing Norv Turner midway through his second season as the team's owner, Snyder has installed Steve Spurrier, Marty Schottenheimer, and even Joe Gibbs as Washington's head coach. All of them "failed."
The question, however, is whether their "failures" were their own doing or a result of poor organizational management. In particular, it has been argued that Snyder's insistence on being involved in the management of personnel and the day-to-day operations of the team have hurt the Redskins, who have an overall losing record since he bought the franchise. Indeed, for most of these big name coaches, their tenures under Snyder have been rare sour spots in otherwise brilliant coaching careers. Let's examine: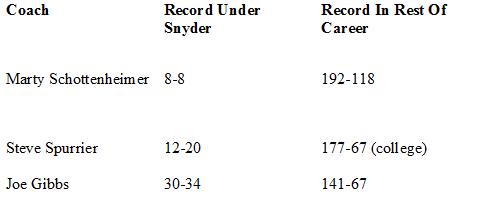 Surely, this can't all be a coincidence. Either all of these otherwise excellent coaches are complicit in a giant conspiracy to sabotage Snyder's team or Snyder is getting in the way of letting these coaches do their thing and succeed. This latest move will either mean that Mike Shanahan is the man that Snyder will finally trust to fully run his organization or that Shanahan will be the latest in a series of great coaches to be reeled in by Snyder's deep pockets only to see their otherwise terrific coaching legacy tarnished by a stint in D.C.
Does replacing Jim Zorn with Mike Shanahan make the Redskins better? Probably. But changing the head coach alone won't make a difference as long as the fundamental problem remains. And that fundamental problem is Snyder.
"Realize that a great 53-man roster is what wins championships, not five or six high-priced stars. Dan Snyder builds his team like its fantasy football and that's a big negative," said former Super Bowl winning coach, Jimmy Johnson. "The Redskins need a GM who can prevent Snyder from making decisions while letting Snyder think he's involved. Who can work that magic? I don't know." That will be the key for Shanahan. If he can get Snyder to step out of the way and let him and the football minds run the team, the Redskins have a chance to return to greatness. If not, it doesn't really matter who is calling the plays.
This post originally appeared at The Vertex.