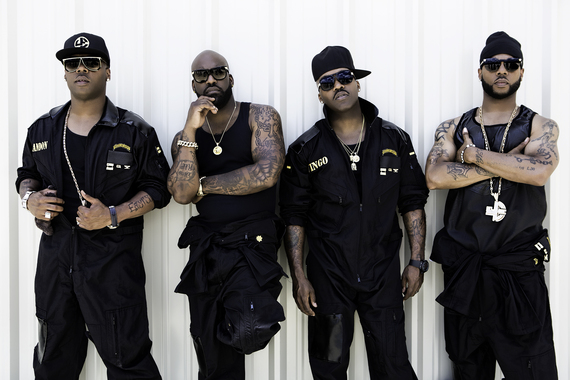 Photo Credit: Jagged Edge
It would be hard for anyone to argue against the statement that Jagged Edge is one of the most iconic symbols of R&B music to date. Having formed almost two decades ago, with timeless classics, countless Grammy award nominations, 7 studio albums, and over 8 million records sold, the group still feels they have more to offer. This fall they'll be releasing their 8th studio album, titled J.E Heartbreak Too, which is a sequel to their J.E Heartbreak album of 2000. They recently released the first single from their next album, "Hope", and have also started publicizing their new record label, Hard Case Records. I had a chance to sit down with the group and talk to them about their new project, what they've been up to, and plans they have moving forward.
For a group who has been so successful, they are an extremely humble set of guys, who love their fans, and just want to give them exactly what they ask for. This new album is a throwback to that same sound that made them who they are today. While there are many artists who have had the same longevity as Jagged Edge, it would be difficult to find ones that didn't have to consistently change their sound to keep up with the changing times. But, Jagged Edge is a group that can proudly say their music is still true to their original roots, and it's where this new album comes from. When asked if it was difficult to be able to produce the same sound, they had the answer:
"We've been writing and producing our own songs since the beginning. It's the sound we love, and it's the sound our fans love, so being able to tap into that wasn't difficult at all. Of course making sure we were true to the blueprint was a bit tough, but that's only because didn't want to disappoint our fans. We're just so glad that we have fans who love us so much, and who after so many years are still waiting to hear more. As artists, it's hard to describe a feeling like that."
Their newest single off the album, "Hope", is a song they released as a counter to much of the popular music of today. They feel good music has as much to do with the message as it does with any other aspect of it. But these days when you turn on the radio you hear about everything except love, and that's where this song comes from. They're bringing back hope.
"We want to let women know that not all guys are bad. All experiences don't have to go wrong. Our goal is to bring back what we feel is real music. The music we listen to that's R&B these days is stuff we sit back and can't help but ask ourselves where things went wrong. And that's really where the inspiration for this song came from."
The group has been hard at work on other ventures as well, recently publicizing their new record label, HARD CASE Records. The guys feel they've learned so much, have been so blessed, and have so much to offer, that it only made sense to start a label and start giving back to younger artists. They're looking to be able to help put out music by other artists that can also create the timeless classics they have. They're already planning tour dates for cities across America, and across the world to coincide with the new album as well. And they said that while they can't openly discuss some of the other things they might be doing, it would be best to keep our ears open.
Looking ahead, the group says their main goal is really to put out the album right now. It's slated to release September of this year. This past year has been really hectic with producing, song writing, touring, and their business ventures so they're excited to see all of that work come to fruition in just a few months. One thing is for sure; they're not done yet so make sure to keep your eyes and ears peeled for what comes next!