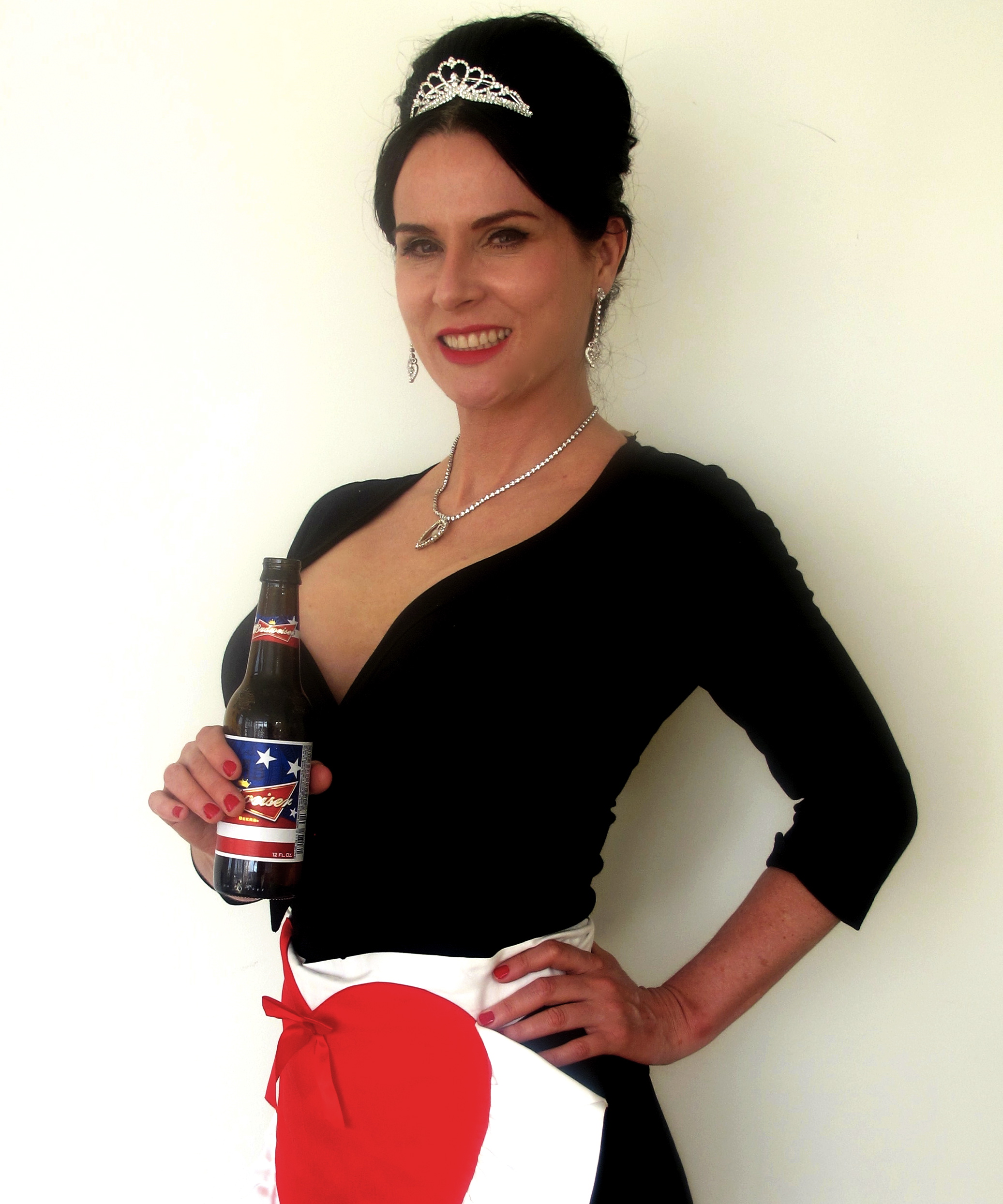 Beer - it's the father of all alcohol, the fuel of football teams and the prime facilitator of fornication. As Benjamin Franklin famously said: "Beer is proof that God loves us and wants us to be happy." As such, make a toast to this sublime brew for International Beer Day. Remember the many festive occasions this amber liquid has attended. What would the Super Bowl be without it? Barbecues would fizzle before the grill was even fired up. Your local tavern, without its flowing beer taps, would be as exciting as an undertaker's convention.
A world without beer goggles would be a sad place, indeed. This legendary libation is the ultimate social lubricant. It has launched countless romances, bromances and innumerable trips around the Blarney Stone. Because beer is such a part of the fabric of life, we often forget to give it it's due. But for this divine substance, many of us wouldn't even be here. Certainly in my case I don't know if my parents would have conceived me if it weren't for the aphrodisiacal effect of a beer or a few.
Many historians credit beer and bread as the harbingers of civilization. Beer is one of the world's oldest prepared beverages, possibly dating back to the early Neolithic period as evidenced from excavated Stone Age beer jugs. There are even records of beer-making in ancient Egypt. It's the most widely consumed alcoholic beverage in the world and the third most popular of all drinks after water and tea. And while water may sustain life, beer is the soul of celebration.
As such, I have prepared a beer-inspired dinner menu you can enjoy with friends and fellow beer lovers as you toast this divine beverage. The dishes are all twists on classics, which have benefited from a slug or two of Budweiser. If you don't like Bud, then select some other lager. Ales work better with heavier dishes as they have a stronger flavor. The menu I've put together suits a more subtle (read: female friendly) beer. Use the hoppier varieties at your own risk, and be warned: they may make your culinary efforts more bitter than Lisa Lampanelli.
Without further ado, here is the ideal menu to commemorate the life-enhancing effects of a cold brew. This menu should serve four hungry beer fans with plenty left over for second helpings, which your friends are sure to devour.
The Beertini
The best way to kick off International Beer Bay is with a beer-inspired beverage that won't scare away your female friends and may even convert them to the pleasures, as well as the many medicinal effects, of this magical brew. This beertini recipe is where glamour meets ESPN.
2 ounces lager
1 ounce peach-flavored vodka
1/2 ounce peach schnapps
Fill a cocktail shaker with ice. Add the beer, peach vodka and schnapps. Shake for 10 to 15 seconds. Strain into a martini glass and serve. Garnish with a slice of peach, a pretzel or a football limerick.
Beer and Cheddar Soup
Cheese and beer go together like vodka and rappers, dogs and fire hydrants, Tonto and the Lone Ranger. You will be convinced they are the perfect pair after trying this easy, delicious soup.
3 tablespoons olive oil
1 large celery rib, finely chopped
1 small onion, finely chopped
1 large jalapeno, seeded and chopped
2 large garlic cloves, minced
1 12-ounce can lager (I used Budweiser)
2 ¼ cups low-sodium chicken broth
4 tablespoons unsalted butter
¼ cup all-purpose flour
1 cup heavy cream
2 cups sharp cheddar cheese, shredded
¼ teaspoon pepper
1. In a large saucepan, add the oil, celery, onion, jalapeno and garlic. Cook over medium heat, stirring, for about 8 minutes or until softened. Add half of the beer and cook until reduced by half. Add the chicken broth and bring to a simmer.
2. While the broth is simmering, melt the butter in a small skillet. Add the flour and cook over medium heat, whisking, for about 2 minutes.
3. Whisk the roux mixture into the soup until incorporated and bring to a simmer. Cook until thickened, about 8 minutes.
4. Add the cream, remaining beer and cheddar cheese and whisk until combined. Add the pepper. Serve with Garlic Croutons (recipe below).
Garlic Croutons
The soup is fine on its own, but with garlic croutons, it's as transcendent as an 81-yard touchdown pass.
1 small loaf sourdough bread
2 tablespoons butter
¼ cup olive oil
2 large garlic cloves, minced
½ teaspoon salt
½ teaspoon pepper
1. Preheat oven to 350°F.
2. Trim most of the crust off the loaf of sourdough bread and cut into small cubes. Set aside.
3. Melt the butter with the olive oil in a small saucepan. Add the minced garlic and cook for about 1 minute.
4. Place bread cubes on a baking sheet. Pour butter mixture over and toss well.
Add the salt and pepper and toss again.
5. Bake until bread cubes are golden brown and crisp, about 20 minutes. Serve 3-4 croutons on top of your Beer and Cheddar soup. (Croutons can be prepared 1 day ahead. Store at room temperature in an airtight container.)
Beer Butt Chicken
This chicken is mouthwatering and unbelievably moist. The beer up the rear permeates the chicken, as does the beer in the roasting pan. The flavors are subtle and the cilantro and lime add zest.
1 lime, zested and juiced
½ bunch cilantro
3 scallions, roughly chopped
6 garlic cloves
¼ cup olive oil
½ teaspoon salt
1 12-ounce can lager (I used Budweiser)
1 whole chicken (about 4-5 pounds)
1. Preheat oven to 350°F.
2. In a food processor, puree the lime zest and juice, scallions, garlic, olive oil and salt. Add the cilantro, stems included. Process until blended and set aside.
3. Pour half of the beer into a large roasting pan. Place the open beer can in the center of the pan. (Make sure you take a sip.)
4. Rinse the chicken; discard giblets, drain and pat dry. Fit the whole chicken over the open beer can with the legs on the bottom.
5. Rub the cilantro marinade over the entire chicken, massaging until all the marinade is used.
6. Bake chicken for 1 1/2 hours or until the juices run clear when you cut between a leg and a thigh.
7. Remove from the oven and discard the beer can carefully as it will be very hot. Cover the chicken with aluminum foil and allow to rest for 10 minutes before slicing and smothering with Beer Gravy. Serve with roast potatoes and green beans.
Beer Gravy
There is nothing better than gravy, unless it's gravy laced with beer.
2 tablespoons drippings from the chicken
2 tablespoons unsalted butter
2 tablespoons all-purpose flour
1 12-ounce can lager (I used Budweiser)
½ cup chicken stock
1. Immediately after removing the chicken from the roasting pan, scrape
down the pan, and reserve 2 tablespoons of the drippings.
2. In a medium saucepan, add the reserved drippings. Add the butter and melt over medium heat. Whisk in flour and cook, whisking constantly, for 2 to 3 minutes until smooth.
3. Whisk in the beer and the broth, stirring constantly. Cook until reduced to desired consistency and thickness. Serve over Beer Butt Chicken.
Beer Jello
This jello is surprisingly yummy. It's light, mellow and sweet and will convert even the beer-avoidant. It even looks like a small beer with its amber hue and whipped cream head and is a great way to end a night of beery celebrations.
1 cup cold beer (I used Budweiser)
2 packets unflavored gelatin
1 cup boiling water
½ cup sugar
Whipped cream
1. In a bowl, combine the cold beer and gelatin packets. Stir together and let sit for a few minutes.
2. Add boiling water and mix together with a whisk. Add the sugar and mix again.
3. Pour the mixture into tumbler glasses, about ¾ of the way full. Place in the refrigerator for at least an hour. Serve with whipped cream on top.
Babe Scott's new book The Lazy Hostess will be published on October 10. For more servings of this kitchen vixen go to babescott.com