A Zen parable says:
When a fish swims, it swims on and on and there is no end to the water. When a bird flies, it flies on and on and there is no end to the sky.
Here on this ancient island one enters into a Blue Zone. The color of the Mediterranean changes from crystal clear turquoise to lapis to azure and there is no end to blue water. With perfect weather almost 365 days of the year, the sky above remains the color of a robin's egg and there is no end to blue sky. I have just arrived in Cyprus and as its famed golden light washes over me; my mood is far from blue!
And the Mood Indigo in Cyprus? In one not insignificant way I would say it is upbeat. The financial crisis that has battered Cyprus is resulting in bargains for the intrepid tourist, one who realizes that this may be a most propitious time to visit. It's well known that Cyprus, as a destination, has always been slightly more expensive than, say, Turkey, Spain or Portugal and once it joined the EU, prices really got out of hand with a cup of coffee costing about $4.00! Initially, as the debt disaster tore down the Cyprus' financial industry, tourists were wary, wondering did they need to bring more cash, were shops accepting their credit cards, and were all services still working. The answer to these questions is no, yes and yes again! Tour operators are now forecasting an excellent opportunity for travelers as hotels cut prices to fill rooms.
There are few places on earth that can compare with the charm and beauty of Cyprus. This carefree, gentle island marries European culture with ancient history and offers an incomparable blend of classical legend, historic architecture and rich tradition. Cyprus is a small country of 3,600 square miles. It encompasses four major towns: Lefkosia, Larnaka, Lemesos and Pafos. Situated at the crossroads of three continents - Europe, Asia and Africa - this geographic location has, from antiquity, played an important role in the island's 10,000 year history. No matter where you go, you can be sure of walking on a piece of the past.
As I explored the countryside, I traveled through tiny villages, visited Byzantine churches and remote monasteries set in a landscape of rugged hills, lush forests and ancient olive groves. On this island Jesus' apostles once walked. In 395 AD the Byzantine Empire flourished here and Christianity was declared the official religion. Cyprus was also a part of the Ottoman Empire for three hundred years. Fast forward to 1878. Cyprus came under British rule and remained that way until 1960, when the independent Republic of Cyprus was established.
In 1974, Turkey occupied the northern part of Cyprus and today 37% of this country is under Turkish rule. The Cyprus/Turkish problem continues although there are now on-going talks for reunification. My travel companions and I were only vaguely aware of this separation. However, when we visited villages in the north, and saw areas enclosed by barbed wire with United Nations flags flying, we knew that our travels in Cyprus ended at this fence.
Mighty Aphrodite
Our first day in Cyprus took us to Pafos which dates from the 4th century BC. The entire town is listed as a World Heritage site and the reason for that soon became clear. Here are numerous important archaeological ruins, ancient monasteries, churches and catacombs. Last but not least, there is a big boulder that juts out of the turquoise sea and it is here that Aphrodite, goddess of love and beauty, is said to have risen from the foam.
A cute young Cypriot named Yian was photographing the scene before us and seemed genuinely bemused by us gals who were smitten by a statue of Aphrodite as she seemingly emerged from the sea in love-struck ecstasy.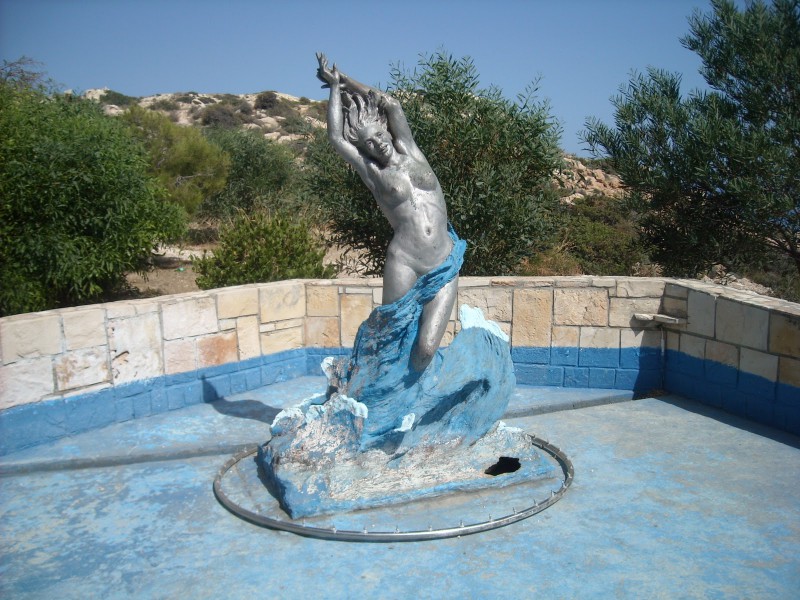 Yian proceeded to tell us of a most romantic legend, saying,
if a woman comes to the sea at midnight during a full moon and swims to the spot where Aphrodite was born, she will inherit her beauty, and if a man performs this feat, he will have eternal youth.
He went on to say that might be a good reason to take the plunge. None of us were up for that but following Yian down the path to the sea, under the guise of needing more Aphrodite information, oh yeah, we shamelessly did. The closest I came to living this myth was a nearby visit to the
Fontana Amorosa
dedicated to the goddess. As the fountain bubbled forth and I dipped in a toe, I was captivated by this romantic fable. Was this liquid spouting skyward merely water? No, I preferred to believe it was, of course, Aphrodite's love potion.
Our group left the Fountain of Love feeling somewhat lovelier, and we were off to the Tombs of the kings, one of the major archaeological attractions of Pafos. As we entered this dark and damp underground site, we were surrounded by massive Doric pillars and a honeycomb structure with tombs carved into sheer rock vaults. Rounding a craggy corner, in the distance we spied archaeologists working on excavations at that very moment and just like that, for us these ancient tombs were brought into present-day reality and importance. We learned that this work is on-going and we felt lucky to be, in some small way, a part of it. We eventually emerged uptop into the bright Cyprus sun and headed off to lunch.
The taverna-style restaurant, Skorpios, was rustic and intimate - and live bouzouki music only enhanced the mood. Host/owner Kleanthis Natiotis, was eager to welcome us and Tasos, our waiter, took time to explain everything on the menu -- traditional, Cypriot fare. We had our first taste of meze which means an array of 20 or more dishes including dips, vegetables, fish and meat. Some of the offerings were small Cypriot sausages, roast potatoes, avgolimono soup and my particular favorite, Haloumi, known as the cheese that does not melt. Fry it, grill it, do whatever you want and it retains its shape. It was delicious.
Before leaving Pafos, we visited the House of Dionysus containing splendid mosaic floors that date from 3rd to 5th century AD. The mosaics depict scenes from Greek mythology, are considered some of the world's finest. One of my favorites was of a lady languorously reclining as another, in the distance, stood arms outstretched as if pointing out the pretty trees and mountains behind her. Another special mosaic was of a peacock, its tail grandly unfurled - and both mosaics still displaying their vivid colors!
Bacchus and Beyond
We looked forward to our visit to Omodos, a section of Lemesos, with its 5,000 year history of winemaking, so no way were we going to miss that! We lunched at the Antoniades Winery, sampling the wines while nibbling on tiny meatballs, small pita envelopes filled with cheese,and an assortment of cold meats, raisins and almonds. Marios Antoniades, Managing Director, instructed us to return in the fall, saying:
The piece de resistance here is our annual wine festival held in September. You can drink as much wine as you want - free - for 10 full days!
Lemesos is Cyprus' second largest city, the center of the wine industry and the island's main port. Here the famed Agia Napa Church is dedicated to the Virgin Mary. It is said that an icon bearing her image was found in a glen (Napa) and is housed in the church.
A Capital City
Lefkosia (Nikosia),the country's thousand year old capital, is situated in the center of Cyprus and is a large, cosmopolitan hub filled with appealing stores for some retail therapy, lively tavernas for eating, dancing to Zorba music and, if the mood strikes, for breaking plates. The Cyprus Handicraft Center is not to be missed. One observes women practicing the traditional arts of embroidery and lace making much the same as in ages past. In his day, Leonardo DaVinci visited Cyprus and was so enchanted by the Lefkeridika - intricate geometric embroidery - that he purchased an alter cover still used today in the Church of Milan. The Cyprus Archaeological Museum was one of the highlights of my entire Cyprus experience. The museum houses the largest collection of archaeological treasures in Cyprus. Walking through its fourteen galleries chock-a-block with priceless artifacts dating from the Neolithic age to the 7th century AD was a heady experience. There was gold jewelry from the Bronze Age, and a captivating marble statue of Aphrodite from the 1st century BC. Her head held high and regal, her expression soft and guileless, she is missing her arms but definitely not her charms!
Because of Cyprus' advantageous location in the Mediterranean, you can make Cyprus your home base and take a two or three-day cruise to Egypt, Israel, Lebanon or Greece. You depart early evening and arrive the next morning - many vacations rolled into one. Coming up in August in Citrium, about 11 miles from Limassol, is the Ancient Greek Drama Festival - and let's not forget Marios invitation to return for wine. The Limassol Wine Festival (August through September), is today's equivalent of ancient vinous celebrations. Some 15,000 visitors come each year to get freely and gloriously happy!

Shussh - A Cypriot Secret
If hunting for a spot to spread your towel on one of Cyprus' famed beaches is not particularly appealing, then The White Rocks is a perfect option. This unspoiled six mile stretch of coastline is just 15 miles outside of Limassol and if you make the trip, you'll be seduced by secluded, rocky coves and private beaches with barely enough room for a whole family. The water here is shallow, crystal clear and ideal for snorkeling or simply solitary sunning.
Birdland
Our last day in Cyprus was spent in Lanarka, one of the oldest continually-inhabited cities in the world and home to the Church of St. Lazarus, said to be the spot where he is buried. Restored in the 17th century, it houses excellent examples of baroque woodcarving. We took a walk by a large salt lake. Migratory birds and wild swans make this lake their annual stopover, and as we were about to leave, a great pink cloud descended on the lakeshore - hundreds of flamingos, a great photo op and a perfect way to end our Cyprus holiday.
It is said that when Aphrodite stepped from the sea foam onto the shore at Pafos, the locals welcomed her with open arms. When you visit Cyprus and are greeted with kopiste! (come join us), I think you'll feel just as the goddess did....most welcome.

If you go:
www.visitcyprus.com