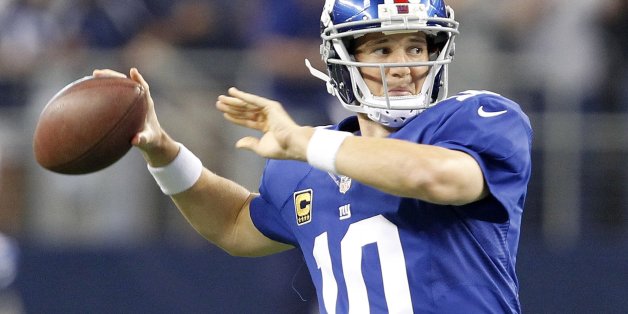 Now that we've reached Week 4 of the 2013 NFL season, game picks start to settle into two categories: 1) clearly the better team but will they win by enough? And 2) who can pull off an upset? Looking back at Week 3, the consensus better team won and covered 10 of 16 games, the "probably better team in these conditions" won twice and the better team lost four times. The two biggest underdogs failed to cover. So, your edge in the quest for office pool bragging rights is going to hinge on those two "probably better in these conditions" picks. It sounds so simple.
San Francisco 49ers at St. Louis Rams. For some reason, the Rams always raise their level of play against the Niners -- probably going back to the days when "The Greatest Show on Turf" unseated the post Montana/Young 49ers as the dominant team in the division. San Francisco's two recent losses have raised Jim Harbaugh's crustiness factor and the fans' critical impulses. The Niners may want to blame the loss on the Colts' acquisition of bulldozer RB Trent Richardson but, since Ahmad Bradshaw and QB Andrew Luck both scored on the ground as well, the fault may be in a 49ers' run D that lost LB Patrick Willis to a groin injury. Guess we know where the Giants' rushing attack went. When coupled with a suddenly anemic passing game (and TE Vernon Davis has a hamstring injury) and the loss of passrusher Aldon Smith for at least a month (much to Rams' QB Sam Bradford's relief), things are a bit cranky by the Bay.
The St. Louis offense managed a total 18 rushing yards in the first half last week against Dallas. Four QB sacks in that time period probably didn't help. So much for the new-and-improved Rams O-line that hadn't given up a QB dump this year. The team's initial first down came in the second quarter. See, that's bad.
I'm going with the Rams due to all of the chaos and injuries in San Fran, but the absence of Tackle Roger Saffold could allow the Niners' remaining rushers to get to Sam Bradford.
Straight Up: St. Louis
Against the Spread: St. Louis +3.5
Indianapolis Colts at Jacksonville Jaguars. Andrew Luck completed a 25-yard pass to Reggie Wayne on 3rd down with nine yards to go -- from deep in his own end zone. Yeah, he's going to be that kind of quarterback. With the new rushing tandem of Richardson and Bradshaw, Luck will benefit from something Peyton Manning had but rarely in Indy: a running game that helped them control the clock for more than 36 minutes last week. I'd give the Colts' D more credit for shutting down the Niners' offense in Week 3, but the Niners' offense can't seem to decide what it wants to be.
There isn't much to say about the Jaguars except that once again RB Maurice Jones-Drew is the entire offense. Somebody make a trade for this guy so he can win a game! The defense has tried, but they visibly lost heart in the second half of last week's "wuppin" by the Seahawks.
Straight Up: Indy
Against the Spread: Indy -8.5
Cincinnati Bengals at Cleveland Browns. The Browns have a new starting quarterback and just pulled off an improbable last second win -- with some help from a new star at TE and some nifty trick plays that probably won't work two weeks in a row. Congratulations to Brian Hoyer; he'll bring some stability to the position for now and who knows what can happen down the line?
However, let's be serious: the Bengals' defense is probably going to make short shrift of those Cleveland hopes. The Bengals aren't playing perfect football. At times they're not even playing very good football. They're just playing the kind of "refuse to lose" football that can get you into the playoffs.
Straight Up: Cincinnati
Against the Spread: Cincinnati -5.5
Arizona Cardinals at Tampa Bay Buccaneers. Despite having to travel, the Cardinals should prevail over a Bucs team in utter disarray. QB Josh Freeman has been benched and the Mike Glennon era has begun. It was inevitable. (As an aside, if you knew your very high-paying and prestigious job was on the line, don't you think you'd hire somebody to make sure you got up and went to work if you didn't think you could pull that off on your own?)
The Cardinals' defense isn't always as strong as it should be, but they ought to be able to hand a rookie QB his hat, even at home.
Straight Up: Arizona
Against the Spread: Arizona +3.5 (these odds may change now that Glennon is starting, but this is what most pools will still have)
New York Giants at Kansas City Chiefs. Just what the struggling Giants' offense needs -- a trip to Arrowhead and the dominating Chiefs' D. The Chiefs should probably be favored by more, but the line undoubtedly reflects the public perception that "The Giants can't really be this bad, can they?" I guess we'll find out.
Alex Smith should be given all-time awards for mental toughness and strength of will. He survived universal "bust" declarations to become one of the most successful QBs of the past two seasons. He has one star WR, two excellent rushers, a head coach with faith in him and a seemingly unshakeable confidence. Good for him.
On the other sideline, the Giants apparently decided in the off-season to ship their running game to Indianapolis and their defensive line to Atlanta. And don't blame Eli. His stats stink because he has been trying to win single-handedly, from behind, with no protection and no running game. If you're wondering where the winning Eli Manning went -- he's in Chicago wearing No. 6.
The bottom line is that the offensive and defensive lines that Tom Coughlin carefully built and nurtured into the foundation of two Super Bowl wins are falling apart. Unless the front office has given Coughlin some young blood that's going to start improving sometime soon, this season is over.
(On the other hand, the G-men can't possibly lose four in a row. Can they?)
Straight Up: Kansas City
Against the Spread: Kansas City -4.5
Chicago Bears at Detroit Lions. What a difference a happy (and healthy) Jay Cutler makes. The Bears have pulled off a couple of last-second wins and made perennial powerhouse Pittsburgh look pitiful. Chicago trailed in total yards, passing yards, first downs and total plays. They gained a bit more than half as many yards per play as Pittsburgh, but they ran the ball for 107 yards and won. Oh, and Cutler threw the ball to someone other than Brandon Marshall. Alert the media.
The Lions just lost WR Nate Burleson--again. That leaves them with no WR to play opposite Calvin Johnson--again. However, RB Reggie Bush should return, which gives Detroit a running game. Fans hope that one of the young no-name WRs is the next Wes Welker. They're hoping it really hard.
The Detroit defense should be a true test of Chicago's beefed up O-line. If Cutler stays clean, the Bears win on the basis of momentum and lack of drama.
Straight Up: Chicago
Against the Spread: Chicago +2.5

Dallas Cowboys at San Diego Chargers. Tony Romo made three TD passes during his 24 tosses on Sunday. That's all he needed to do since DeMarco Murray put up 175 yards and a TD of his own. Don't look now, but Dez Bryant appears to be maturing before our eyes--which is a frightening prospect for opposing DBs.
DeMarcus Ware has returned to his QB-terrifying sack form. The defense held Bradford and the Rams to 3.5 yards per play last weekend. Even losing Anthony Spencer probably won't derail a Dallas D that has been lifted back on track by septuagenarian Monte Kffin.
Meanwhile, the Chargers found another way to lose. They led most of last Sunday's contest and lost on a final 94-yard drive by the all-grown-up Jake Locker. Philip Rivers was 20-of-24 on the day, with 7.4 yards-per-pass and the team put up 102 yards rushing. And they lost. Six injured starters contributed to the collapse, but a blocked FG made the difference. How, exactly, does one have a 38-yard-field goal blocked? Never mind, the answer would probably just depress San Diego fans. I have faith in new head coach Mike McCoy, but he has to be wondering where the Chargers hid their mojo.
This is a winnable game for the Bolts, but that tough Dallas attitude will make the difference.
Straight Up: Dallas
Against the Spread: Dallas -1.5
Pittsburgh Steelers at Minnesota Vikings. The Vikings have the NFL's best running back and a QB that looks a lot like a skinnier version of Tim Tebow. The Steelers have a great QB and a rookie rusher who has yet to see the field. The Vikings have a great pass rush and the Steelers have O-line problems. If Ben Roethlisberger can stay upright he could dismantle the Minnesota secondary. I have to go with Pittsburgh. But I don't have to watch this flailing away of two 0-3 teams. Could be ugly.
Straight Up: Pittsburgh
Against the Spread: Pittsburgh -1.5
Seattle Seahawks at Houston Texans. Though not a fan after his USC activities, I have to say that Pete Carroll is doing the best coaching of his career. He and the front office have built a roster stocked with talent and coached with fire. Coaching kept the 'Hawks sharp in what could have been a letdown game across the country at 10AM on their body clocks. A significant step forward was Russell Wilson's two TD passes to people not named Golden Tate. Wilson needed to start spreading the ball around--glad he listened to me. The offense achieved 28 first downs and had the ball for more than 32 minutes, partly courtesy of a Seattle D at full strength for the first time in 2013. This is the best team in the NFL right now.
The Texans' star-powered D held down the Ray Rice-less Ravens on Sunday. Too bad special teams and the offense gave up touchdowns. This will be a fortitude-tester for Houston. If Matt Schaub can play well against this Seahawks' defense and complete passes against Brandon Browner and Richard Sherman, he'll be headed back to the Pro Bowl. I'm not at all convinced he can do that, especially if Andre Johnson's shin is still bothering him. Watch out for rookie WR DeAndre Hopkins, finally giving the Texans that No. 2 wideout they've been looking for since the franchise began. If Hopkins can succeed against Browner/Sherman it will be cause for jubilation in Texans' Town.
Straight Up: Seattle
Against the Spread: Seattle -3.5
New York Jets at Tennessee Titans. Okay, Bud Adams, where are you hiding the real Jake Locker? You know, the one that can't throw two accurate passes in a row? Where did this clutch guy come from? This guy who achieved 14 passing first downs on 23 completions out of 37 throws at 8.1 yards-per-pass and threw the game-winner with 15 seconds on the clock? Bet Mr. Adams is feeling pretty vindicated right about now. Coach Mike Munchak should be proud of his improved team, which has yet to turn the ball over this season.
Jets' rookie QB Geo Smith is faring far better than expected and Mark Sanchez is graciously assisting from the sidelines as he heals and considers his next job. Against the Bills' weak secondary, Smith threw for 331 yards with an 11.4 yards-per-pass average. Did I mention the decimated secondary? The Titans defense held Pro-Bowler Philip Rivers to 175 passing yards last Sunday. Yeah.
Straight Up: Tennessee
Against the Spread: Tennessee -4.5
Baltimore Ravens at Buffalo Bills. Ray Rice is still sidelined with his hip injury. While good news for backup rusher Bernard Pierce (who is quite competent) and Mr. Pierce's fantasy owners, this is not particularly glad tidings for the Ravens. Joe Flacco went 16-of-24 on the day. He did average 7.1 yars per pass, but ended up with only 161 yards. Hmmm. He and the rest of the offense should fare better against a Bills' D that gave up 513 yards to a unit led by the Jets' Geno Smith and a rushing squad spearheaded by Bilal Powell.
Week 3 marked the return of the ferocious Ravens' D. LB Daryl Smith essentially won the game last week with a pick-six. The Bills' own rookie signal-caller E. J. Manuel can't wait. Actually, the young man is remarkably composed out there. This week he gets welcomed into the Big Boy league against the reigning Champs. With enough run support from Fred Jackson and C.J. Spiller (who is expected to play after an injury), Manuel may survive the day. Winning is another matter entirely.
Straight Up: Baltimore
Against the Spread: Baltimore -3.5
Washington at Oakland Raiders. The Raiders have an intriguing young quarterback in Terrelle Pryor. In three games, Pryor has improved each week and shown surprising maturity on and off the field. Unfortunately, he has a concussion, as does CB Tracey Porter. The latter is good news for Robert Griffin III, who is starting to look a bit like the QB who led Washington to the playoffs in 2012. Griffin threw for 300 yards and survived the onslaught of the Detroit Lions' defensive line, which is no small feat even if one is not returning form ACL surgery.
Matt Flynn will probably start under center for the Raiders, facing a Washington defense that is shockingly inept this year despite the presence of Ryan Kerrigan and Brian Orakpo. They have given up NFL-record numbers of yards this season and allowed Matthew Stafford to throw for 378 yards without the presence of Reggie Bush to run the ball. Ugh.
If the Raiders can control the clock with RB Darren McFadden and employ the kind of creative play-calling they used in Denver, they could win--but if RGIII continues to improve, it will be difficult.
Straight Up: Washington
Against the Spread: Washington -3.5
Philadelphia Eagles at Denver Broncos. While the Eagles' D is better than they get credit for, I cannot see them prevailing over Peyton Manning and his band of merry men. And the Denver D may still be suspect, but if Chip Kelly can run that up-tempo offense for more than 10 minutes in the thin air in Denver I'll--well I don't now what I'll do because it won't happen.
Straight Up: Denver
Against the Spread: Denver -10.5
New England Patriots at Atlanta Falcons. The Falcons are slightly favored in this game because Matt Ryan rarely loses in the Georgia Dome. Last week on the road, Atlanta crushed the Dolphins--in every statistical category except points. That's the key to this game: can a basically superior Falcons team win against the resolve of Tom Brady and Bill Belichick? I'd let Osi Umenyiora talk to the team. He certainly knows how to beat Tom Brady.
The New England offense (still without stars Rob Gronkowski and Danny Amendola) is maturing in a hurry as rookies Kenbrell Thompkins and Aaron Dobson improve on a weekly basis. When the team gets their TE and slot guy back it could be business as usual for the winning Pats. However, this week they will be at Matt Ryan's house facing an improved Falcons' defense featuring the above-named Umenyiora. For Team Belichick to win on the road, their defense will have to lead the charge. Which, heaven knows, is possible with mountain-in-the-middle Vince Wilfork and frightening CB Aqib Talib.
Straight Up: Atlanta
Against the Spread: Atlanta -1.5
Miami Dolphins at New Orleans Saints. So you think you've got a good defense, huh, Miami? Welcome to the Super Dome -- where Drew Brees throws for 350 yards on a bad day. If this game were in South Florida (or even outdoors in N'awleans) where it's still hot, the Dolphins would have a better chance. As it is, they will be perfectly respectable and may give Brees a hard time, but ultimately the Saints' offense will prove too much for them. "It's just run, jump and get it," said [TE Jimmy Graham to ESPN.com]. "That's just what we do."
It's the matchup between the New Orleans' Rob Ryan-ized D and the young Miami offense led by sophomore QB Ryan Tannehill that will be a first indication of possible post-season success. Tannehill looks like he's going to be one of those NFL finishers who win from behind and the team welcomed rookie WR Dion Sims to the league with a one-handed game-winning TD grab. RB Lamar Miller finally broke one to set up a score and rookie PK Caleb Sturgis booted two FGs.
Ryan's unit sacked Carson Palmer four times last week and picked him off twice. Consider yourself warned, Mr. Tannehill.
Straight Up: New Orleans
Against the Spread: New Orleans -6.5