The last time I saw Robert Morse there were beads of sweat on his forehead. It was 1967 and he was working the crowd on the set of a local TV comedy show.
Robert Morse was on. He was going for laughs and he was going for them with the intensity of a rocket launch. He was doing what mid-life folks do -- he was striving.
Morse -- actor, singer, dancer, comedian and Tony award winner -- was improvising that day, throwing off sight gags and one-liners as if his entire career depended on it.
Which it did.
In 1967, Robert Morse was a young man at the peak of his career. He'd made big headlines with his performances in the musical "How to Succeed in Business Without Really Trying." And now, he was in Manhattan to film a comedy, "Where Were You When the Lights Went Out?" with Doris Day.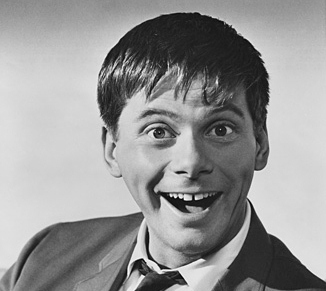 Success was his, but at age 36 he still had miles to go before he slept. Places to go. A family to raise. A career -- today we'd call it a brand -- to build and, just as daunting, to maintain.
I was a young movie reviewer at the time, striving for success of my own. And when Morse's PR people invited me to follow this famous man around for a day or two and watch him work, I jumped at the chance.
And so it was that on a balmy summer evening I found myself sitting on a folding chair next to a star of stage and screen on the patch of Times Square where Morse was shooting a scene for "The Night the Lights Went Out."
The next day it was a limo ride together to a nearby city -- it might have been in New Jersey -- where I watched Morse throw himself into that TV guest appearance.
The man was on the whole time. Talking, trying out jokes on me. Pummeling me with questions. Fretting. Putting a lot of pressure on himself. It was clear that, talented and popular though he was, it wasn't easy being Robert Morse. Not in 1967 anyway.
Fast forward a half century. Once again I am having the fun of watching Robert Morse at work. This time from a comfy recliner in our family room, where he fills our flat-screen TV from time to time, big as life.
Morse is an old guy now, he turned 83 in May, and for the past six or seven years he's been playing another old guy -- Bert Cooper, the genial, laid-back, wise-old-man senior partner of the show's Sterling Cooper ad agency.
Unlike the young Robert Morse, the Bert Cooper character is anything but on. As a partner in a fast-track Madison Avenue ad agency, he's surrounded by mid-life folks who drink and smoke, and scheme and strive. He stands outside the swirling action. He's just there.
For me, one of the big pleasures of the Mad Men series has been watching Morse crawl into and inhabit the skin of this really neat, equanimous old guy.
(Well, not always so neat: There's that racist comment he made as well as his predilection for the two-dimensional Ayn Rand. But that's not Bert's fault; it's just the writing room trying to inject some complexity into his character.)
It seems to me that getting older has done for Morse what it's done for a lot of us: It's liberated him from that wonderful, exhilarating, creative, debilitating, beads-of-sweat-producing drive to succeed.
Yes. I know. I'm conflating the actor with the character. But I don't think you can fake equanimity; I think the sweaty, frenetic young Robert Morse has actually evolved himself into a first-rate old guy.
Mad Men Spoiler Alert ahead.
Which is why I was so sorry last Sunday night when the story line of the half-season Mad Men finale required the venerable old Bert to die.
I'll miss the character, who toward the end of his life valued his "team" above all else. But I'll also miss touching base with Robert Morse from time to time to see what I can learn from him about the business of getting older.
And yet, what a great send-off show-runner Matthew Weiner bestowed upon both character and actor. In a brilliant stroke of creativity -- Weiner was surely on when he thought of it -- he asked Morse to reprise his years as a song and dance man.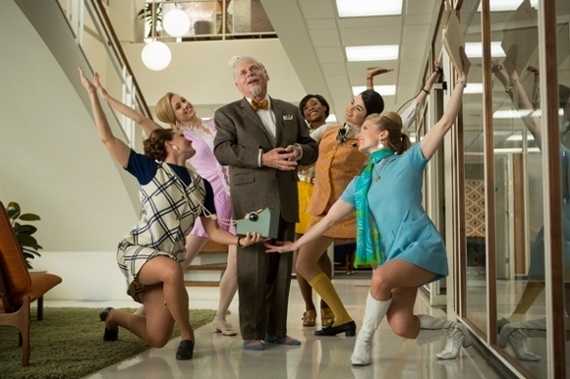 At episode's end, the deceased Bert -- a hallucination? An apparition? -- shows up in the halls of Sterling Cooper to sing "The Best Things in Life Are Free" to the arrogant, hard-drinking protagonist Don Draper.
Morse described the scene this way in an interview with Rolling Stone: "It was Bert telling Don: 'What are you doing? All this shit that you're doing, cut it out. The best things in life are free.'"
Morse sings. He dances. He waves good-bye. It was a heck of a scene. I don't know if there was any sweat involved. Either way it was sublime.
If you enjoyed this story, you might like "Would My Husband Like to Add My Name to His?" "Armistead Maupin -- The Man Who Wrote a Novel on a Newspaper Deadline" or "I Can't Believe I Got in the Water With That 1400-Pound Whale."