You know your kids have turned into grown-ups when they listen to your advice. Mind you, I don't mean take your advice. I mean listen -- gently and kindly -- as you talk away about how you did things when you were their age. Or how you did things last week. Or how they might want to do things next week.
They listen as if you -- if not your lovely, brilliant ideas -- truly matter.
To the best of my knowledge, the last time I took my parents' advice was decades ago. I was an undergraduate at the University of Michigan intent on doing something important and challenging with my life -- write poetry, go to law school, join the foreign service, get recruited by the CIA maybe.
But my father had something way less ambitious in mind for me. Taking his cue from the generations of schoolteaching women all over his family tree, he insisted that I earn a teaching certificate. I obliged. I took the courses, did some substitute teaching, then went off to New York to become a writer.
After college, I pretty much stopped taking -- or even listening to -- my parents' advice. If I had been a little more grown up, less contentious and less opinionated, I might have listened, at least, and smiled fondly as they talked. That would have cost me nothing.
Somehow, my own children turned out differently. They manage to have a huge compassion for their dear mother and her what might be deeply antiquated ideas. They dote on her -- and their dad, too, for that matter.
Christina cheerfully accepts -- and quietly takes back to the store -- the red shirts ("With your dark hair, you'd look smashing in red, Christina") I send her for Christmas. Also the glittery blouse. ("Nice, but too dressy, Mom. I don't go to cocktail parties.") But, I'm happy to report, she keeps the sexy, drapey top that covered most, but not all, of her upper torso. ("Tim liked that one. I'm keeping it.")
Christina's pretty good at compassionate, daughterly listening. But Peter and his wife achieved some kind of listening skills acme two weeks ago when they consented to let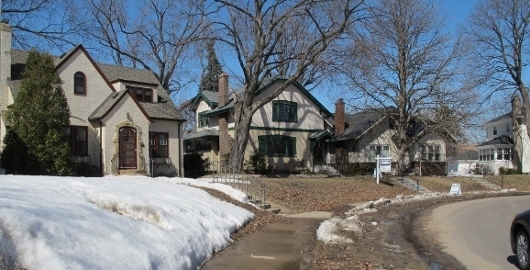 Jon and me accompany them on three days of house-hunting in Minneapolis, where (sigh, it's so, so far from the San Francisco Bay Area where Jon and I live) they are closing in on buying a house.
I did my best. I used my "I" statements. I buttoned my lip whenever the phrase "you should" popped to mind.
Carefully, I said things like, "Hmm. I smelled mold in the kitchen. Did you?"
And, "I'm pretty sure I saw a no-parking sign in front of the house."
At a house with a glorious master bedroom suite in the attic and two kids bedrooms way downstairs, I volunteered, "Personally, I liked having all three bedrooms on the same floor when the kids were little. Peter slept right down the hall, and I could hear him if he climbed out of his crib -- or came home late after a night of clubbing."
As we drove through the neighborhood our son and daughter-in-law especially liked with its graceful old pre-war, squeaky-floored, radiator-heated Tudors and colonials, I snapped pictures and exclaimed, "How beautiful."
Later, driving through the mid-century traditional neighborhood that they were not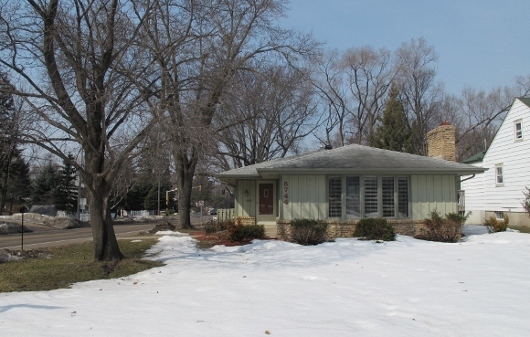 so keen on, I took my photos and murmured, "Nice. Practical."
I talked a lot. Because, as always, I had a lot on my mind.
What did Peter and my new daughter-in-law have to say in response to my three days of opinionating?
I have nothing to report. All they did was smile.
If you enjoyed this story, you might like "How to Grandmother When the Kids Live 2500 Miles Away," "Getting a New Kitchen? Here Are the Five Things I Like Best About Mine" or "When a Grown Daughter Doesn't Call -- Or, How to Overmother a Twenty-Something."
EmailFacebookTwitterStumbleUponPrintFriendlyShare