It's almost summer! Maybe it's time to have a little fun with your hair. Go gray, perhaps? A little blonder? Here are a few ideas to get you started...
I remember the first time I "colored" my hair. It was 1969 -- a year filled with all kinds of rebellion. I spritzed on a little Sun-In while soaking up the sun in my Brooklyn backyard listening to Credence Clearwater Revival. In a matter of hours, my dark blond hair with natural golden highlights turned a vibrant shade of orange to match the Bain de Soleil Gelee' everyone slathered on back then (without SPF of course, but oh, that distinctive summer smell!). My mother helped fix it with a little of her "only your hair dresser knows for sure" home coloring kit from Clairol, and it gradually grew out.
Despite the failed first attempt, I was hooked.
Highlighting has been a part of my life since my twenties. But when the grays started sneaking in -- just before I hit 50 -- I thought it might be time to rethink my routine, assuming I would switch over to single process to cover them, just like most other women I knew did. I was trying to figure out a newer, simpler paradigm for the other areas of my life since turning 50, and wanted to figure this one out, too. Was this the moment I was waiting for to proudly and publicly acknowledge my foray into my 50s? Should I now wear my graying hair like a badge of honor, courage, bravado and attitude? I wasn't sure.
Only one name came to my mind when I decided to check in with someone who could give me an honest assessment, and an overview of my options -- Frederic Fekkai, the superstar of hair. The leader in women's hair care since the late 80s, Frederic opened his first salon in New York, which was an immediate success. Now, his salons are worldwide and his products have an international following.
There are degrees of gray, Frederic explained. We start out with a few gray hairs, but then more come in and we get up to about 20 percent, then 30 percent, and eventually our hair is over 50 percent gray. That's the natural progression of gray hair (for most women). Once your hair is over 50 percent gray, Frederic said we could consider the following options:
Do what the vast majority of women do: color the roots every three to five weeks (single process) and maybe combine with occasional highlights (double process)
Instead of covering the gray, let the gray hair grow in, and apply highlights and lowlights through the hair to blend with the gray, creating depth and contrast
Go gray all the way!
Frederic's least favorite choice is the "single process" route. Very often women who do this create a single block of color, with very little contrast (especially if it's too dark or too light) and this can drain your face, making you look tired and possibly older. Even if your hair is dark brown or black -- which shows up the gray much more than blond hair does -- he encourages us to run the highlights and lowlights right through the brown and gray hair, creating a beautiful mix of natural colors. It's a more modern, fresh look and, Frederic suggested, very sexy, because it's an interesting way to embrace your hair, and your age, without going completely gray.
But letting your hair go gray is an option that women should consider, too. If you've already been coloring your graying hair, it might take a little longer to get to where you want it to be, but this might be the most bold way to embrace -- and proudly show off -- your age. Think of Helen Mirren and Jamie Lee Curtis as great examples of women who have let their gray go, and look fabulous.
What did I choose? I'm staying with what I've been doing: combining my dark blonde hair, with the new gray, and some highlights to help blend it all together.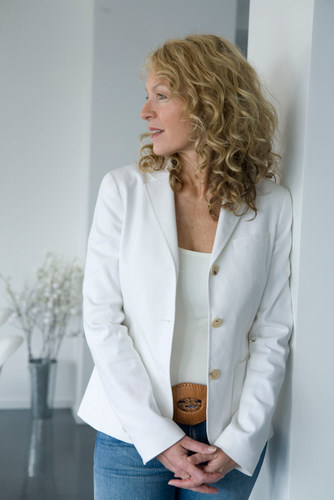 Who knows? Maybe some day I'll go gray all the way. But, I'm not there just yet. Right now, it's the perfect compromise between walking proudly and fearlessly into my new life as a post 50 woman and holding on to that little piece of my former self.
Check out our slideshow below for tips on how to keep your color -- or even your natural gray hair -- looking great this summer and beyond.
PHOTO GALLERY
Gray Hair Styling Tips
Find more tips for looking and feeling fit and fabulous after fifty in "The Best of Everything After 50: The Experts' Guide to Style, Sex, Health, Money and More".
HuffPost/50 recently covered an exhibit celebrating women with gray hair called, SILVER: A State of Mind.
* * *
Barbara Hannah Grufferman is the President of Best of Everything Media, Inc., author of "The Best of Everything After 50", a guide to positive aging, and is at work on her second book, "Fifty Rules: What Every Woman Needs to Know Before Turning 50" which will be published in late 2012. Visit www.bestofeverythingafter50.com for more tips on living your best life after 50. She can also be found on Facebook, Twitter, and Pinterest.