I've loved shoes since I got my first pair of white patent leather Go-Go boots. It was 1965, I was not yet 10, and "Help!" was blaring from the am radio station I tuned into each night while doing homework at the kitchen table.
Oh, how I loved those boots. Some nights after my mother and grandmother said their goodnights, I grabbed the boots from the side of my bed where they had a special spot, put them on, and dreamed about John, Paul, George and Ringo. And seeing my role model, Mrs. Peel from
The Avengers
TV show, wear them just made me cherish them even more. Of course, the image of Nancy Sinatra wearing white Go-Go boots while claiming that her boots were made for walking is forever ingrained in our cultural collective consciousness.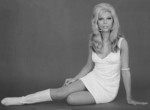 Fast forward to the 80s when I was a publishing executive on the rise, wearing stilettos exclusively from Charles Jourdan. Thinking back, I'm astonished my feet are still able to function.
In the 90s, inching toward 40 with two little ones plus a full time job, high heels became a "special occasion" sort of shoe, not my daily go-to, as they once were. Yes, with age comes wisdom.
Now that I'm in my 50s, finding fabulous footwear that's stylish, sexy and sensible can sometimes be frustrating, and very expensive. But, it's not just me. Women are always bemoaning the lack of cool shoes that won't make us look like our daughters or grandmothers, with styles often so young (too high!) or so frumpy (too flat!), it's enough to make us want to go barefoot. Not good.
While I'm not willing to go back to the skinny high heels of my younger days (well, okay, every once in a while), I still want to look fab after 50, without sacrificing style for stability. Luckily, I came across a few great shoes that made me want to create a special place on the side of my bed just for them. One of my new favorites is from Target: red, suede, chunky heel, and priced at under $40. Pair with dark jeans or a black dress. Fun! (You can see them in the video, below).
Scouting around for some great shoes to use in this video for "The Best of Everything" series for the AARP YouTube Channel, I came across a treasure trove of other styles, some at amazing prices, all of which every post 50 fashionista will appreciate.
Take a look at the video below which shows my favorites from the lot. And, I didn't forget about the guys! The video has a few great choices for men over 50 for work, play, and just lounging around on weekends.
What shoes have you come across that make you feel fantastic? Please share with us in the comments section below.
Until next time, remember this: we can't control getting older . . . but . . . we can control how we do it.
For more tips on living your best life after 50 (or 60, or 70...) check out www.bestofeverythingafter50.com. Keep me posted on how you're doing by subscribing to me on Facebook and "tweeting" me on Twitter at @BGrufferman. Check out my web video series-The Best of Everything with Barbara Hannah Grufferman-on the AARP YouTube Channel!
Earlier on Huff/Post50:
PHOTO GALLERY
Define Your Style!