Yogi Paliwal was the first comedian that ever spoke to me at my first open mic. He has been like a brother to me, which is awesome, because in addition to being really fun to be around and kind hearted, he's also hilarious. Yogi has performed at the San Francisco Sketchfest, Bridgetown Comedy Festival and the NBC Stand Up for Diversity Festival. He's a little weirdo with a big heart and that is clearly evident in his art.
Yogi was kind enough to let me interview him.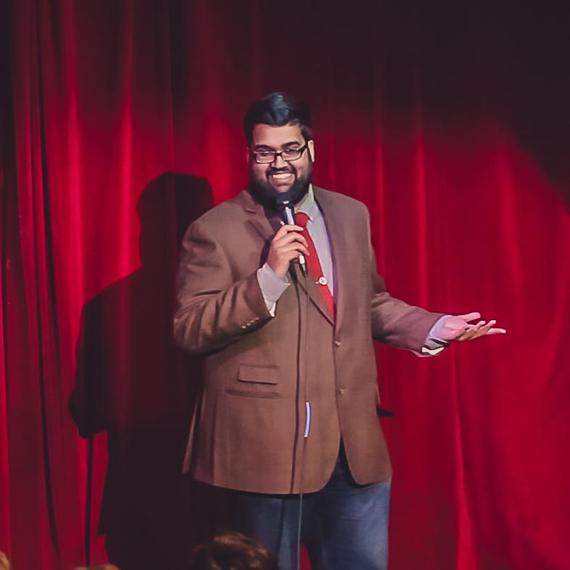 You are a very different comedian than when I first met you. Your levels of absurdity and adorability have enhanced. How and why has your comedic voice evolved?

Well, thank you for describing me as absurdly adorable. It is a high compliment to me. A little under a year ago I was doing a comedy competition in Utah, and I figured out I was writing broad jokes that I wanted the room to love instead of jokes that I truly wanted to be telling.
After that I started writing more about things I actually like/care about, and the first few months of that felt brutal. It was no longer bombing with jokes that I thought the audience would like it was bombing with material I actually cared about for once.
I like what I'm doing right now. It's extremely silly and fun, but that's the comic I want to be. Maybe in the future I'll get on a high horse, but for now jokes about me passing the LSAT and the Spanish SAT's is where my intellectual absurdity lies.

What have your experiences been like at Bridgetown?

The first time I did Bridgetown I was so young I didn't really get to take in everything. I was really nervous about people thinking I'm lame, and wasn't enjoying the fact that I was surrounded by a cornucopia of talented people. At the end of Bridgetown I left feeling a little refreshed that so many amazing comics exist, and then I got a little depressed that every weekend isn't as fun.
What are you most looking forward to about Bridgetown?

I'm looking forward to meeting comics from around the country, and I'm looking to dance the night away at the after party. By dance the night away I mean to peruse the tables of food and awkwardly stand in the corner until I get bored of live tweeting what everyone else is doing. I blend in the shadows... I am the night... I live tweet not for me, but to avenge all those who perished in the Live Tweeting incident of 1456.
What do you like about going on the road?

I've always had a secret admiration for truckers. They felt like modern day cowboys. Traveling the road, moving things, meeting a lady perhaps, eating at a diner, a new destination every day... A fleeting feeling that the world you once knew is gone... The slow realization that you are a part of something bigger than you once were before. Telling jokes on various stages to different strangers...
I like being able to see the parts of this country that most people don't talk/know about. Seeing how the entire country lives has been a strange blessing. I was extremely worried and nervous before I went on the road. I had a nagging fear that traveling with another comedian or alone through parts of the Bible belt in America's heartland in a post 911 world would be dangerous. When I eventually did go out on the road I reached a seedy bar in a town I'd never heard of, and then told some jokes to some very kind and wonderful people. I've never dealt with anyone treating me worse than any other comedian has been treated on the road. I learned that people are people, and not only are we not that different we surprising laugh at similar things as well.

How do you think being a person of color has influenced your comedic lens?

My trips to Indian as a child influenced my comedic lens more than being a comic of color. Seeing the tragedy of poverty in front of your eyes, and then coming back to the USA to see the economical divide between the two nations affected me greatly. Poverty, am I right! Ladies?
Being a comic of color to me just means that there are more crutches for you to lean on if you choose too. Everything from doing a stereotypical accent to being a living stereotype on stage are things that I vehemently oppose. It's just too easy.

Do you have any advice for aspiring comedians?

When you start comedy it can feel very scary and unrewarding. Don't give up. Think of it like this. To get better at any creative art form you have to go on stage and make some noise. Telling jokes if you're a comic, playing music if you are a musician and so on and so forth. Keep making noises on stage and people will eventually listen. Oh and also watch your favorite movies with the audio commentary. A wealth of knowledge is in those commentaries.
Yogi Paliwal will be performing at the Bridgetown Comedy Festival in Portland, Oregon from May 8th-11th