Tomorrow is the 32nd Birthday of Chartwell Booksellers, my small, independent bookstore in midtown Manhattan devoted to the writings of Winston Churchill. For thirty-two years, people (well, a few) have been asking me: 'Why a Churchill bookshop in New York City? Shouldn't you be in London?' And, for thirty-two years, I have been answering: 'No. Churchill is actually more popular here.'
He was half American; half-New Yorker, in fact. Churchill's mother, Jennie, was born in Brooklyn, the daughter of a New York financier, Leonard Jerome, who built and lost several large fortunes here, and for a time was the principal owner of The New York Times. Winston Churchill was always extremely proud of the impure American strain in his otherwise aristocratic British lineage (as descended from the first Duke of Marlborough). It lent him, he was certain, a dimension of independence.
Churchill's long political career, filled with missteps, restarts and renewals is, for better and worse, more widely recollected in England. Our view of him in the U.S. is more narrowly adoring: He saved western civilization with his stewardship during World War II and did so as a strikingly memorable character, with his cigars, his siren suits, his singular speeches and his glowering gaze. It seems safe to say that the British view of Churchill is more colored -- I would say unfairly -- by perceived catastrophes throughout his (perceived) checkered career. These, in fact, were often ruthlessly manufactured or exaggerated by powerful enemies within his own Conservative party, and within the Labor party; a party that Churchill viewed as a tool of Communism during its early existence and fought fiercely.
Our American view, on other hand, is colored by our distance from Churchill day-to-day. Whatever his flaws, and he certainly had some, most do not penetrate the vividly positive image of the man that we carry around with us.
Both of these visions of Winston Churchill co-exist at Chartwell Booksellers. I have tried not to censor Churchill in terms of the books that we sell; we carry everything, pro and con. My favorite line of the last thirty-two years was uttered about a decade ago by a stranger who simply yanked opened the door one day and delivered, thusly, in genuine outrage:
"A bookstore about Winston Churchill?! Why not just have a bookstore about George W. Bush!" And the heckler was gone.
Winston Churchill loved bookstores. I can't say how George W. feels about them. The Churchill Archives at Churchill College, Cambridge, possesses virtually every invoice relating to Churchill's book purchases over more than fifty years. They are voluminous. On December 4, 1900, twenty-six-year-old Winston Churchill paid his first bookstore bill -- going back to December 1897, in the amount of seventeen pounds-seventeen shillings-and-sixpence -- to his father's favorite bookseller, the esteemed James Bain. He also made a series of new purchases at this time, including copies of Rawlinson's History of Herodotus, Morley's Walpole, and Newman's Apologia. His acquisitions from Bain over the next two years would include two sets of his father's speeches and a copy of H. G. Wells's The Time Machine.
It would appear that Churchill's final peacetime book purchase before the onset of World War II was from (the blessedly still extant today) Hatchards of Picadilly, in February 1939: two copies of The Bible as Literature, a fascinating choice when one considers the impending influence of the bible as literature in the syntax of Churchill's great speeches of the war.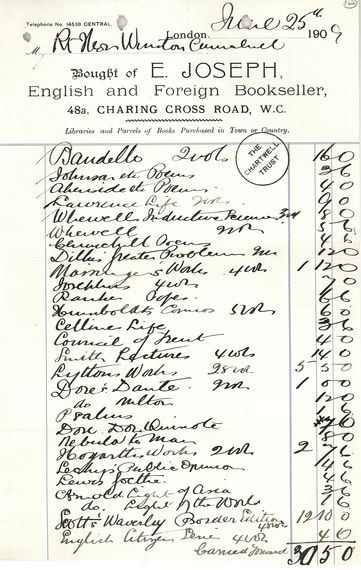 One could compose a marvelous history of London bookselling merely by reconstructing the history of all those shops that Churchill frequented. I would love to do this myself one day.
But I feel I have more pressing business just now. Winston Churchill built a substantial library over the course of his life, a library that his son Randolph dispersed quickly once Churchill's life had ended. (The bookplate pictured at the top of this story was created by Randolph, according to Sir Martin Gilbert, and slapped into every one of Churchill's books after he was gone.)
No inventory of Churchill's library exists, to my knowledge. Using the invoices preserved in the Churchill Archives, I am hoping to reconstruct the full contents of that library -- on paper, at first. If anyone out there would then like the actual books -- an all-out reconstitution of Winston Churchill's library, book by book -- well, please do get in touch with me. I am around most weekdays, 10-6, at Chartwell Booksellers.
~