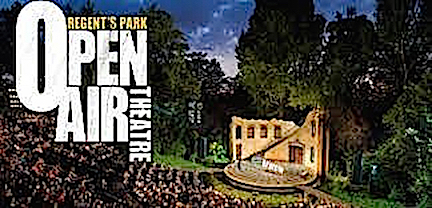 I am just back from London, where Cumberbatch's the thing and the rest is silence, insofar as London theater is concerned. Normally, I would have been scrambling like everyone else to score a ticket to see his Hamlet. In fact, I did ask around. Fat chance, I was told.
Which was fine. August was on the wane and London unseasonably sunny (this would soon change). I was traveling with my darling daughters, Lea and Sara, and the tickets I was offered to two different current London productions of the Oresteia (both of them excellently appalling, I'm sure) did not suit at all. I knew where I wanted to be: outdoors, and not as a groundling at Shakespeare's Globe. I had long been curious about an outdoor theater I'd heard about in Regent's Park. What were they up to?
When I saw the listing, I had to smile. Seven Brides for Seven Brothers. One of Lea and Sara's favorite movie musicals (in fact, Sara's very favorite, I believe.) Would I ever have ventured to see Seven Brides for Seven Brothers remade on a New York stage? Doubtful. All that death-defying Michael Kidd choreography cannot be replicated away from the camera, I would have thought. But outdoors in London in August? Why not?
Our ensuing outing could not have been sweeter. In fact, the entire experience will rank among my happiest theater memories. The campus of the Regents Park Open Air Theatre strongly brings to mind Central Park's Delacorte Theater, unsurprisingly, but with more breathing space. At dusk, it embraced us like an English meadow with klieg lights. The house was full and the breeze in the trees delicious as those lights went down. Then, from all around us, the cast of Seven Brides for Seven Brothers emerged singing.
They sounded great, like a houseful of Curleys strolling out from the wings crooning "Oh, What A Beautiful Mornin'." You had to grin. And we did.
Alex Gaumond, as Howard Keel (alright, as "Adam Pontipee") did not at first hold a candle to Keel and our hearts sank. He wasn't rugged, he wasn't even that tall. But his performance grew on all of us. He didn't oversell and he acted and sang with an appealing, offhand ease. His initial encounter with Laura Pitt-Pulford as Jane Powell ('Milly Brandon'), the barmaid Adam brings home as his bride, worked because Ms. Pitt-Pulford was believably fiesty, even abrasive, yet yearning all at once. Her raw-edged soprano bit into songs that Jane Powell had operatically trilled. I preferred her right away.
Of course, those six other brothers were the real test. As Sara pointed out going in: How in the world can anyone top Jacques D'Amboise and Tommy Rall? Well, these boys didn't -- nor did they have to, as it turned out. On their very own terms they were swell. I'm going to name them all because I've never heard of any of them: Leon Cooke, Bob Harms, James Leece, Sam O'Rourke, Adam Rhys-Charles and Ed White. They danced with testosterone-laced grace and abandon. They sang richly and raucuosly. Choreographer Alistair David put them through their paces with a thrilling veracity to the seemingly unmatchable muscular brilliance of the Kidd original, filling the night air with real blind backflips and hatchet-prancing do-si-dos -- all without the safety net of retakes.
Director Rachel Kavanaugh handled the whole devilishly tricky business deftly, maintaining the rollicking spirit while muting the more objectionable undertones that have always tugged against this unsettling fable of male abduction and female acquiescence. That's a neat trick while also putting across a major musical, and a movie musical at that, on a wood planked outdoor stage.
So what is the Regents Park Open Air Theatre? Well, the theater, I learned, goes all the way back to 1932. It sits in Queen Mary's Gardens on the Inner Circle of Regent's Park and is completely surrounded by parkland and entirely uncovered, though the 1,200-seat tiered auditorium does boast the longest unbroken bar in any London theater ( it rims the entire outer length). Unlike the Delacorte, which is the leased domain of the N.Y. Shakespeare Festival, the Regents Park Open Air Theatre is a resident company, with its own scenery workshop on site, as well as full wig, wardrobe and makeup departments. The current Artistic Director is one Timothy Sheader. The theater stages everything from Shakespeare to Sondheim (its 2012 production of Into the Woods, appropriately, transferred to the Delacorte that summer). It has won more than a few Olivier Awards for Best Musical Revival.
The stage version of Seven Brides that it deployed here dates to a flop 1982 Broadway adaptation that added a few new songs by Al Kasha and Joel Hirschhorn to the beloved original 1954 screen score by Saul Chaplin and Gene de Paul, with lyrics by Johnny Mercer. The new 1982 book, by Lawrence Kasha and David S. Landay, tweeks the Albert Hackett, Frances Goodrich, Dorothy Kingsley screenplay quite amiably. It was tough for me to catch the variances, but my kids gestured vociferously at the stage whenever they sniffed something unfamiliar.
"It's real cool to have it play all around you and not just in front of you," Lea summed up. "It didn't beat the movie," Sara added, "but I liked it. They worked very hard."
A crowning kick came in an after-performance glance at the roster of actors who have played the Open Air Theatre in Regents Park over the years. Alongside Vivien Leigh, Jeremy Irons, Ralph Fiennes and Judi Dench, one name topped the list: Benedict Cumberbatch.
~