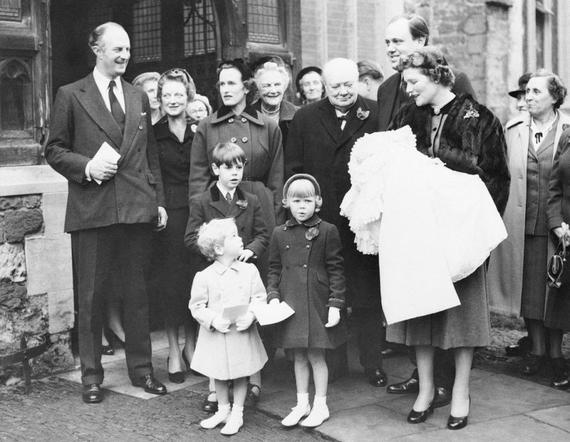 The Churchill family beckoned and I followed. It's really that simple. The invitation arrived and I opened it. "A Service of Thanksgiving at Westminster Abbey," it read, "for the Life of the Lady Mary Soames," Winston Churchill's youngest daughter. Mary had passed on May 31 at the age of 91. The date for her service: the 20th of November.
In my Manhattan bookshop, CHARTWELL BOOKSELLERS, I traffic in Winston Churchill's words -- his books, his speeches, his letters. Over the years, this has brought me into contact with his family -- his grandchildren, their children -- and with Mary Soames herself, who sometimes visited. (You can read a remembrance of those visits: HERE). That any of this contact by commerce would lead to such a rarefied invitation was entirely unanticipated. Of course, I R.S.V.P.ed on the spot.
Then, closer to my departure, another invitation appeared:
We would very much like to invite you to attend a drinks party before the Service of Thanksgiving for our mother, Mary Soames.
It will be held at

The Lord Chamberlain's House
St James's Palace
London

The entrance to the apartment in St James's Palace is at the very bottom of St James's Street. The Great Door will be opened and manned by police and they will direct you. Please bring identification just in case it is required.

We so hope you are able to come and we look forward to hearing from you.
This invite was signed by Mary Soames's five children: Nicholas, Emma, Jeremy, Charlotte and Rupert.
Lo (and behold), I found myself in London last month, standing before The Great Door to St. James Palace at dusk, more or less expecting to be let in. Which I was! Straight off, I took a wrong turn, gravitating toward a bunch of bobbies and a man with a clipboard, who informed me with great dignity that I had missed my entrance. This entrance, the gated one we now stood before, led to "a film awards ceremony" also taking place tonight. I wanted that entrance, over there.
Turning to retrace my steps, I discovered that a fancy car had pulled in behind me, with a fancy face at the car window. The face belonged to Emma Thompson; no mistake about it. She seemed to be staring at me.
The Lord Chamberlain's House is unprepossessingly intimate in a historically gargantuan way. As the official residence of the senior officer of the Royal Household (currently The 3rd Earl Peel, who happens to be married to Charlotte Soames), the house fairly oozes the iconography of Churchill's England -- in the portrait paintings on the walls, in the novelistic creak of the stair steps, in the leaded, stained glass panes of the windows and their perfectly castle-lish casements.
On this night, from the top of those stairs, a hum of plummy British conversation drifted down. I ascended, to be greeted by a few Churchills I knew, including Mary Soames's son Rupert, who introduced me to many more I did not know. Talk quickly turned to Lady Soames's possessions, a number of which had an upcoming auction date (which has now arrived -- tomorrow, in fact) at Sotheby's, London. Included in the sale are 15 of the finest paintings that Lady Soames's father ever painted. Winston Churchill, as we all should know, painted extensively and excellently as an escape from his day job.
Churchill's favorite champagne, Pol Roger, was being poured. I sipped. A woman of advanced years, brimming with vigor, approached me, beaming. It was Nonie Chapman, Lady Soames's longtime private secretary. Nonie announced that she had my ticket for the next day's service. I knew that Nonie had once been private secretary to Winston Churchill's wife, Clementine, as well as wife to Winston Churchill's own private secretary, Anthony Montague Browne. The thought of our proximity now, and to Winston Churchill historically, left me even more lightheaded. I took the ticket.
*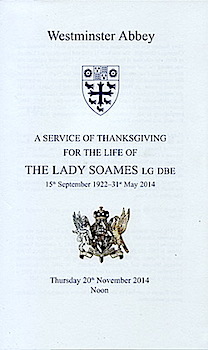 It isn't that I had never before walked into Westminster Abbey; I have taken the tour. The difference this time was how far down the great side aisle I was allowed to advance by each succeeding tail-coated usher who scrutinized me and my ticket. I mean, my seat was really close. Great vaulted expanses towered in my wake. I plopped down in the South Transept, within shouting distance of the altar, glanced around, and realized that my chair actually was in the heart of Poets' Corner. My shoes were practically resting on Charles Dickens.
Mary Soames was a wondrously unpretentious grandee; a truly Churchillian amalgam of the common and the most uncommon. Her "Service of Thanksgiving" tilted decidedly toward pomp -- as well it should have -- with trumpeters from the Household Cavalry fan-faring to the rafters; majestic hymns led by the organist and Choir of the Abbey from on high; the Prince of Wales passing (I think I saw him -- close as I was, I still wasn't that close); and a recitation from "The Great Lectern" offered by Sir John Major, the former-prime minister. Nevertheless, there was an affectionate informality to the reminiscences that lightened the proceedings appreciably. Journalist William Shawcross, in delivering the central Address of the afternoon, recounted a recent Sunday visit to Lady Soames at home just this year by The Reverend William Taylor, vicar of St John's, Ladbroke Grove, her parish church."I have come to give you Communion," Taylor informed her. "What time is it?' Lady Soames retorted. "11:45," Vicar Taylor replied. "In that case," her Ladyship said, "I would prefer a gin and tonic."
*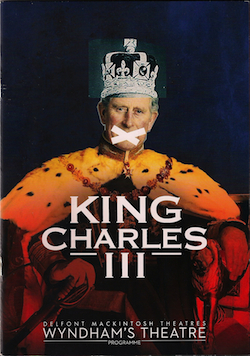 Edging out with the exiting standing-room-only throng of 1,500, I at last bid the Churchills a fond farewell, curbside, in front of the Abbey, begging off on their invitation for after-drinks at the Churchill Hotel (which later blew up, but more on that in a moment). I headed instead to The Savoy and a rendezvous with the managing director, Kiaran MacDonald. Our meeting over tea (and, Lord Chamberlain forgive me, cappuccino) yielded exciting plans for a greater Churchill Style presence at The Savoy (that is, for my book, Churchill Style: The Art of Being Winston Churchill, to find its way into the guest rooms as a sort of surrogate Gideon bible). Kiaran and I also discussed a Churchill Film Festival that I hope to curate at The Savoy next year marking the 50th Anniversary of Winston Churchill's death.
Dinner followed in the sleekly renovated Savoy Grill, where Churchill for so many years convened "The Other Club," his conversation-first, bipartisanly political dining society. From the Grill, a brisk walk took me to Wyndham's Theatre on Charing Cross Road for a performance of King Charles III that proved a perfect bookend to my earlier semi-sighting of Prince Charles at Lady Soames's service. King Charles III is an astonishing coup de théâtre of the imagination by playwright Mike Bartlett -- as wildly satirical as it is blisteringly plausible. Bartlett gives us the long-suffering-in-waiting Prince of Wales after the death of Queen Elizabeth, having at last ascended to the throne. Bartlett's King Charles is an endearingly well-intending, tone-deaf, neer-do-well, who plunges Britain into a constitutional crisis by refusing to sign a bill passed by the House of Commons reigning in England's rapacious tabloid press; the same tabloid press that has hounded Charles his whole adult life. The poor man simply cannot in good conscience countenance an act that would constrain his country's freedom of speech, he explains almost apologetically. As a strictly symbolic monarch, however, Charles and his hapless conscience have no standing to act as anything other than Parliament's rubber-stamp. His principled refusal results in his own royal demise, abetted by his rapacious sons, Harry and William, who have never forgiven him for his treatment of their mother, Diana, spurred on by William's wife, Kate Middleton, who reveals herself as a cold-blooded Lady Macbeth of palace intrigue.
The satiric political tightrope that the playwright successfully walks here is breathtaking. I found myself wondering how Churchill, as Prime Minister, might have helped Charles navigate this scenario. I also found myself thinking of Mary Soames, a theater lover, who chaired the Royal National Theatre's Board of Trustees from 1989 to 1995. This play, if she could have seen it, would have made her smile, I bet, with a sardonic note of recognition.
*
The next morning, a smoldering crisis at my hotel reached the burning point. From the moment that I'd checked into The Athenaeum on Picadilly, I'd been assailed by cigarette smoke seeping into my room, commencing very early in the morning until very late at night. I complained immediately and, thereafter, repeatedly, and had been assured by the front desk that they would "investigate," that they would "look right into it," that they would see to it that whoever was responsible was "fined." Finally, on my third smoke-infested morning, it at last occurred to me to look out the window, where I discovered a large standing ashtray in the alley below, smoldering with butts. The smoke in my room was not coming from some phantom guest puffing away above me, but rather from the staff of the hotel smoking beneath my window. Workers smoking there now called up that this was their designated smoking area. Confronted by this discovery, the hotel finally apologized and announced they would move my room immediately -- as soon as one became available.
Really! I furiously contemplated ringing over to the Churchill Hotel on Portman Square and taking its manager, Michael Gray, up on his longstanding offer to accommodate me there. Many folks in town for the Soames service were staying at the Churchill Hotel, I knew. In the end, however, after much hesitation, I just didn't. Who wants to move to a new hotel, mid-stay?
That night, the Churchill Hotel was rocked by a gas explosion in its kitchen. Fourteen employees were injured, five hundred guests were evacuated and one of the hotel walls was blown out. I heard about this the following day from an acquaintance who had been staying there and had wound up spending the night on the lobby floor.
Imagine if I had moved out of one hotel because of smoke in my room, only to move into another that immediately blew up? I would have felt more than silly. I would have felt singed.
*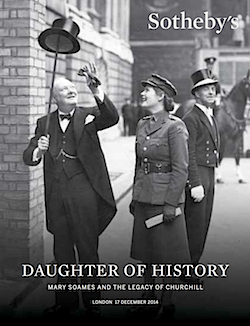 The final leg of my Churchill excursion in London brought me to Sotheby's to see Mary's things. Through the good graces of Frances Christie (yes, that is her name) head of Sotheby's Modern & Postwar Art Department, and her associate, Bryn Sayles (with a "y"), I was escorted down to Sotheby's basement beneath New Bond Street for an illicit pre-sale peak. There, amid tables laden with Lady Soames's tchotchkes and home furnishings, were fifteen painted wonders by Winston Churchill starkly laid out on the floor, tipped back against walls and benches. I wandered among them.
Winston Churchill never sold a painting in his lifetime. Most, he kept in his painting studio at Chartwell. A few, he bestowed as gifts on friends, colleagues and, preponderantly, on his children. The bulk of Mary's paintings by her father have been left to the state (in lieu of death taxes), meaning they will remain on display at Chartwell forever. The remaining fifteen, to be sold at Sotheby's tomorrow, comprise the finest assemblage ever to come to market. Quite possibly they will remain so; never to be topped. I knew each of them from photographs in books, which is to say that I barely knew them at all.
From "View of Blenheim Palace," created in 1920 -- just five years after Churchill first took up painting in 1915, following his Gallipoli-driven resignation as First Lord of the Admiralty during World War I -- to "A Corner of the Drawing Room at Chartwell," painted in 1938, less than a year before Churchill's return to government as First Lord of the Admiralty in Neville Chamberlain's administration, at the commencement of World War II -- the paintings represent a timeline of Churchill's finest efforts between the wars. Each proved especially gripping up close, where Churchill's astounding eye for color stands out.
As Bryn Sayles informed me, Sotheby's did have some of the paintings cleaned. Mary Soames, like her father, was an avid cigar smoker. What has been scoured away are layers of cigar tobacco tar. No painting reflects the results more viscerally than one from 1920 entitled "Mells Somerset," a painting of The Manor House at Mells, in Somerset, England, long associated with the former Prime Minister H. H. Asquith's family. The picture is of modest interest, in terms of subject and visual content: an archway framing a pergola. Sotheby's cleaning has, however, revealed stunningly subtle gradations in Churchill's handling of the violet color in the walls. Ah, yes, I thought, looking at it. Yes!