I shot this video of a police tear-gas assault in Taksim this morning, Tuesday.
The video gets shaky toward the end because my hands started trembling.
Note all the bystander cameras clicking away. And the simit seller at his bread-ring stand, in a gas mask:
Riot cops went in just to the square to clear it of barricades and banners -- leaving Gezi Park alone. Cops used gas and water cannons against resistance mainly from young guys in gas masks or with scarves over their faces, who were throwing what looked like molotov cocktails. Some behemoth water-cannon trucks caught fire.
Such violence from protesters hadn't occurred before. Twitter here was immediately alive with derisive speculation that many of these guys were infiltrators, that the whole thing was a spectacle staged for the TV cameras, to try to make Occupy Gezi look bad. Confusing...
One cop wasn't wearing his gas mask: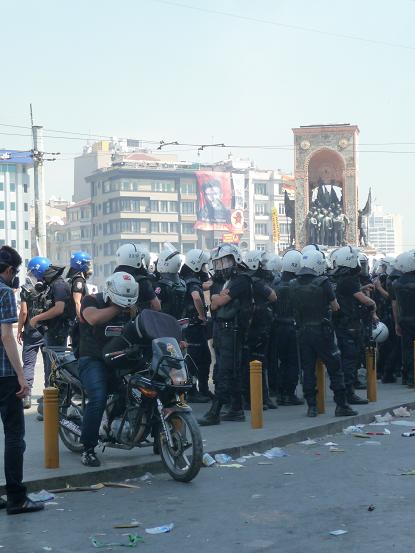 This action was followed by a lull, that slowly gathered again in tension. More regular protesters seem to have joined in. Typical Taksim rhythm. Here's a glimpse. Note: this is a prime tourist zone.

Follow on Twitter @barryyourgrau and on Facebook at "Waiting for Istanbul"